Poly-ε-caprolactone Coated and Functionalized Porous Titanium and Magnesium Implants for Enhancing Angiogenesis in Critically Sized Bone Defects
1
Small Animal Clinic, University of Veterinary Medicine Hannover, Foundation, Hannover D-30559, Germany
2
Division of Medicine Clinic III, Hematology, Oncology and Palliative Medicine, University of Rostock, Rostock D-18057, Germany
3
Institute for Biomedical Engineering, Rostock University Medical Center, Rostock D-18119, Germany
4
Materials and Processes Department, Laser Zentrum Hannover e. V., Hannover D-30419, Germany
5
Clinic for Cranio-Maxillo-Facial Surgery, Hannover Medical School, Hannover D-30625, Germany
6
Institute for Biometry, Epidemiology and Information Processing, University of Veterinary Medicine Hannover, Foundation, Hannover D-30559, Germany
7
Institut fuer Werkstoffkunde, Leibniz Universitaet Hannover, Garbsen D-30823, Germany
*
Author to whom correspondence should be addressed.
Academic Editor: Mohamed N. Rahaman
Received: 28 October 2015 / Revised: 10 December 2015 / Accepted: 14 December 2015 / Published: 22 December 2015
Abstract
For healing of critically sized bone defects, biocompatible and angiogenesis supporting implants are favorable. Murine osteoblasts showed equal proliferation behavior on the polymers poly-ε-caprolactone (PCL) and poly-(3-hydroxybutyrate)/poly-(4-hydroxybutyrate) (P(3HB)/P(4HB)). As vitality was significantly better for PCL, it was chosen as a suitable coating material for further experiments. Titanium implants with 600 µm pore size were evaluated and found to be a good implant material for bone, as primary osteoblasts showed a vitality and proliferation onto the implants comparable to well bottom (WB). Pure porous titanium implants and PCL coated porous titanium implants were compared using Live Cell Imaging (LCI) with Green fluorescent protein (GFP)-osteoblasts. Cell count and cell covered area did not differ between the implants after seven days. To improve ingrowth of blood vessels into porous implants, proangiogenic factors like Vascular Endothelial Growth Factor (VEGF) and High Mobility Group Box 1 (HMGB1) were incorporated into PCL coated, porous titanium and magnesium implants. An angiogenesis assay was performed to establish an
in vitro
method for evaluating the impact of metallic implants on angiogenesis to reduce and refine animal experiments in future. Incorporated concentrations of proangiogenic factors were probably too low, as they did not lead to any effect. Magnesium implants did not yield evaluable results, as they led to pH increase and subsequent cell death.
View Full-Text
►

▼

Figures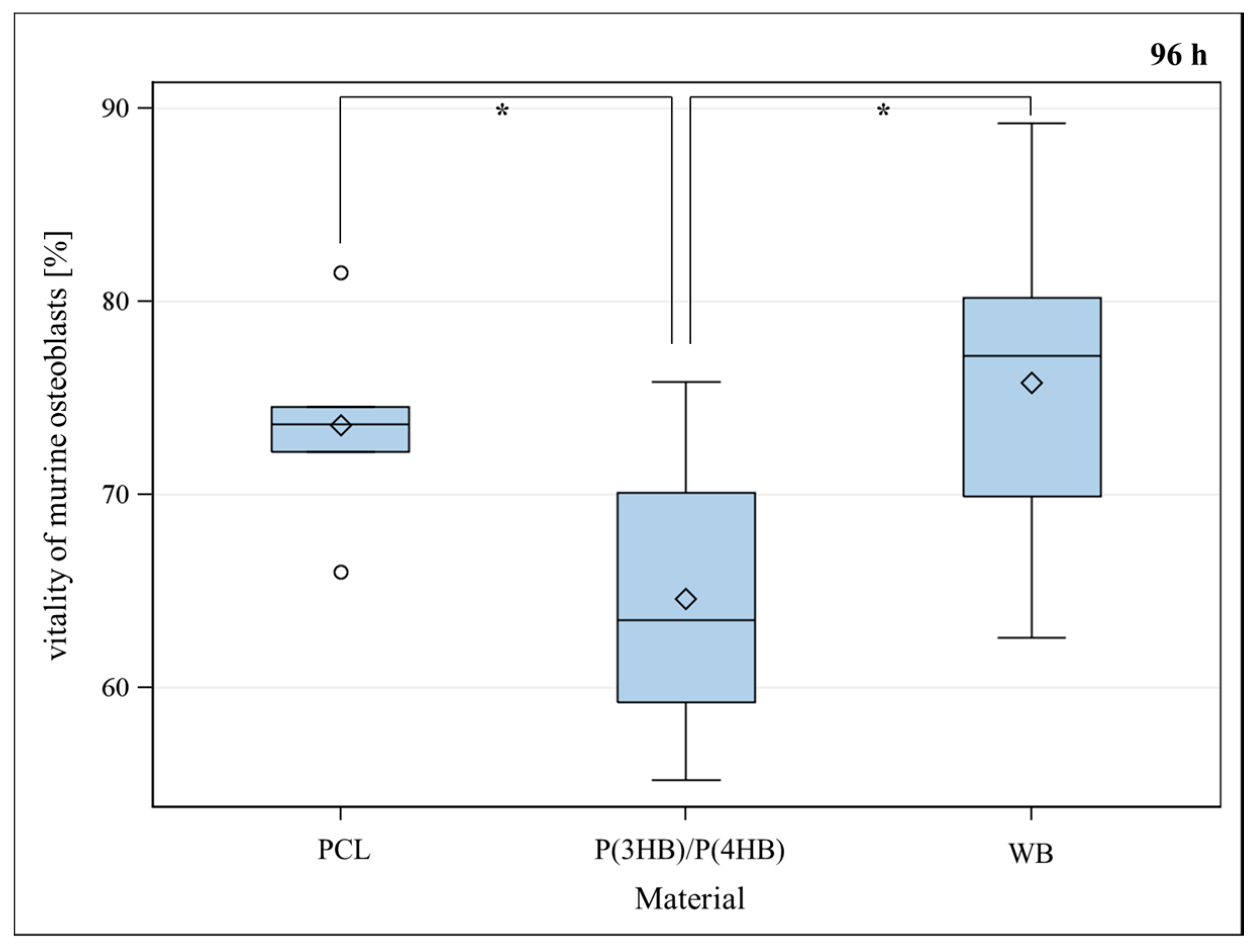 Figure 1
This is an open access article distributed under the
Creative Commons Attribution License
which permits unrestricted use, distribution, and reproduction in any medium, provided the original work is properly cited. (CC BY 4.0).
Share & Cite This Article
MDPI and ACS Style
Roland, L.; Grau, M.; Matena, J.; Teske, M.; Gieseke, M.; Kampmann, A.; Beyerbach, M.; Murua Escobar, H.; Haferkamp, H.; Gellrich, N.-C.; Nolte, I. Poly-ε-caprolactone Coated and Functionalized Porous Titanium and Magnesium Implants for Enhancing Angiogenesis in Critically Sized Bone Defects. Int. J. Mol. Sci. 2016, 17, 1.
Note that from the first issue of 2016, MDPI journals use article numbers instead of page numbers. See further details here.
Related Articles
Comments
[Return to top]