Molecular Characterization of Bovine SMO Gene and Effects of Its Genetic Variations on Body Size Traits in Qinchuan Cattle (Bos taurus)
1
College of Animal Science and Technology, Northwest A&F University, Yangling 712100, Shaanxi, China
2
National Beef Cattle Improvement Center of Northwest A&F University, Yangling 712100, Shaanxi, China
†
These authors contributed equally to this study.
*
Author to whom correspondence should be addressed.
Academic Editor: William Chi-shing Cho
Received: 23 March 2015 / Revised: 2 June 2015 / Accepted: 30 June 2015 / Published: 27 July 2015
Abstract
Smoothened (Smo)-mediated Hedgehog (Hh) signaling pathway governs the patterning, morphogenesis and growth of many different regions within animal body plans. This study evaluated the effects of genetic variations of the bovine SMO
gene on economically important body size traits in Chinese Qinchuan cattle. Altogether, eight single nucleotide polymorphisms (SNPs: 1–8) were identified and genotyped via direct sequencing covering most of the coding region and 3ʹUTR of the bovine SMO gene. Both the p.698Ser.>Ser. synonymous mutation resulted from SNP1 and the p.700Ser.>Pro. non-synonymous mutation caused by SNP2 mapped to the intracellular C-terminal tail of bovine Smo protein; the other six SNPs were non-coding variants located in the 3ʹUTR. The linkage disequilibrium was analyzed, and five haplotypes were discovered in 520 Qinchuan cattle. Association analyses showed that SNP2, SNP3/5, SNP4 and SNP6/7 were significantly associated with some body size traits (
p
< 0.05) except SNP1/8 (
p
> 0.05). Meanwhile, cattle with wild-type combined haplotype Hap1/Hap1 had significantly (
p
< 0.05) greater body length than those with Hap2/Hap2. Our results indicate that variations in the SMO gene could affect body size traits of Qinchuan cattle, and the wild-type haplotype Hap1 together with the wild-type alleles of these detected SNPs in the SMO
gene could be used to breed cattle with superior body size traits. Therefore, our results could be helpful for marker-assisted selection in beef cattle breeding programs.
View Full-Text
►

▼

Figures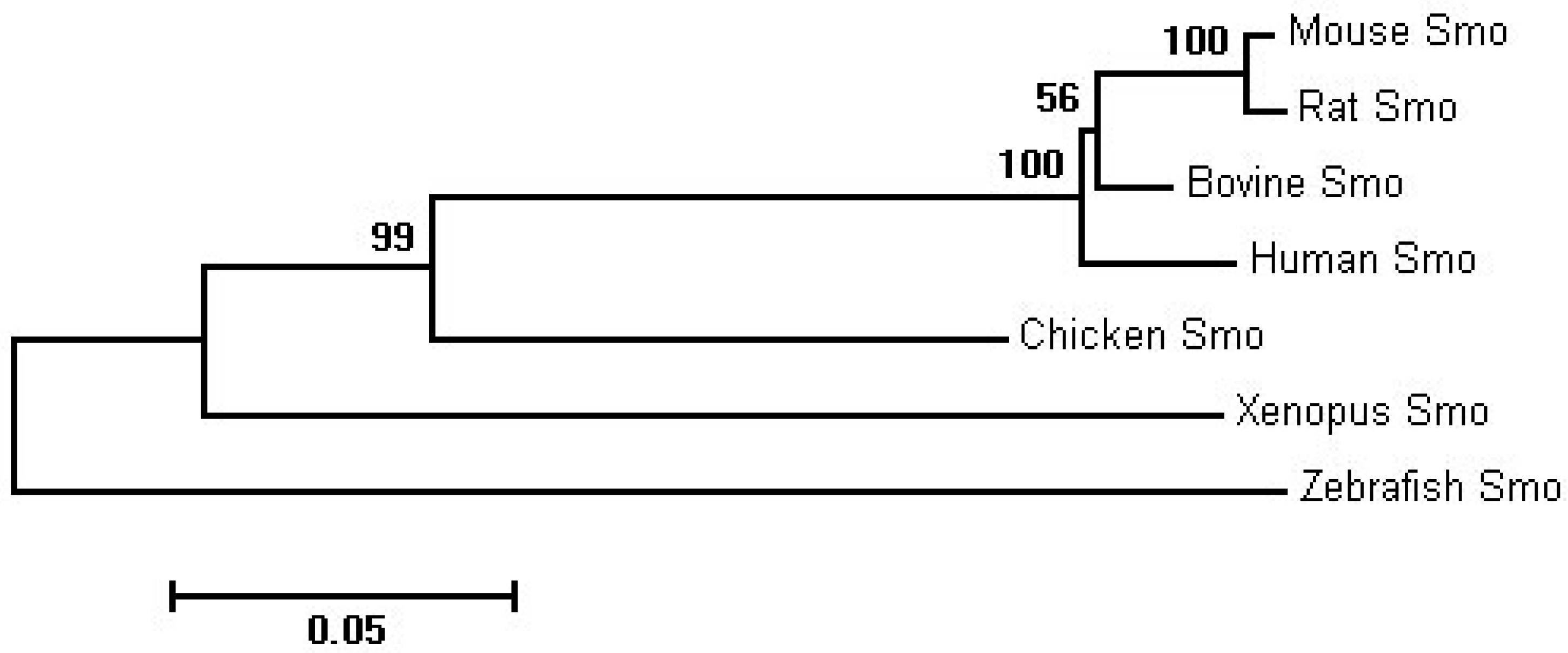 Figure 1
This is an open access article distributed under the
Creative Commons Attribution License
which permits unrestricted use, distribution, and reproduction in any medium, provided the original work is properly cited. (CC BY 4.0).
Share & Cite This Article
MDPI and ACS Style
Zhang, Y.-R.; Gui, L.-S.; Li, Y.-K.; Jiang, B.-J.; Wang, H.-C.; Zhang, Y.-Y.; Zan, L.-S. Molecular Characterization of Bovine SMO Gene and Effects of Its Genetic Variations on Body Size Traits in Qinchuan Cattle (Bos taurus). Int. J. Mol. Sci. 2015, 16, 16966-16980.
Related Articles
Comments
[Return to top]