Fungi Isolated from Maize (Zea mays L.) Grains and Production of Associated Enzyme Activities
1
Department of Biochemistry, State University of Maringá, Av. Colombo, 5790, Maringá 87020-900, Brazil
2
Department of Agronomy, State University of Maringá, Av. Colombo, 5790, Maringá 87020-900, Brazil
*
Author to whom correspondence should be addressed.
Academic Editor: Ritva Tikkanen
Received: 28 January 2015 / Revised: 11 June 2015 / Accepted: 11 June 2015 / Published: 7 July 2015
Abstract
Filamentous fungi produce a great variety of enzymes, and research on their biotechnological potential has recently intensified. The objective of this work was to identify, at the species level, using DNA barcoding, 46 fungal isolates obtained from maize grains with rot symptoms. We also analyzed the production of extracellular amylases, cellulases, proteases and lipases of 33 of those fungal isolates. The enzymatic activities were evaluated by the formation of a clear halo or a white precipitate around the colonies in defined substrate media. The found fungi belong to the genera
Talaromyces
,
Stenocarpella
,
Penicillium
,
Phlebiopsis
,
Cladosporium
,
Hyphopichia
,
Epicoccum
,
Trichoderma
,
Aspergillus
,
Irpex
,
Fusarium
,
Microdochium
,
Mucor
and
Sarocladium
. In the genus
Fusarium
, the species
Fusarium verticillioides
was predominant and this genus presented the highest diversity, followed by the genera
Aspergillus
. The best genera for lipase production were
Cladosporium
and
Penicillium
; while
Cladosporium
,
Aspergillus
and
Penicillium
were best for cellulase activity;
Hyphopichia
,
Aspergillus
and
Irpex
for amylase activity; and
Cladosporium
and
Sarocladium
for proteases activity. In conclusion, a collection of fungi from maize seeds presenting rotten symptoms were obtained, among which exist important producers of hydrolases.
View Full-Text
►

▼

Figures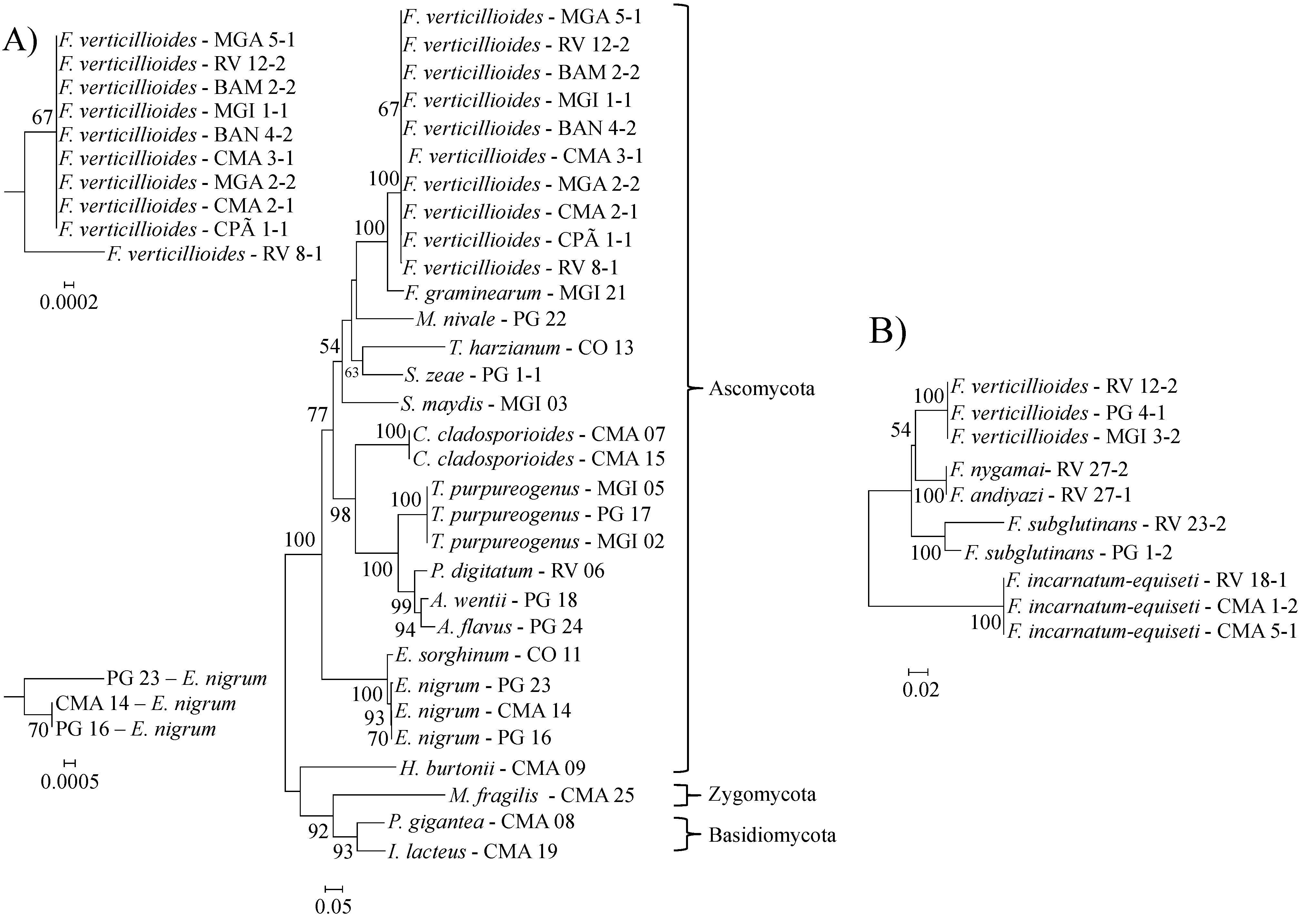 Figure 1
This is an open access article distributed under the
Creative Commons Attribution License
which permits unrestricted use, distribution, and reproduction in any medium, provided the original work is properly cited. (CC BY 4.0).
Share & Cite This Article
MDPI and ACS Style
Abe, C.A.L.; Faria, C.B.; de Castro, F.F.; de Souza, S.R.; Santos, F.C.; da Silva, C.N.; Tessmann, D.J.; Barbosa-Tessmann, I.P. Fungi Isolated from Maize (Zea mays L.) Grains and Production of Associated Enzyme Activities. Int. J. Mol. Sci. 2015, 16, 15328-15346.
Related Articles
Comments
[Return to top]