Characterization and Evaluation of Neuronal Trans-Differentiation with Electrophysiological Properties of Mesenchymal Stem Cells Isolated from Porcine Endometrium
1
Department of Theriogenology and Biotechnology, College of Veterinary Medicine, Gyeongsang National University, Jinju 660-701, Korea
2
Department of Physiology and Institute of Health Sciences, School of Medicine, Gyeongsang National University, Jinju 660-751, Korea
3
Department of Oral and Maxillofacial Surgery, Institute of Health Science, School of Medicine, Gyeongsang National University, Jinju 660-751, Korea
4
Research Institute of Life Sciences, Gyeongsang National University, Jinju 660-701, Korea
*
Author to whom correspondence should be addressed.
Academic Editor: Anthony Lemarié
Received: 9 February 2015 / Accepted: 11 May 2015 / Published: 14 May 2015
Abstract
Endometrial stromal cells (EMSCs) obtained from porcine uterus (
n
= 6) were positive for mesenchymal stem cell markers (CD29, CD44 and CD90), and negative for epithelial marker CD9 and hematopoietic markers CD34, CD45 analyzed by flow cytometry. Further the cells were positive for expression of mesenchymal markers,
CD105
,
CD140b
, and
CD144
by PCR. Pluripotent markers OCT4, SOX2, and NANOG were positively expressed in EMSCs analyzed by Western blotting and PCR. Further, differentiation into adipocytes and osteocytes was confirmed by cytochemical staining and lineage specific gene expression by quantitative realtime-PCR. Adipocyte (
FABP
,
LPL
,
AP2
) and osteocyte specific genes (
ON
,
BG
,
RUNX2
) in differentiated EMSCs showed significant (
p
< 0.05) increase in expression compared to undifferentiated control cells. Neurogenic transdifferentiation of EMSCs exhibited distinctive dendritic morphology with axon projections and neuronal specific genes,
NFM
,
NGF
,
MBP
,
NES
,
B3T
and
MAP2
and proteins, B3T, NFM, NGF, and TRKA were positively expressed in neuronal differentiated cells. Functional analysis of neuronal differentiated EMSCs displayed voltage-dependence and kinetics for transient outward K
+
currents (
I
to
), at holding potential of −80 mV, Na
+
currents and during current clamp, neuronal differentiated EMSCs was more negative than that of control EMSCs. Porcine EMSCs is a suitable model for studying molecular mechanism of transdifferentiation, assessment of electrophysiological properties and their efficiency during
in vivo
transplantation.
View Full-Text
►

▼

Figures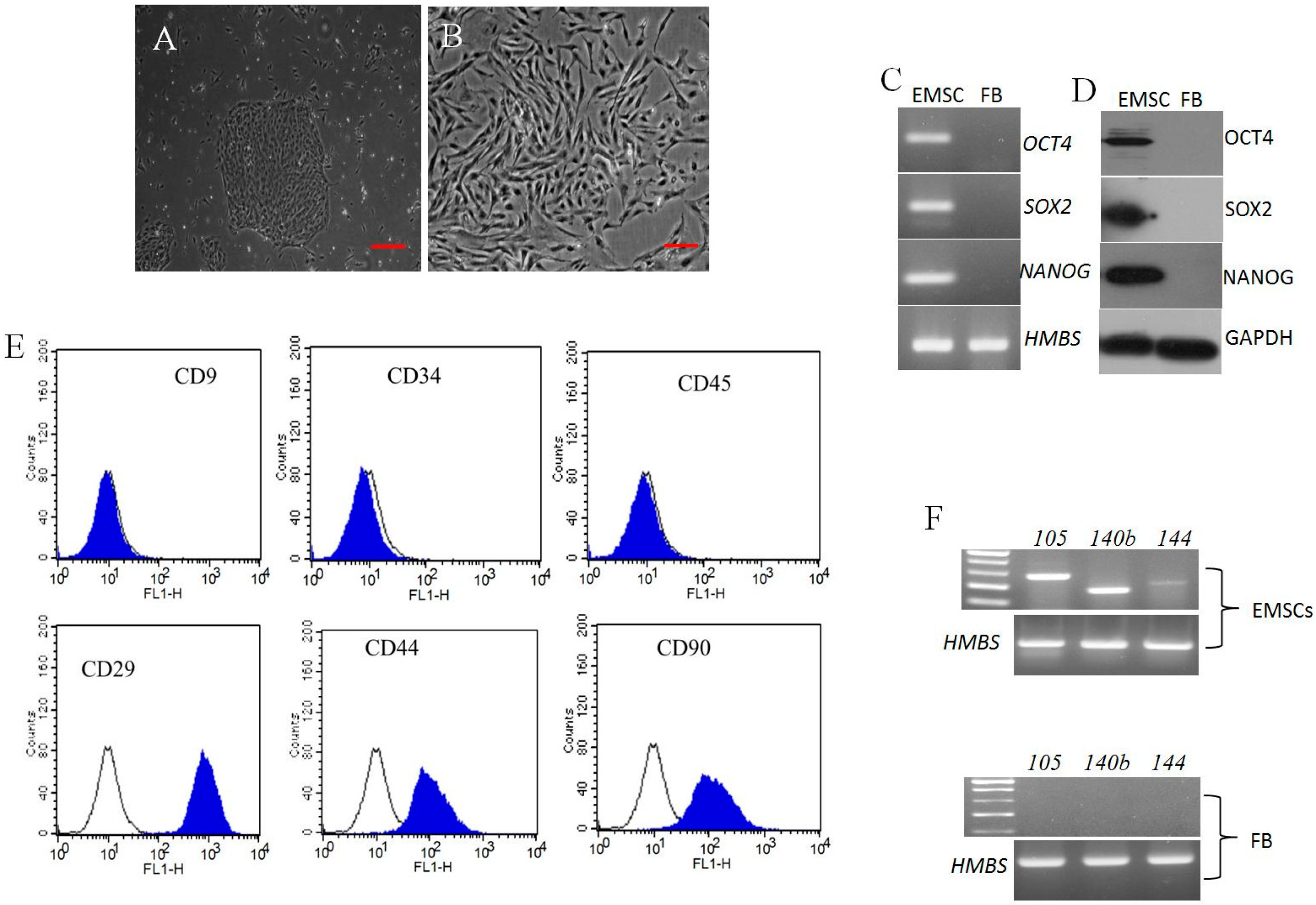 Figure 1a
This is an open access article distributed under the
Creative Commons Attribution License
which permits unrestricted use, distribution, and reproduction in any medium, provided the original work is properly cited. (CC BY 4.0).
Share & Cite This Article
MDPI and ACS Style
Subbarao, R.B.; Ullah, I.; Kim, E.-J.; Jang, S.-J.; Lee, W.-J.; Jeon, R.H.; Kang, D.; Lee, S.-L.; Park, B.-W.; Rho, G.-J. Characterization and Evaluation of Neuronal Trans-Differentiation with Electrophysiological Properties of Mesenchymal Stem Cells Isolated from Porcine Endometrium. Int. J. Mol. Sci. 2015, 16, 10934-10951.
Related Articles
Comments
[Return to top]