Molecular Characterization of Endoplasmic Reticulum Oxidoreductin 1 from Bombyx mori
1
Institute of Medical Research, Dongguk University College of Medicine, Gyeongju 38067, Korea
2
Department of Agricultural Biology, National Academy of Agricultural Science, RDA, Wanju-gun 55365, Korea
3
Department of Biochemistry, Dongguk University College of Medicine, Gyeongju 38067, Korea
*
Author to whom correspondence should be addressed.
Academic Editor: Guido Haenen
Received: 12 October 2015 / Revised: 26 October 2015 / Accepted: 29 October 2015 / Published: 5 November 2015
Abstract
We isolated a complementary DNA (cDNA) clone encoding endoplasmic reticulum oxidoreductin 1 (bERO1, a specific oxidant of protein disulfide isomerase (PDI)) from
Bombyx mori
. This protein has a putative open reading frame (ORF) of 489 amino acids and a predicted size of 57.4 kDa. Although bERO1 protein shares less than 57% amino acid sequence homology with other reported ERO1s, it contains two conserved redox active motifs, a Cys-X-X-X-X-Cys motif of N-terminal and Cys-X-X-Cys-X-X-Cys motif of C-terminal. Both motifs are typically present in ERO1 protein family members. The
bEro1
mRNA expression was highest in posterior silk gland on the sixth day of the 5th instar larvae. Expression of
bEro1
mRNA also markedly increased during endoplasmic reticulum (ER) stress induced by stimulation with antimycin, calcium ionophore A23187, dithiothreitol, H
2
O
2
, monencin, and tunicamycin. In addition, expression levels of
bEro1
exactly coincided with that of
bPdi
. This is the first result suggesting that bERO1 plays an essential role in ER quality control through the combined activities of bERO1 and bPDI as a catalyst of protein folding in the ER and sustaining cellular redox homeostasis.
View Full-Text
►

▼

Figures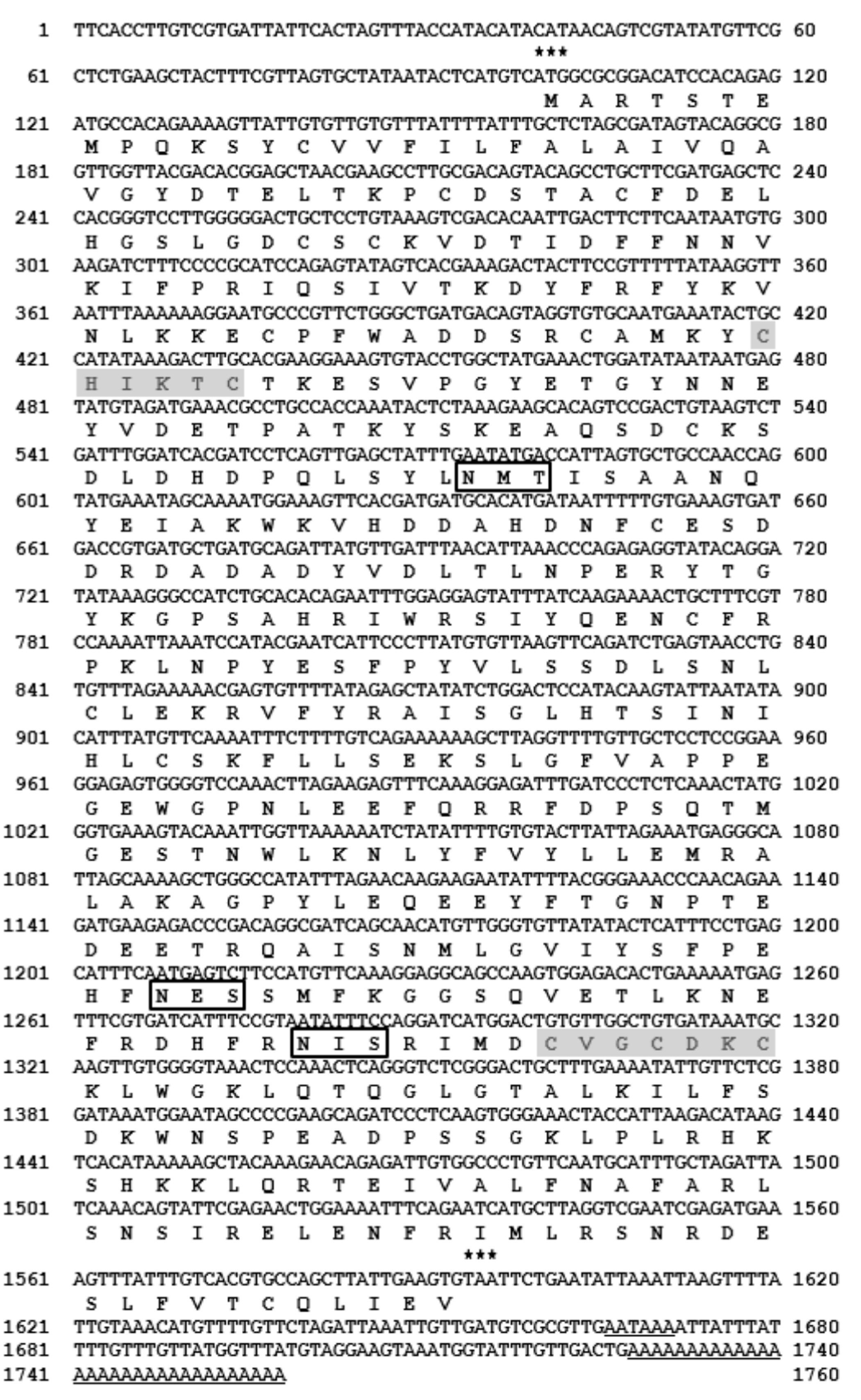 Figure 1
This is an open access article distributed under the
Creative Commons Attribution License
which permits unrestricted use, distribution, and reproduction in any medium, provided the original work is properly cited. (CC BY 4.0).
Share & Cite This Article
MDPI and ACS Style
Seo, M.; Ryou, H.-J.; Yun, E.-Y.; Goo, T.-W. Molecular Characterization of Endoplasmic Reticulum Oxidoreductin 1 from Bombyx mori. Int. J. Mol. Sci. 2015, 16, 26520-26529.
Related Articles
Comments
[Return to top]