The Inflammation-Related Gene S100A12 Is Positively Regulated by C/EBPβ and AP-1 in Pigs
Key Lab of Agricultural Animal Genetics, Breeding and Reproduction of Ministry of Education and Key Laboratory of Swine Genetics and Breeding of Ministry of Agriculture, Huazhong Agricultural University, Wuhan 430070, China
*
Author to whom correspondence should be addressed.
Received: 10 June 2014 / Revised: 7 July 2014 / Accepted: 23 July 2014 / Published: 8 August 2014
Abstract
S100A12 is involved in the inflammatory response and is considered an important marker for many inflammatory diseases in humans. Our previous studies indicated that the S100A12 gene was abundant in the immune tissues of pigs and was significantly upregulated during infection with
Haemophilus parasuis
(HPS) or porcine circovirus type 2 (PCV2). In this study, the mechanism of transcriptional regulation of S100A12 was investigated in pigs. Our results showed that S100A12, CCAAT/enhancer-binding protein beta (C/EBPβ) and activator protein-1 (AP-1) genes were up-regulated in PK-15 (ATCC, CCL-33) cells when treated with LPS or Poly I: C. Additionally, the promoter activity and expression level of the S100A12 gene were significantly upregulated when C/EBPβ or AP-1 were overexpressed. We utilized electromobility shift assays (EMSA) to confirm that C/EBPβ and AP-1 could directly bind the S100A12 gene promoter. We also found that the transcriptional activity and expression levels of C/EBPβ and AP-1 could positively regulate each other. Furthermore, the promoter activity of the S100A12 gene was higher when C/EBPβ and AP-1 were cotransfected than when they were transfected individually. We concluded that the S100A12 gene was cooperatively and positively regulated by C/EBPβ and AP-1 in pigs. Our study offers new insight into the transcriptional regulation of the S100A12 gene.
View Full-Text
►

▼

Figures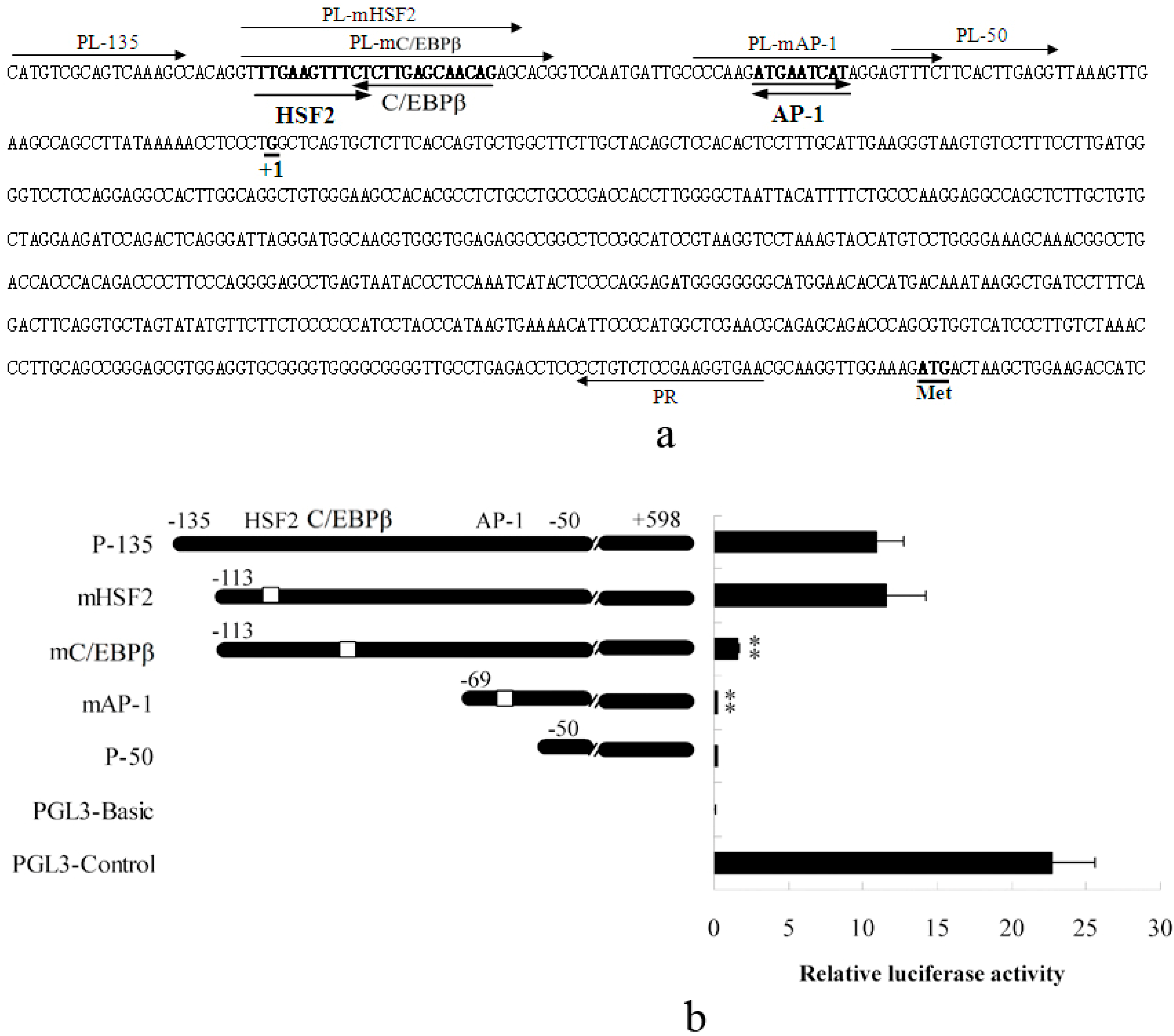 Figure 1
Share & Cite This Article
MDPI and ACS Style
Li, X.; Tang, J.; Xu, J.; Zhu, M.; Cao, J.; Liu, Y.; Yu, M.; Zhao, S. The Inflammation-Related Gene S100A12 Is Positively Regulated by C/EBPβ and AP-1 in Pigs. Int. J. Mol. Sci. 2014, 15, 13802-13816.
Related Articles
Comments
[Return to top]