Lutein Inhibits the Migration of Retinal Pigment Epithelial Cells via Cytosolic and Mitochondrial Akt Pathways (Lutein Inhibits RPE Cells Migration)
1
Graduate Institute of Applied Science and Engineering, Fu Jen Catholic University,New Taipei City 24205, Taiwan
2
Department of Internal Medicine, Cardinal Tien Hospital, New Taipei City 23148, Taiwan
3
School of Medicine, Fu Jen Catholic University, New Taipei City 24205, Taiwan
4
Department of Ophthalmology, Cardinal Tien Hospital, New Taipei City 23148, Taiwan
5
Graduate Institute of Applied Science and Engineering, Fu Jen Catholic University,New Taipei City 24205, Taiwan
6
Department of Life Sciences, Fu Jen Catholic University, New Taipei City 24205, Taiwan
7
Department of Nutrition and Health Science, Chang Guang University of Science and Technology,Taoyuan 33303, Taiwan
8
Research Center for Industry of Human Ecology, Chang Gung University of Science and Technology,Taoyuan 33303, Taiwan
9
Slone Epidemiology Center, Boston University, Boston, Massachusetts, United States of America,Boston, MA 02215, USA
10
Department of Urology, E-Da Hospital, Taiwan and School of Medicine for International Students, I-Shou University, Kaohsiung 84001, Taiwan
*
Author to whom correspondence should be addressed.
Received: 11 May 2014 / Revised: 16 July 2014 / Accepted: 25 July 2014 / Published: 8 August 2014
Abstract
During the course of proliferative vitreoretinopathy (PVR), the retinal pigment epithelium (RPE) cells will de-differentiate, proliferate, and migrate onto the surfaces of the sensory retina. Several studies have shown that platelet-derived growth factor (PDGF) can induce migration of RPE cells via an Akt-related pathway. In this study, the effect of lutein on PDGF-BB-induced RPE cells migration was examined using transwell migration assays and Western blot analyses. We found that both phosphorylation of Akt and mitochondrial translocation of Akt in RPE cells induced by PDGF-BB stimulation were suppressed by lutein. Furthermore, the increased migration observed in RPE cells with overexpressed mitochondrial Akt could also be suppressed by lutein. Our results demonstrate that lutein can inhibit PDGF-BB induced RPE cells migration through the inhibition of both cytoplasmic and mitochondrial Akt activation.
View Full-Text
►

▼

Figures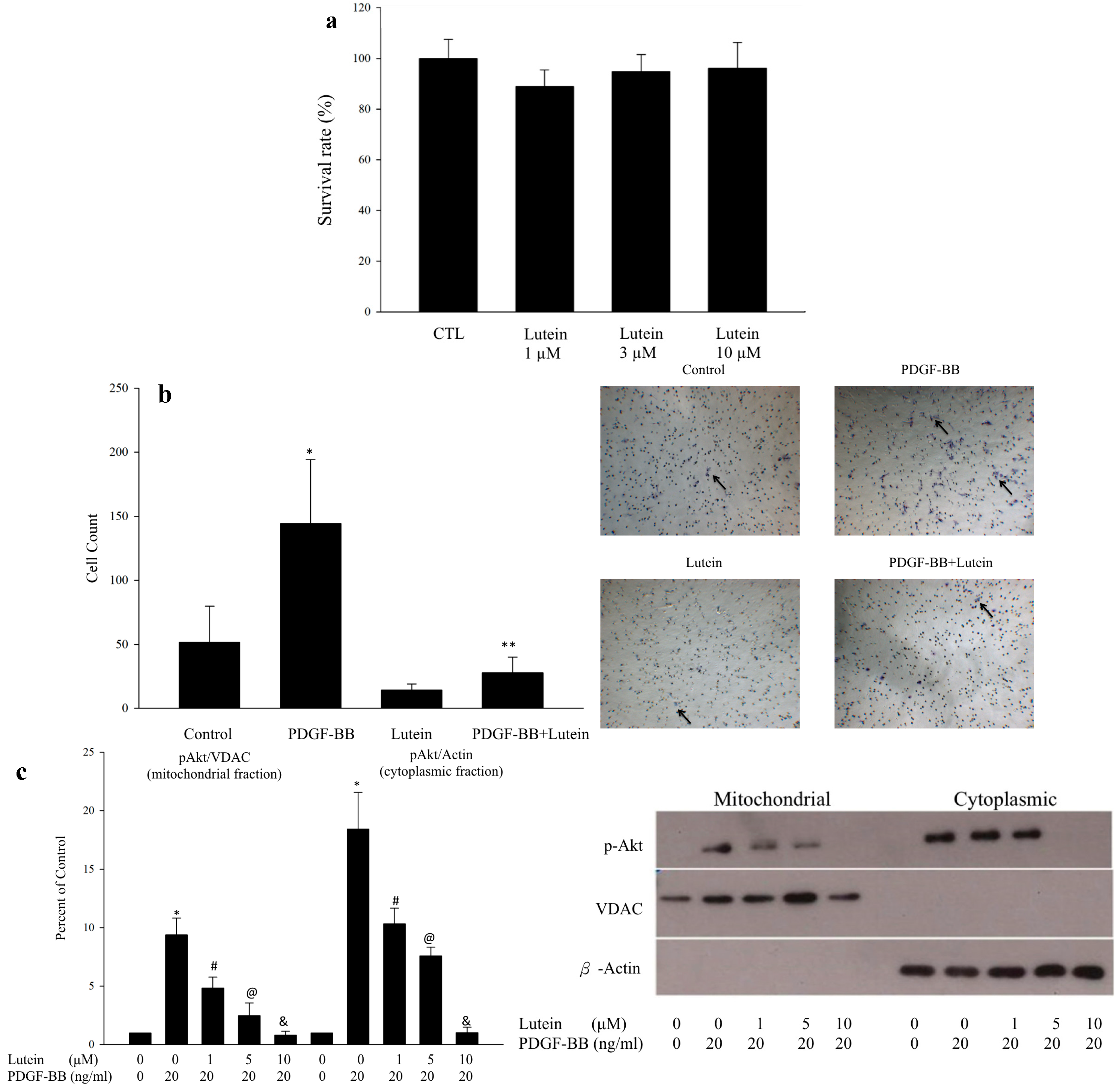 Figure 1
Share & Cite This Article
MDPI and ACS Style
Su, C.-C.; Chan, C.-M.; Chen, H.-M.; Wu, C.-C.; Hsiao, C.-Y.; Lee, P.-L.; Lin, V.C.-H.; Hung, C.-F. Lutein Inhibits the Migration of Retinal Pigment Epithelial Cells via Cytosolic and Mitochondrial Akt Pathways (Lutein Inhibits RPE Cells Migration). Int. J. Mol. Sci. 2014, 15, 13755-13767.
Related Articles
Comments
[Return to top]