Signal Transduction of Platelet-Induced Liver Regeneration and Decrease of Liver Fibrosis
Department of Surgery, Faculty of Medicine, University of Tsukuba, 1-1-1 Tennodai, Tsukuba, Ibaraki 305-8575, Japan
*
Author to whom correspondence should be addressed.
Received: 23 February 2014 / Revised: 16 March 2014 / Accepted: 20 March 2014 / Published: 28 March 2014
Abstract
Platelets contain three types of granules: alpha granules, dense granules, and lysosomal granules. Each granule contains various growth factors, cytokines, and other physiological substances. Platelets trigger many kinds of biological responses, such as hemostasis, wound healing, and tissue regeneration. This review presents experimental evidence of platelets in accelerating liver regeneration and improving liver fibrosis. The regenerative effect of liver by platelets consists of three mechanisms;
i.e.
, the direct effect on hepatocytes, the cooperative effect with liver sinusoidal endothelial cells, and the collaborative effect with Kupffer cells. Many signal transduction pathways are involved in hepatocyte proliferation. One is activation of Akt and extracellular signal-regulated kinase (ERK)1/2, which are derived from direct stimulation from growth factors in platelets. The other is signal transducer and activator of transcription-3 (STAT3) activation by interleukin (IL)-6 derived from liver sinusoidal endothelial cells and Kupffer cells, which are stimulated by contact with platelets during liver regeneration. Platelets also improve liver fibrosis in rodent models by inactivating hepatic stellate cells to decrease collagen production. The level of intracellular cyclic adenosine monophosphate (cyclic AMP) is increased by adenosine through its receptors on hepatic stellate cells, resulting in inactivation of these cells. Adenosine is produced by the degradation of adenine nucleotides such as adenosine diphosphate (ADP) and adenosine tri-phosphate (ATP), which are stored in abundance within the dense granules of platelets.
View Full-Text
►

▼

Figures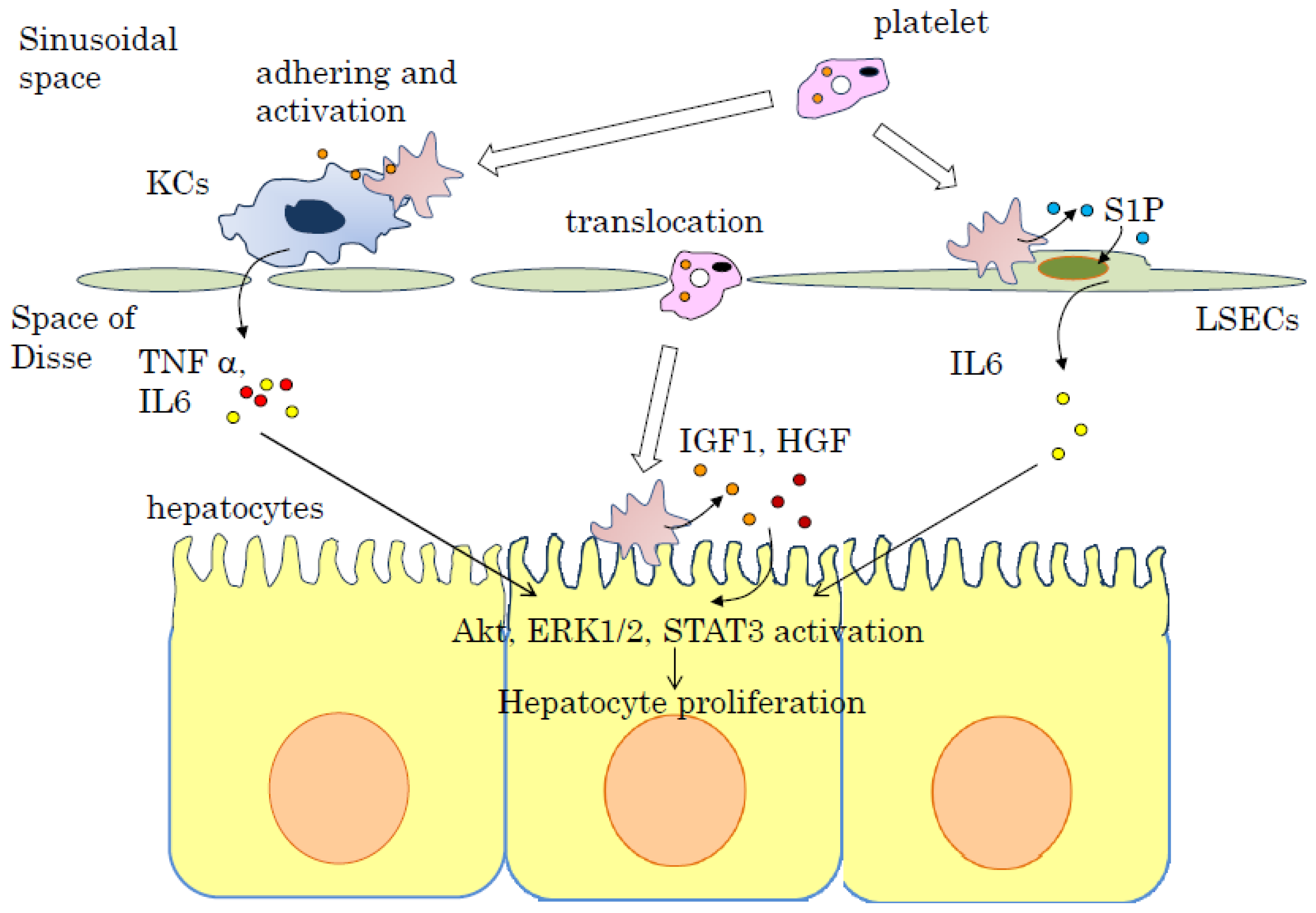 Share & Cite This Article
MDPI and ACS Style
Murata, S.; Maruyama, T.; Nowatari, T.; Takahashi, K.; Ohkohchi, N. Signal Transduction of Platelet-Induced Liver Regeneration and Decrease of Liver Fibrosis. Int. J. Mol. Sci. 2014, 15, 5412-5425.
Related Articles
Comments
[Return to top]