Hypoxia Enhances Protective Effect of Placental-Derived Mesenchymal Stem Cells on Damaged Intestinal Epithelial Cells by Promoting Secretion of Insulin-Like Growth Factor-1
Department of Pathophysiology, College of Basic Medical Science, China Medical University, Shenyang 110001, China
*
Author to whom correspondence should be addressed.
Received: 23 October 2013 / Revised: 20 January 2014 / Accepted: 22 January 2014 / Published: 27 January 2014
Abstract
Apoptosis and necrosis of intestinal epithelial cells (IECs), induced by ischemia-reperfusion (I/R) injury, can lead to dysfunction of the intestinal barrier, which could cause multiple organ dysfunction syndromes. Mesenchymal stem cells (MSCs) have the potential of providing protective effects on damaged IECs via paracrine action. This study investigated whether hypoxia can enhance the protective effect of placental-derived MSCs (pMSCs) on H
2
O
2
-treated-caco2 cells, and explored the possible mechanism. The pMSCs isolated by tissue culture were fibroblast-like, positive for CD73, CD90 and CD105 and can differentiate into chondrocytes and endothelial cells. Five days after treatment with H
2
O
2
, the numbers of living caco2 cells significantly decreased. More live H
2
O
2
-treated-caco2 cells were observed in pMSCs hypoxia culture medium (pMSCs-HCM) than pMSCs normoxia culture medium (pMSCs-NCM), and the application of a specific antibody that blocked insulin-like growth factor-1 (IGF-1) leads to a significant decrease of the protective effect of pMSCs-HCM. Hypoxia can promote IGF-1 expression of pMSCs at mRNA and protein levels, and caco2 stably expressed IGF-1 receptor. Knocking down IGF-1 expression in pMSCs by siRNA resulted in a significant attenuation of the increase in apoptosis of H
2
O
2
-treated-caco2 cultured in pMSCs-HCM. In conclusion, hypoxia can increase the protective effect of pMSCs on H
2
O
2
-treated-caco2 cells via a promotion of their paracrine actions, and the key cytokine involved is IGF-1.
View Full-Text
►

▼

Figures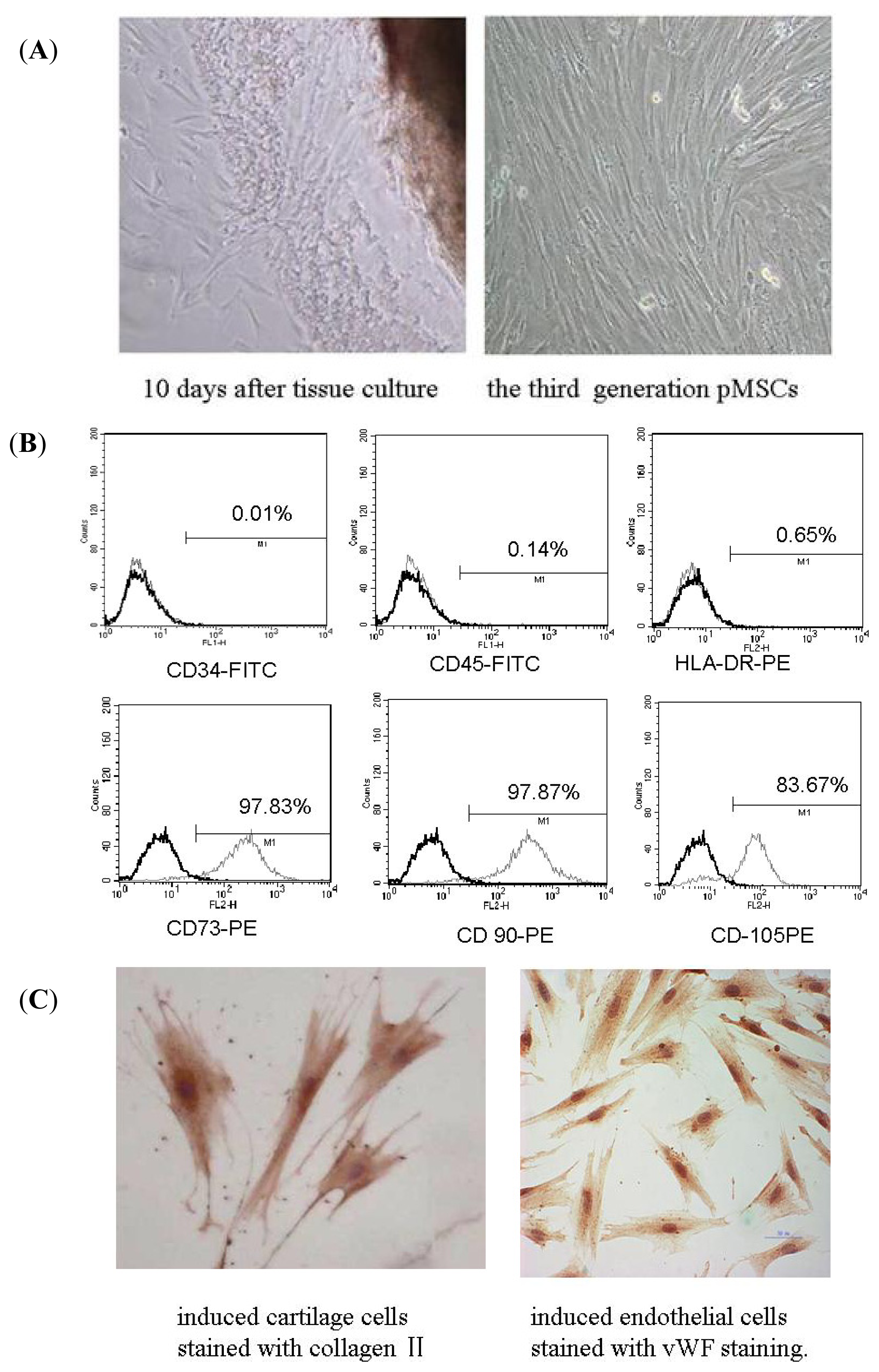 Share & Cite This Article
MDPI and ACS Style
Du, L.; Yu, Y.; Ma, H.; Lu, X.; Ma, L.; Jin, Y.; Zhang, H. Hypoxia Enhances Protective Effect of Placental-Derived Mesenchymal Stem Cells on Damaged Intestinal Epithelial Cells by Promoting Secretion of Insulin-Like Growth Factor-1. Int. J. Mol. Sci. 2014, 15, 1983-2002.
Related Articles
Comments
[Return to top]