Comparative Proteomic Analysis of Labellum and Inner Lateral Petals in Cymbidium ensifolium Flowers
1
Institute of Horticulture, Zhejiang Academy of Agricultural Sciences, Hangzhou 310021, China
2
Cixi Agricultural Technology Extension Center, Cixi, Ningbo 315300, China
3
Department of Horticulture, Washington State University, Pullman, WA 99164, USA
4
College of Life Sciences, Hubei University, Wuhan 430062, China
*
Author to whom correspondence should be addressed.
Received: 17 June 2014 / Revised: 4 August 2014 / Accepted: 13 August 2014 / Published: 31 October 2014
Abstract
The labellum in orchids shares homology with the inner lateral petals of the flower. The labellum is a modified petal and often distinguished from other petals and sepals due to its large size and irregular shape. Herein, we combined two-dimensional gel electrophoresis (2-DE) and matrix assisted laser desorption/ionization time of flight/time of flight (MALDI-TOF/TOF) approaches to identify the differentially expressed proteome between labellum and inner lateral petal in one of Orchid species (
C. ensifolium
). A total of 30 protein spots were identified, which showed more than a two-fold significant difference (
p
< 0.05) in their expression. Compared with
C. ensifolium
transcriptome (sequenced in house), 21 proteins matched the translated nucleotide. The proteins identified were classified into 48 categories according to gene ontology (GO). Additionally, these proteins were involved in 18 pathways and 9 possible protein-protein interactions. Serine carboxypeptidase and beta-glucosidase were involved in the phenylpropanoid pathway, which could regulate biosynthesis of floral scent components. Malate dehydrogenase (maeB) and triosephosphate isomerase (TPI) in carbon fixation pathway could regulate the energy metabolism. Xyloglucan endotransglucosylase/hydrolase (XET/XTH) could promote cell wall formation and aid the petal's morphogenesis. The identification of such differentially expressed proteins provides new targets for future studies; these will assess the proteins' physiological roles and significance in labellum and inner lateral petals.
View Full-Text
►

▼

Figures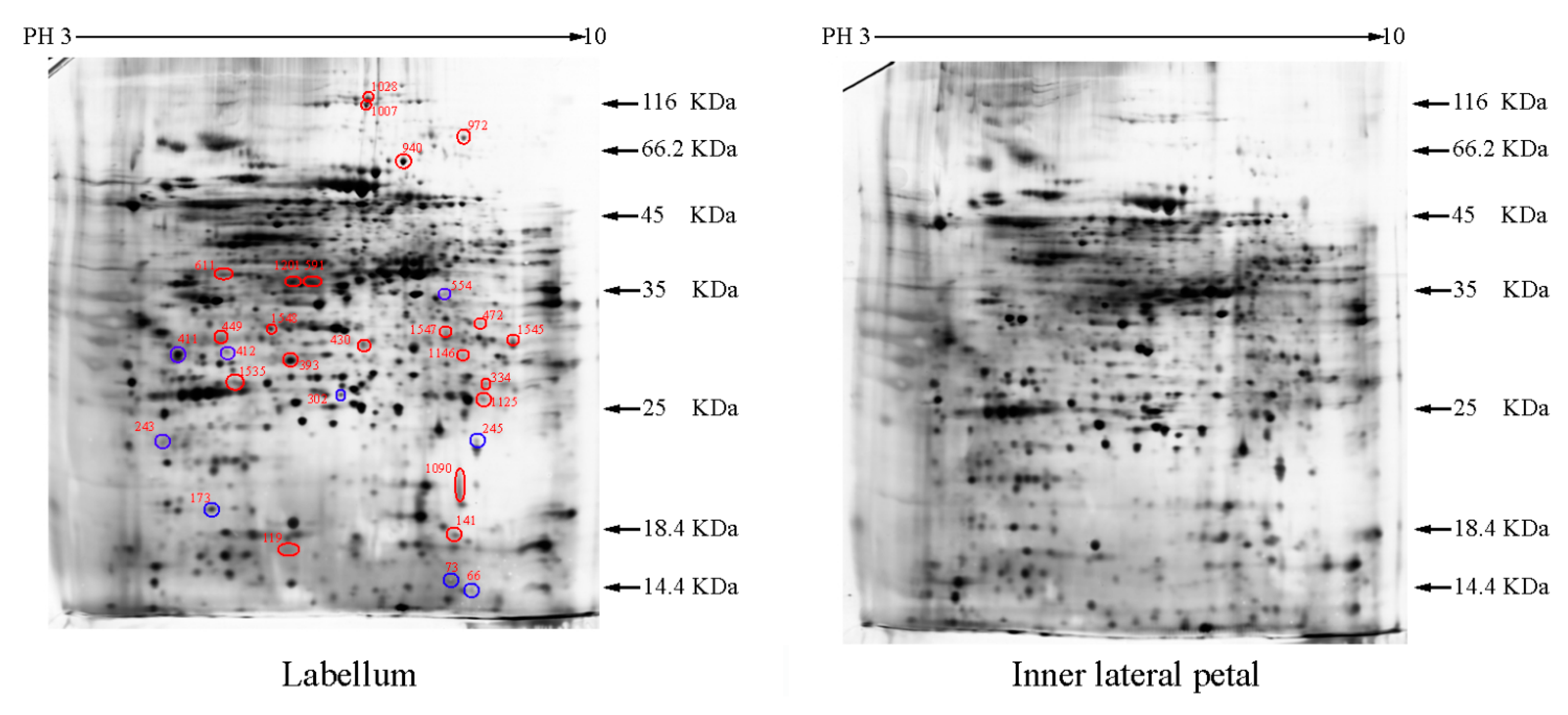 Figure 1
This is an open access article distributed under the
Creative Commons Attribution License
which permits unrestricted use, distribution, and reproduction in any medium, provided the original work is properly cited. (CC BY 4.0).
Share & Cite This Article
MDPI and ACS Style
Li, X.; Xu, W.; Chowdhury, M.R.; Jin, F. Comparative Proteomic Analysis of Labellum and Inner Lateral Petals in Cymbidium ensifolium Flowers. Int. J. Mol. Sci. 2014, 15, 19877-19897.
Related Articles
Comments
[Return to top]