Enhanced Antitumor Effects of Adenoviral-Mediated siRNA against GRP78 Gene on Adenosine-Induced Apoptosis in Human Hepatoma HepG2 Cells
1
Department of Gastroenterology and Information, Second Affiliated Hospital, Shantou University Medical College, Shantou 515041, China
2
Reproductive Medicine Center, Affiliated Hospital of Guiyang Medical College, Guiyang 550004, China
*
Author to whom correspondence should be addressed.
Received: 13 November 2013 / Revised: 19 December 2013 / Accepted: 23 December 2013 / Published: 3 January 2014
Abstract
Our previous studies show that adenosine-induced apoptosis is involved in endoplasmic reticulum stress in HepG2 cells. In this study, we have investigated whether knockdown of GRP78 by short hairpin RNA (shRNA) increases the cytotoxic effects of adenosine in HepG2 cells. The adenovirus vector-delivered shRNA targeting GRP78 (Ad-shGRP78) was constructed and transfected into HepG2 cells. RT-PCR assay was used to determine RNA interference efficiency. Effects of knockdown of GRP78 on adenosine-induced cell viabilities, cell-cycle distribution and apoptosis, as well as relative protein expressions were determined by flow cytometry and/or Western blot analysis. The intracellular Ca
2+
concentration was detected by laser scanning confocal microscope. Mitochondrial membrane potential (ΔΨm) was measured by a fluorospectrophotometer. The results revealed that GRP78 mRNA was significantly downregulated by Ad-shGRP78 transfection. Knockdown of GRP78 enhanced HepG2 cell sensitivity to adenosine by modulating G0/G1 arrest and stimulating Bax, Bak, m-calpain, caspase-4 and CHOP protein levels. Knockdown of GRP78 worsened cytosolic Ca
2+
overload and ΔΨm loss. Knockdown of caspase-4 by shRNA decreased caspase-3 mRNA expression and cell apoptosis. These findings indicate that GRP 78 plays a protective role in ER stress-induced apoptosis and show that the combination of chemotherapy drug and RNA interference adenoviruses provides a new treatment strategy against malignant tumors.
View Full-Text
►

▼

Figures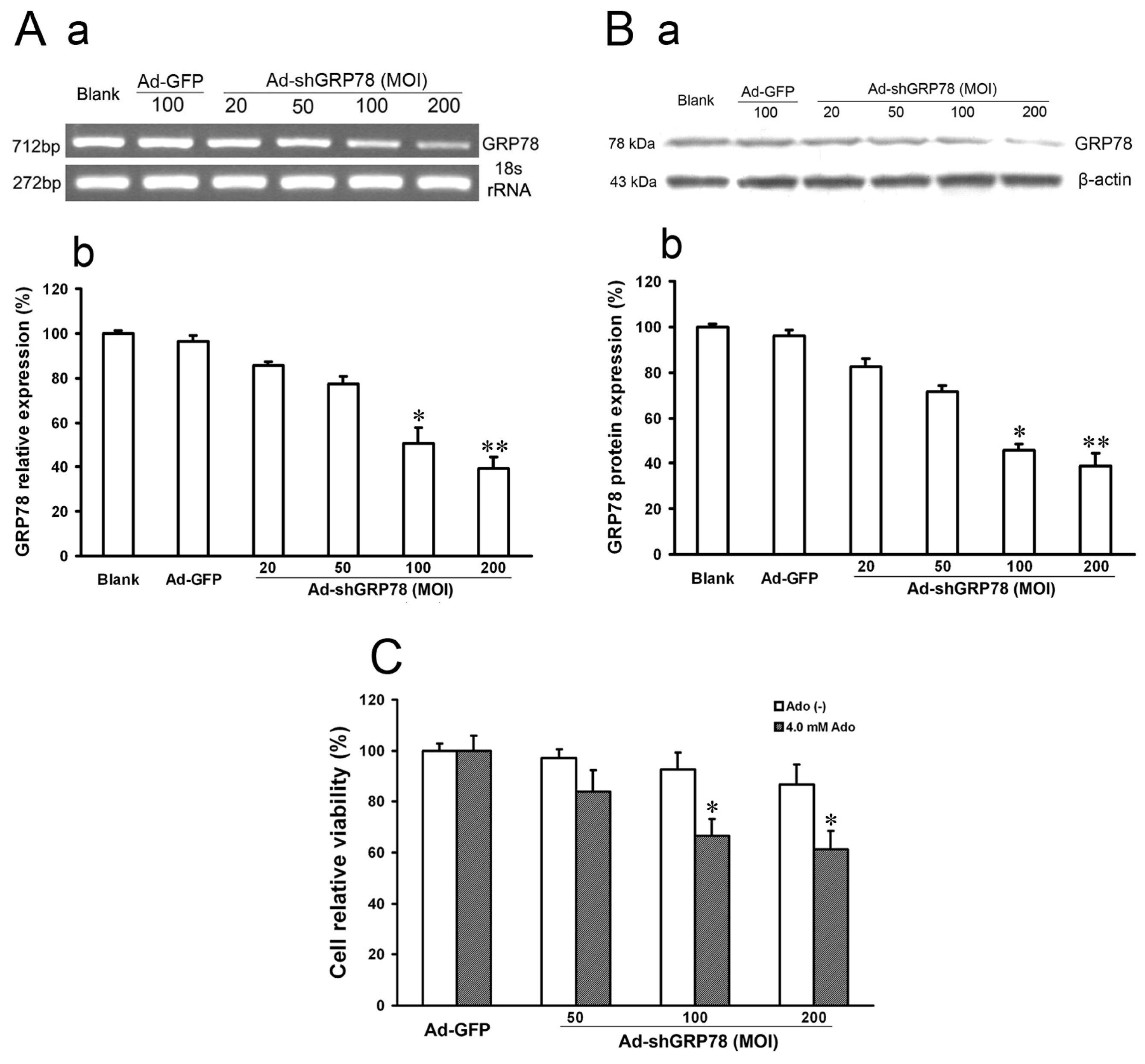 Share & Cite This Article
MDPI and ACS Style
Wu, L.-F.; Guo, Y.-T.; Zhang, Q.-H.; Xiang, M.-Q.; Deng, W.; Ye, Y.-Q.; Pu, Z.-J.; Feng, J.-L.; Huang, G.-Y. Enhanced Antitumor Effects of Adenoviral-Mediated siRNA against GRP78 Gene on Adenosine-Induced Apoptosis in Human Hepatoma HepG2 Cells. Int. J. Mol. Sci. 2014, 15, 525-544.
Related Articles
Comments
[Return to top]