Visual Detection and Evaluation of Latent and Lytic Gene Expression during Epstein-Barr Virus Infection Using One-Step Reverse Transcription Loop-Mediated Isothermal Amplification
1
The State Key Laboratory of Virology, College of Life Sciences, Wuhan University, Wuhan 430072, Hubei, China
2
The State Key Laboratory of Respiratory Disease, First Affiliated Hospital of Guangzhou Medical University, Guangzhou 510120, Guangdong, China
*
Author to whom correspondence should be addressed.
Received: 24 September 2013 / Revised: 1 December 2013 / Accepted: 2 December 2013 / Published: 9 December 2013
Abstract
Epstein-Barr virus (EBV)-associated disease exhibits distinct gene expression patterns characterized by the transcription of EBV nuclear antigen (EBNA) 1, EBNA2, latent membrane protein (LMP) 1, LMP2A, and BZLF1 (Zebra). A series of visual reverse transcript loop-mediated isothermal amplification (RT-LAMP) assays were performed to examine the expression of EBNA1, EBNA2, LMP1, LMP2A and BZLF1. The sensitivity of RT-LAMP for these transcripts was approximately equivalent to real-time RT-PCR (RT-qPCR), which was developed to quantify relative levels of EBV transcripts, and 10 to 100-fold more sensitive than conventional RT-PCR. Cross-reactions to other viruses were not observed upon examination of cell lines infected with herpes simplex viruses-1 and -2 (HSV-1 and -2), varicella zoster virus (VZV), human cytomegalovirus (HCMV) or Kaposi's sarcoma-associated herpesvirus. When applied to 146 specimens, RT-LAMP exhibited high clinical sensitivity and specificity, with an excellent agreement (κ > 0.92) compared to RT-qPCR. These assays are convenient for rapid early diagnosis and for surveillance of EBV-infected individuals by evaluating the EBV transcriptional profile, because the results can be visualized with the naked eye. These assays may be employed in further investigations because they can aid the design of improved therapeutic regimens and can be used specifically in resource-poor settings.
View Full-Text
►

▼

Figures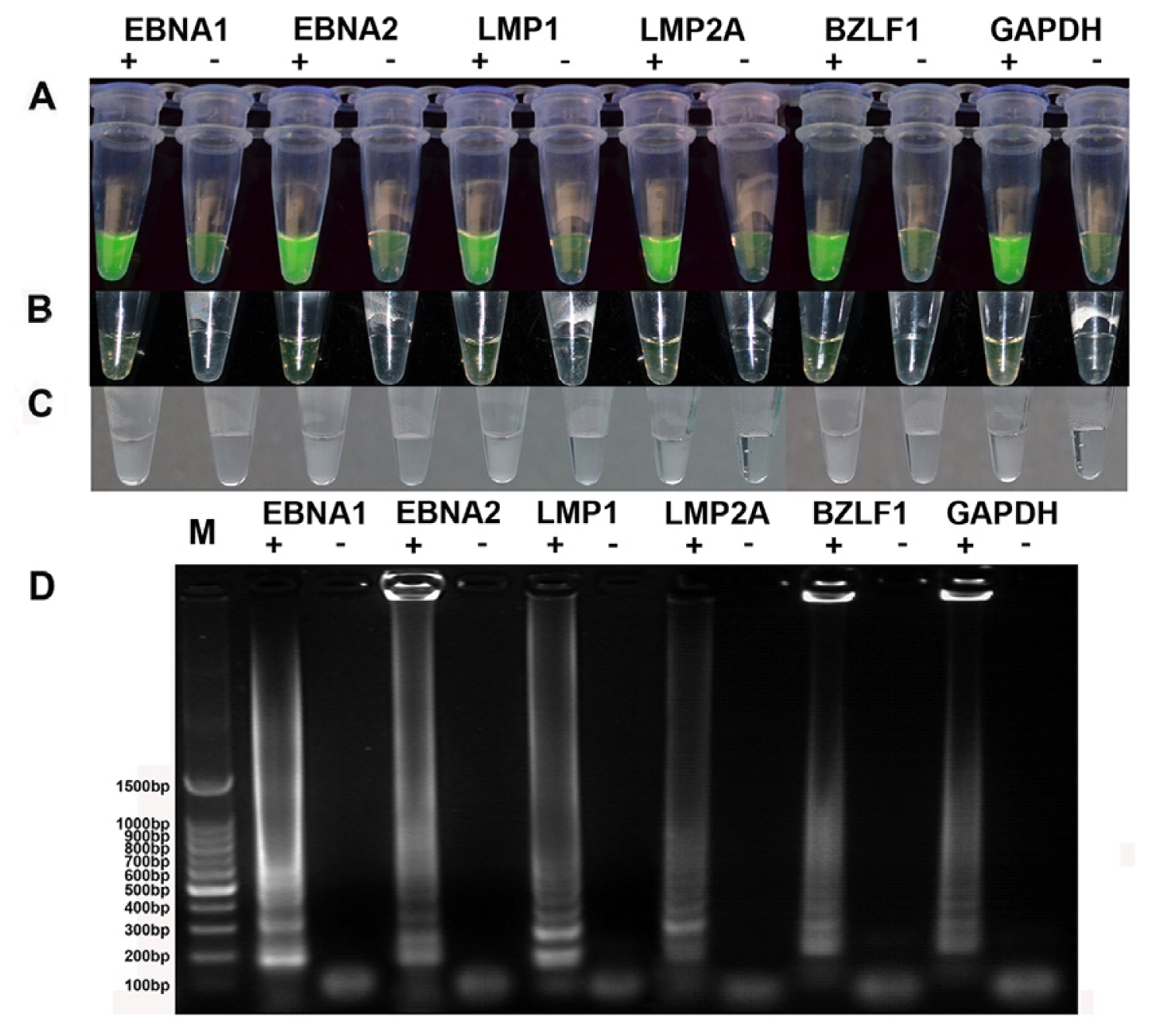 Share & Cite This Article
MDPI and ACS Style
Liu, X.; Tang, J.; Wang, M.; Ma, Q.; Wang, Y. Visual Detection and Evaluation of Latent and Lytic Gene Expression during Epstein-Barr Virus Infection Using One-Step Reverse Transcription Loop-Mediated Isothermal Amplification. Int. J. Mol. Sci. 2013, 14, 23922-23940.
Related Articles
Comments
[Return to top]