Open Access This article is
freely available
re-usable
Article
Small Molecule Binding, Docking, and Characterization of the Interaction between Pth1 and Peptidyl-tRNA
1
Department of Chemistry, University of Alabama in Huntsville, 301 Sparkman Drive, Huntsville, AL 35899, USA
2
Oak Ridge National Laboratory, Biology and Soft Matter Division, P.O. Box 2008, Oak Ridge, TN 37831, USA
†
These authors contributed equally to this work.
*
Author to whom correspondence should be addressed; Tel.: +1-256-824-6023; Fax: +1-256-824-6349.
Received: 9 October 2013; in revised form: 31 October 2013 / Accepted: 12 November 2013 / Published: 19 November 2013
Abstract
: Bacterial Pth1 is essential for viability. Pth1 cleaves the ester bond between the peptide and nucleotide of peptidyl-tRNA generated from aborted translation, expression of mini-genes, and short ORFs. We have determined the shape of the Pth1:peptidyl-tRNA complex using small angle neutron scattering. Binding of piperonylpiperazine, a small molecule constituent of a combinatorial synthetic library common to most compounds with inhibitory activity, was mapped to Pth1 via NMR spectroscopy. We also report computational docking results, modeling piperonylpiperazine binding based on chemical shift perturbation mapping. Overall these studies promote Pth1 as a novel antibiotic target, contribute to understanding how Pth1 interacts with its substrate, advance the current model for cleavage, and demonstrate feasibility of small molecule inhibition.
Keywords:
peptidyl-tRNA hydrolase; small angle neutron scattering; enzyme-substrate complex; docking; inhibition

Figure 1.
Small Angle Neutron Scattering. (
a
) Scattering curves for Pth1H20R:peptidyl-tRNA complex from contrast series measurements taken at buffer D
2
O concentrations of 0%, 10%, 18%, 70%, 85%, and 100%; (
b
) Pairwise distance distribution function of scattering data from complex in 100% D
2
O generated in GNOM [
25
].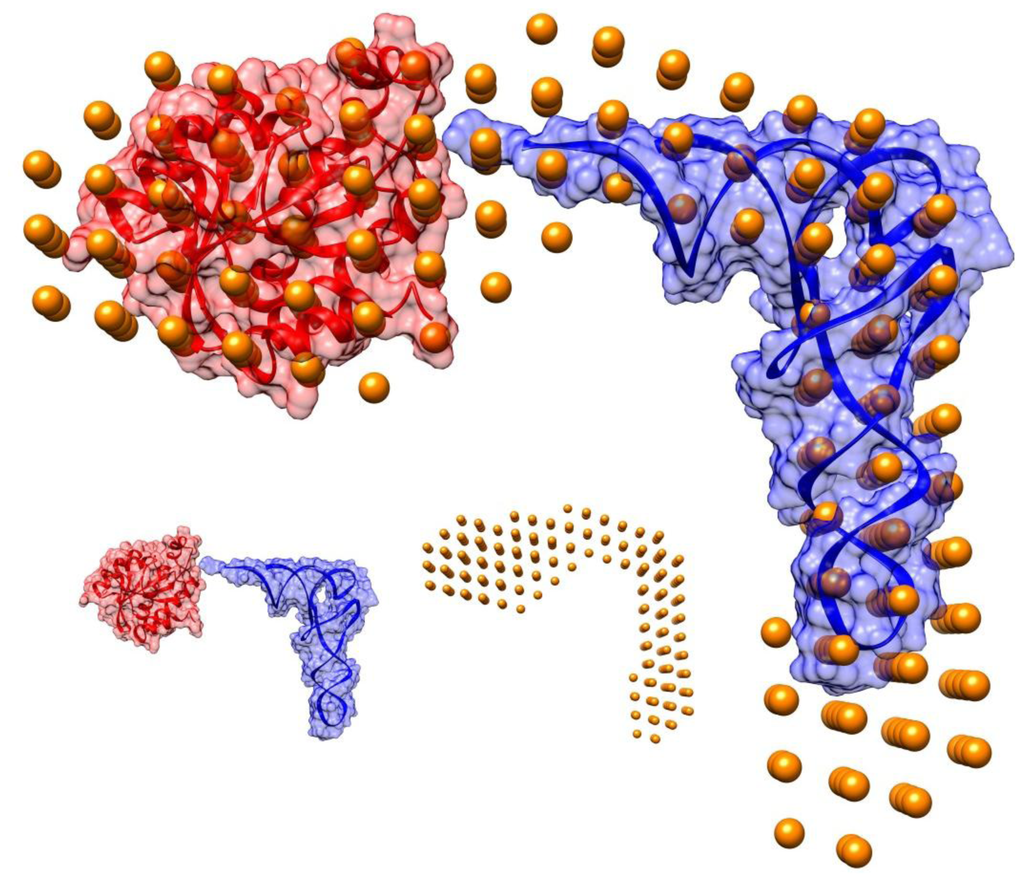 Figure 2.
Model of Pth1:peptidyl-tRNA Complex. The overall shape of the Pth1H20R:peptidyl-tRNA complex is shown in gold spheres.
E. coli
Pth1 (PDBID: 2PTH) and tRNA
Phe
(PDBID:1EHZ) were fit into the mass density. Pictured in the inset (lower right) are the individual components: tRNA
Phe
in blue, Pth1 in red, and the calculated shape in gold spheres.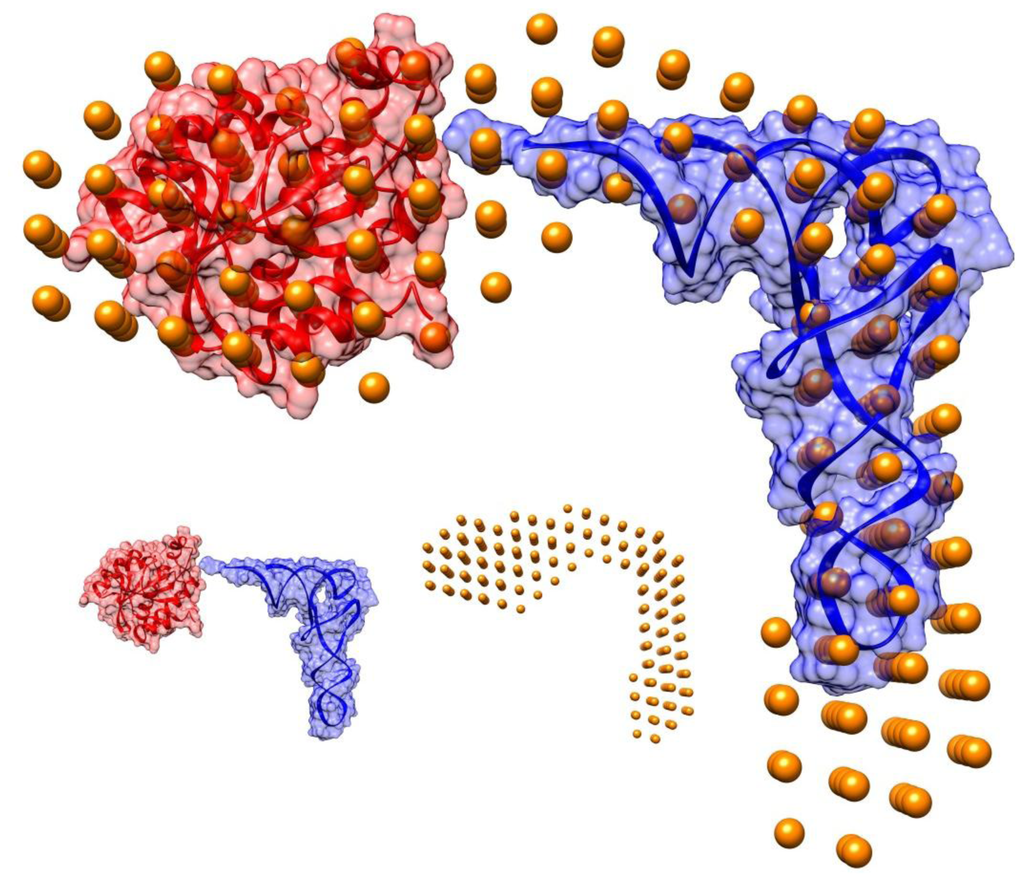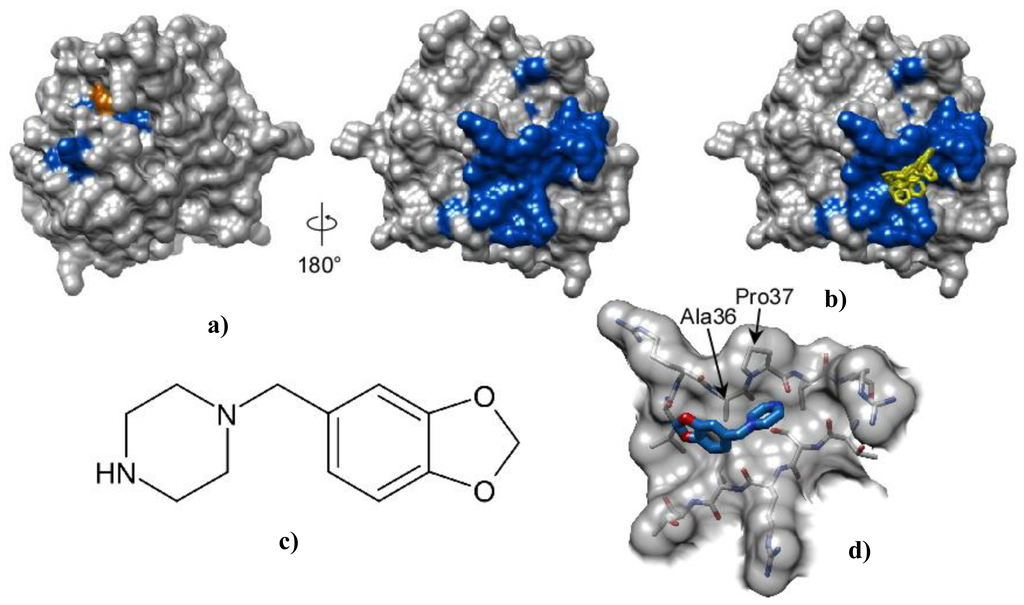 Figure 3.
Interaction and docking of
E. coli
Pth1 with piperonylpiperazine. (
a
) Surface representation of
E. coli
Pth1 (PDBID:2PTH) shown with catalytically important His20 in orange. From NMR data, residues with
1
H–
15
N resonances affected by interaction with piperonylpiperazine are in blue; (
b
) Docking: The six lowest energy orientations of piperonylpiperazine are shown in yellow; (
c
) Structure of piperonylpiperazine; (
d
) An enlarged view of the piperonylpiperazine binding site.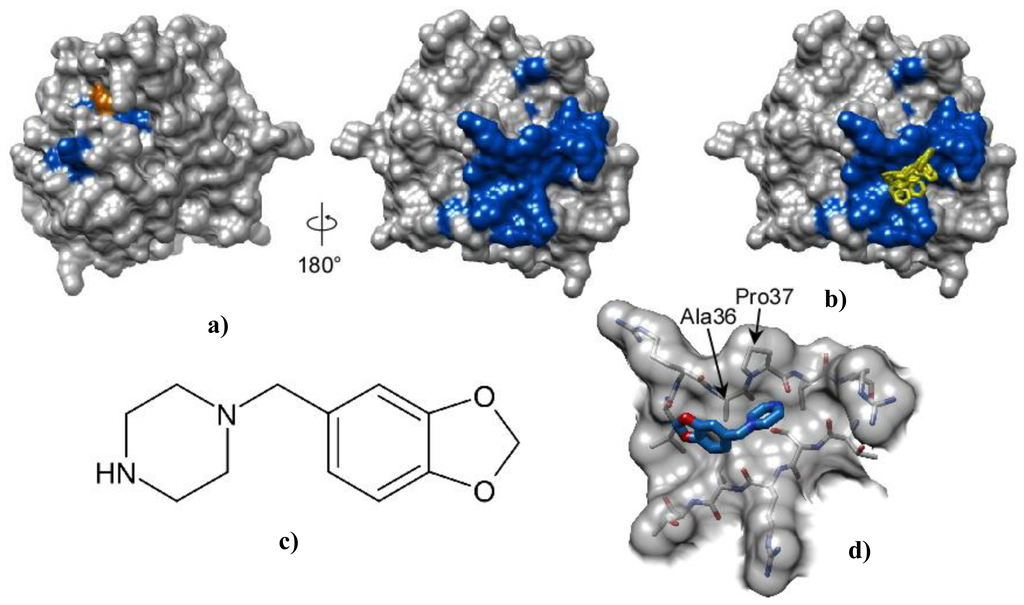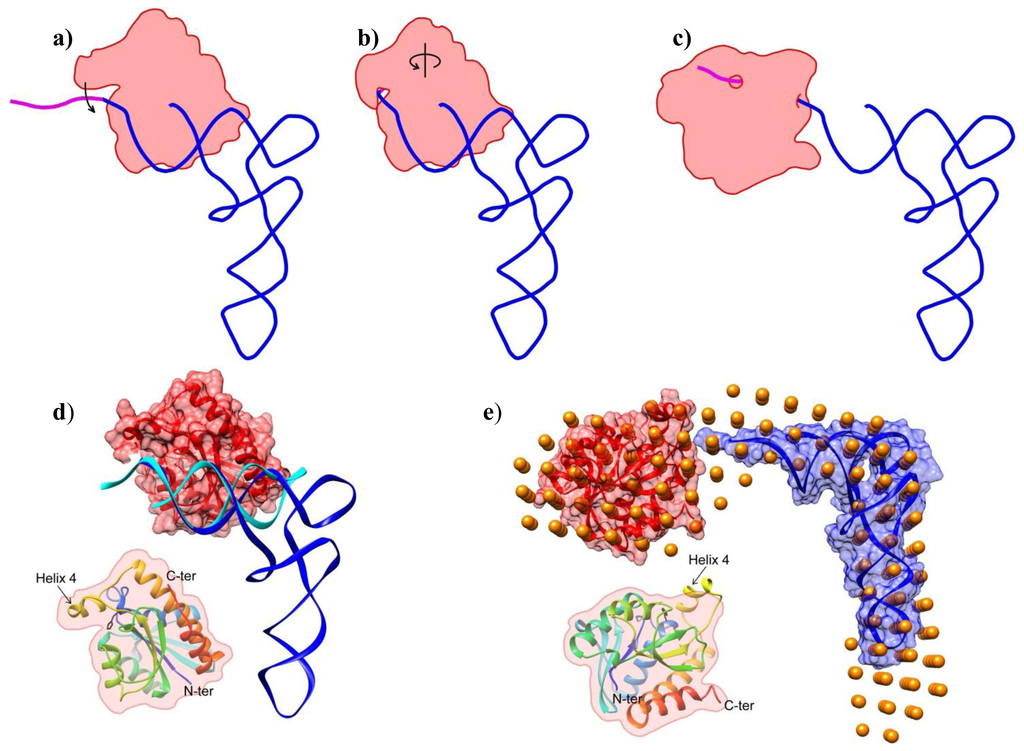 Figure 4. Model of Pth1 Interaction with peptidyl-tRNA. (a–c) Cartoon representation of the Pth1 (red) interaction model with peptidyl-tRNA (blue and magenta). (a) After substrate recognition; (b) helix 4 clamps the peptide portion (magenta) and CCA terminus of the substrate in the binding channel; (c) followed by the enzymatic reaction and release of products or just release of the nucleotide as observed in the SANS model; (d–e) Available high and low resolution structures of Pth1 and peptidyl-tRNA on which the model of interaction was built; (d) Crystal structures of the complex between Pth1 (PDBID:2PTH, red surface) and the TΨC loop of tRNA (PDBID:3VJR, cyan) with tRNAPhe(PDBID:1EHZ, blue) superimposed; (e) SANS model (orange beads) of the interaction presented here with the same coloring as in (d); Insets show the orientation of Pth1. In black, His20 is the only side chain shown.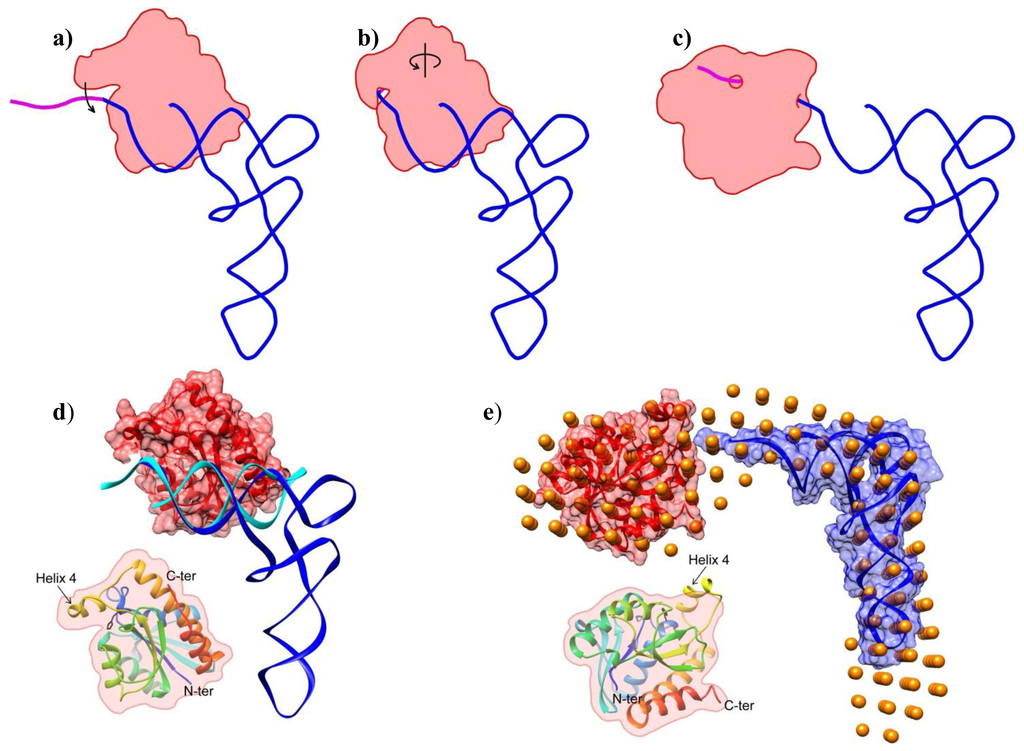 Acknowledgments
Support from the U.S. Department of Energy for neutron scattering research at Oak Ridge National Laboratory was provided to the Center for Structural Molecular Biology (Office of Biological and Environmental Research) and the High Flux Isotope Reactor (Scientific User Facilities Division, Office of Basic Energy Sciences).
Conflicts of Interest
The authors declare no conflict of interest.
© 2013 by the authors; licensee MDPI, Basel, Switzerland This article is an open access article distributed under the terms and conditions of the Creative Commons Attribution license (http://creativecommons.org/licenses/by/3.0/).