Direct Observation of Protein Microcrystals in Crystallization Buffer by Atmospheric Scanning Electron Microscopy
1
Biomedical Research Institute, National Institute of Advanced Industrial Science and Technology (AIST), Higashi 1-1-1, Tsukuba, Ibaraki 305-8566, Japan
2
Advanced Technology Division, JEOL Ltd., Akishima, Tokyo 196-8558, Japan
3
Structure Guided Drug Development Project, JBIC Research Institute, Japan Biological Informatics Consortium (JBIC), Aomi 2-4-7, Koto-ku, Tokyo 135-0064, Japan
4
National Institute of Environmental Health Sciences–NIH, Department of Health and Human Services, 111 TW Alexander Dr, Research Triangle Park, NC 27709, USA
5
Biomedicinal Information Research Center, National Institute of Advanced Industrial Science and Technology (AIST), Aomi 2-4-7, Koto-ku, Tokyo 135-0064, Japan
*
Author to whom correspondence should be addressed.
Received: 1 June 2012 / Revised: 2 August 2012 / Accepted: 3 August 2012 / Published: 22 August 2012
Abstract
X-ray crystallography requires high quality crystals above a given size. This requirement not only limits the proteins to be analyzed, but also reduces the speed of the structure determination. Indeed, the tertiary structures of many physiologically important proteins remain elusive because of the so-called "crystallization bottleneck". Once microcrystals have been obtained, crystallization conditions can be optimized to produce bigger and better crystals. However, the identification of microcrystals can be difficult due to the resolution limit of optical microscopy. Electron microscopy has sometimes been utilized instead, with the disadvantage that the microcrystals usually must be observed in vacuum, which precludes the usage for crystal screening. The atmospheric scanning electron microscope (ASEM) allows samples to be observed in solution. Here, we report the use of this instrument in combination with a special thin-membrane dish with a crystallization well. It was possible to observe protein crystals of lysozyme, lipase B and a histone chaperone TAF-Iβ in crystallization buffers, without the use of staining procedures. The smallest crystals observed with ASEM were a few µm in width, and ASEM can be used with non-transparent solutions. Furthermore, the growth of salt crystals could be monitored in the ASEM, and the difference in contrast between salt and protein crystals made it easy to distinguish between these two types of microcrystals. These results indicate that the ASEM could be an important new tool for the screening of protein microcrystals.
View Full-Text
►

▼

Figures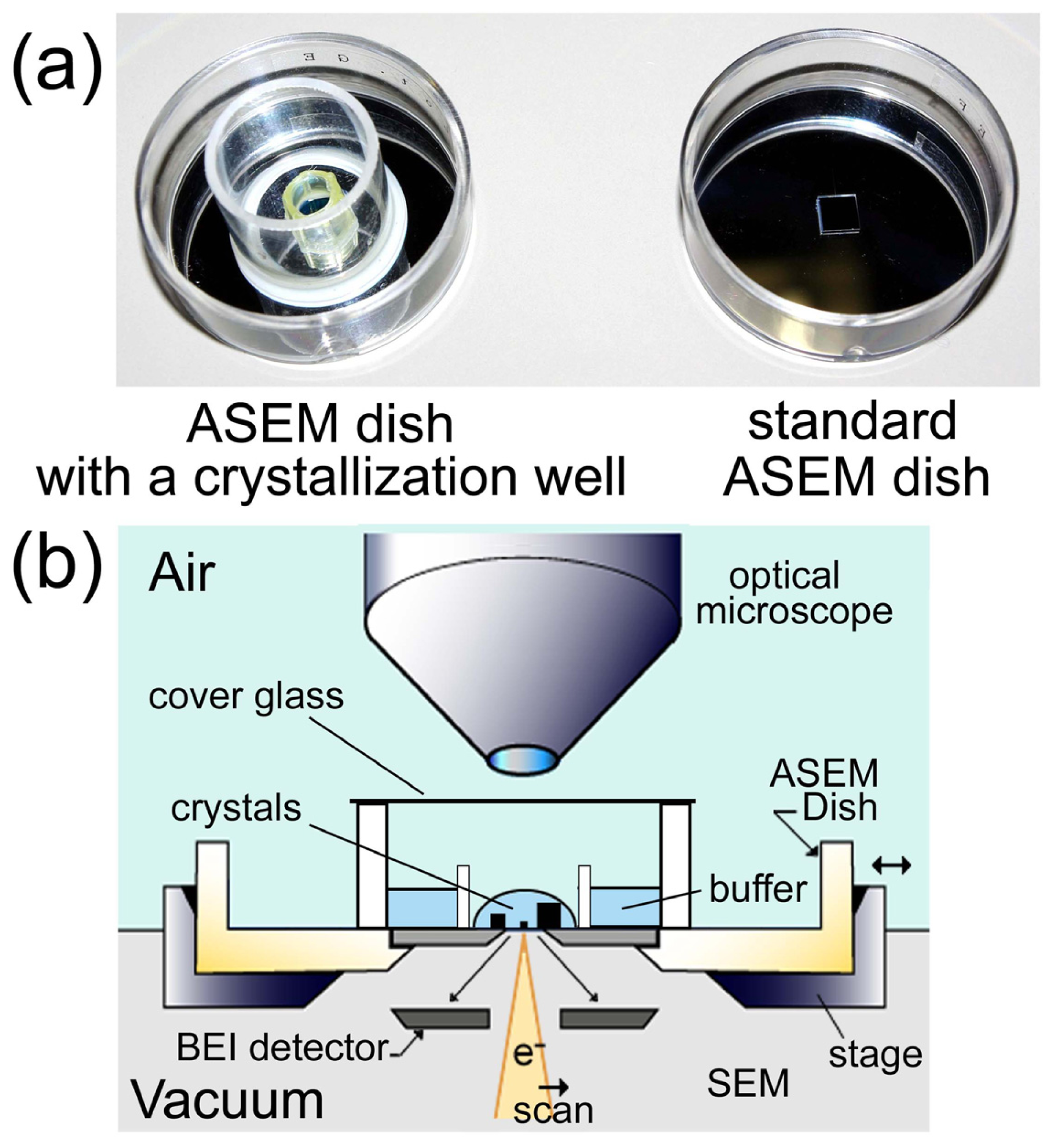 Share & Cite This Article
MDPI and ACS Style
Maruyama, Y.; Ebihara, T.; Nishiyama, H.; Konyuba, Y.; Senda, M.; Numaga-Tomita, T.; Senda, T.; Suga, M.; Sato, C. Direct Observation of Protein Microcrystals in Crystallization Buffer by Atmospheric Scanning Electron Microscopy. Int. J. Mol. Sci. 2012, 13, 10553-10567.
Related Articles
Comments
[Return to top]