Gender Related Differences in Kidney Injury Induced by Mercury
Pharmacology, Faculty of Biochemist and Pharmaceutical Sciences, National University of Rosario, CONICET, Rosario 2000, Argentina
*
Author to whom correspondence should be addressed.
Received: 30 June 2012 / Revised: 7 August 2012 / Accepted: 14 August 2012 / Published: 22 August 2012
Abstract
The aim of this study was to determine if there are sex-related differences in the acute kidney injury induced by HgCl
2
since female rats express lower levels of renal Oat1 and Oat3 (transporters involved in renal uptake of mercury) as compared with males. Control males and females and Hg-treated male and female Wistar rats were employed. Animals were treated with HgCl
2
(4 mg/kg body weight (b.w.), intraperitoneal (i.p.)) 18 h before the experiments. HgCl
2
induced renal impairment both in male and female rats. However, female rats showed a lower renal impairment than male rats. The observed increase in kidney weight/body weight ratio seen in male and female rats following HgCl
2
treatment was less in the female rats. Urine volume and creatinine clearance decreased and Oat5 urinary excretion increased in both males and females, but to a lesser degree in the latter. Urinary alkaline phosphatase (AP) activity and histological parameters were modified in male but not in female rats after HgCl
2
administration. These results indicate that the lower Oat1 and Oat3 expression in the kidney of females restricts Hg uptake into renal cells protecting them from this metal toxicity. These gender differences in renal injury induced by mercury are striking and also indicate that Oat1 and Oat3 are among the main transporters responsible for HgCl
2
-induced renal injury.
View Full-Text
►

▼

Figures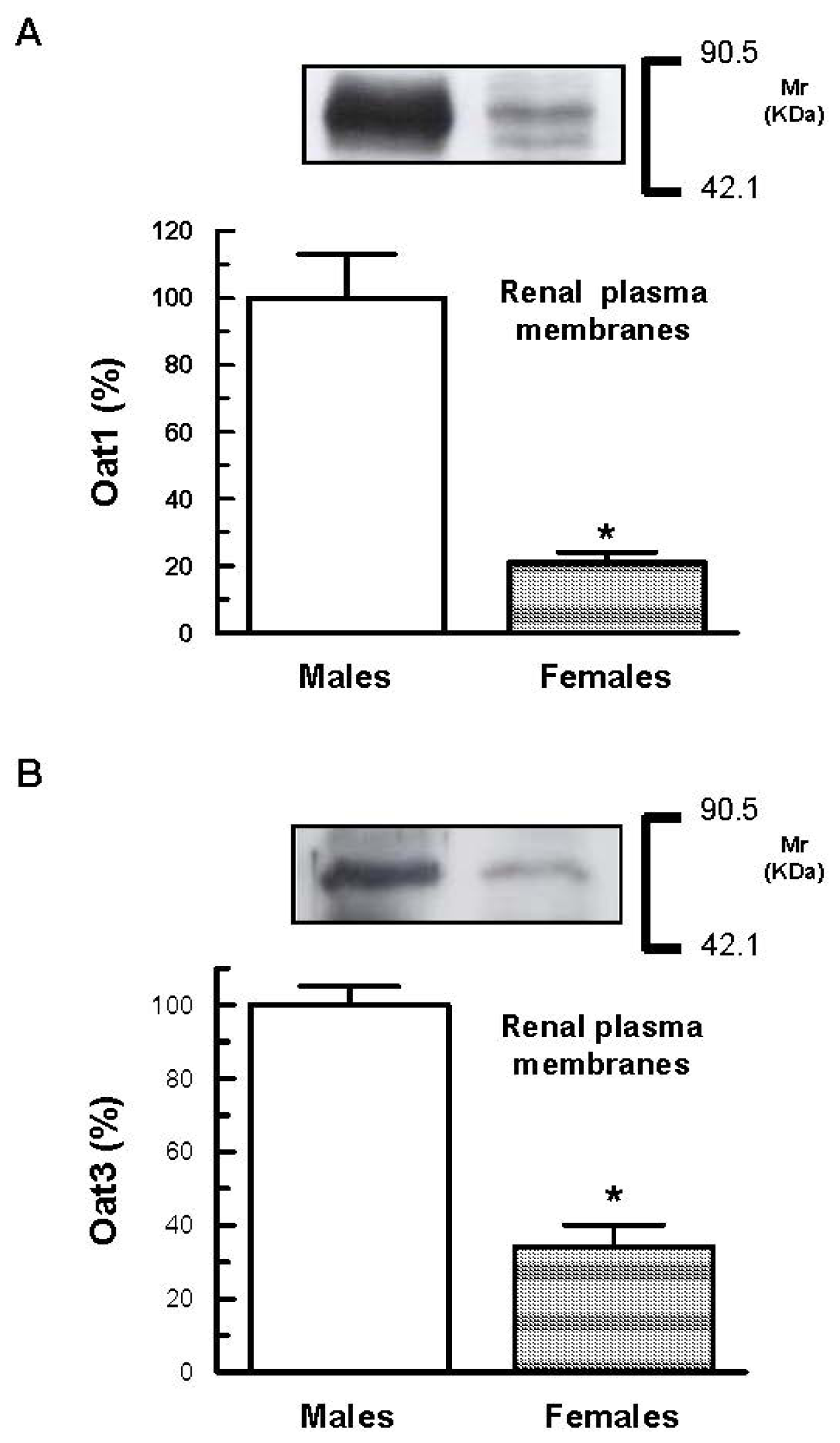 Share & Cite This Article
MDPI and ACS Style
Hazelhoff, M.H.; Bulacio, R.P.; Torres, A.M. Gender Related Differences in Kidney Injury Induced by Mercury. Int. J. Mol. Sci. 2012, 13, 10523-10536.
Related Articles
Comments
[Return to top]