A Freshwater Streptomyces, Isolated from Tyume River, Produces a Predominantly Extracellular Glycoprotein Bioflocculant
Applied and Environmental Microbiology Research Group (AEMREG), Department of Biochemistry and Microbiology, University of Fort Hare, Private Bag X1314, Alice 5700, South Africa
*
Author to whom correspondence should be addressed.
Received: 15 May 2012 / Revised: 18 June 2012 / Accepted: 21 June 2012 / Published: 13 July 2012
Abstract
We evaluated bioflocculant production by a freshwater actinobacteria whose 16S rDNA nucleotide sequence was deposited in GenBank as
Streptomyces
sp. Gansen (accession number HQ537129). Optimum culture conditions for bioflocculant production were an initial medium pH of 6.8, incubation temperature of 30 °C, agitation speed of 160 rpm and an inoculum size of 2% (v/v) of cell density 1.5 × 10
8
cfu/mL. The carbon, nitrogen and cation sources for optimum bioflocculant production were glucose (89% flocculating activity), ammonium sulfate (76% flocculating activity) and MgCl
2
. Bioflocculant pyrolysis showed three step decomposition indicative of three components while chemical analyses showed 78% carbohydrate and 22% protein (wt/wt). The mass ratio of neutral sugar, amino sugar and uronic acids was 4.6:2.4:3. FTIR spectrometry indicated the presence of carboxyl, hydroxyl and amino groups, typical for heteropolysaccharide. The bioflocculant showed a lattice structure as seen by SEM imaging. Its high flocculation activity suggests its suitability for industrial applicability.
View Full-Text
►

▼

Figures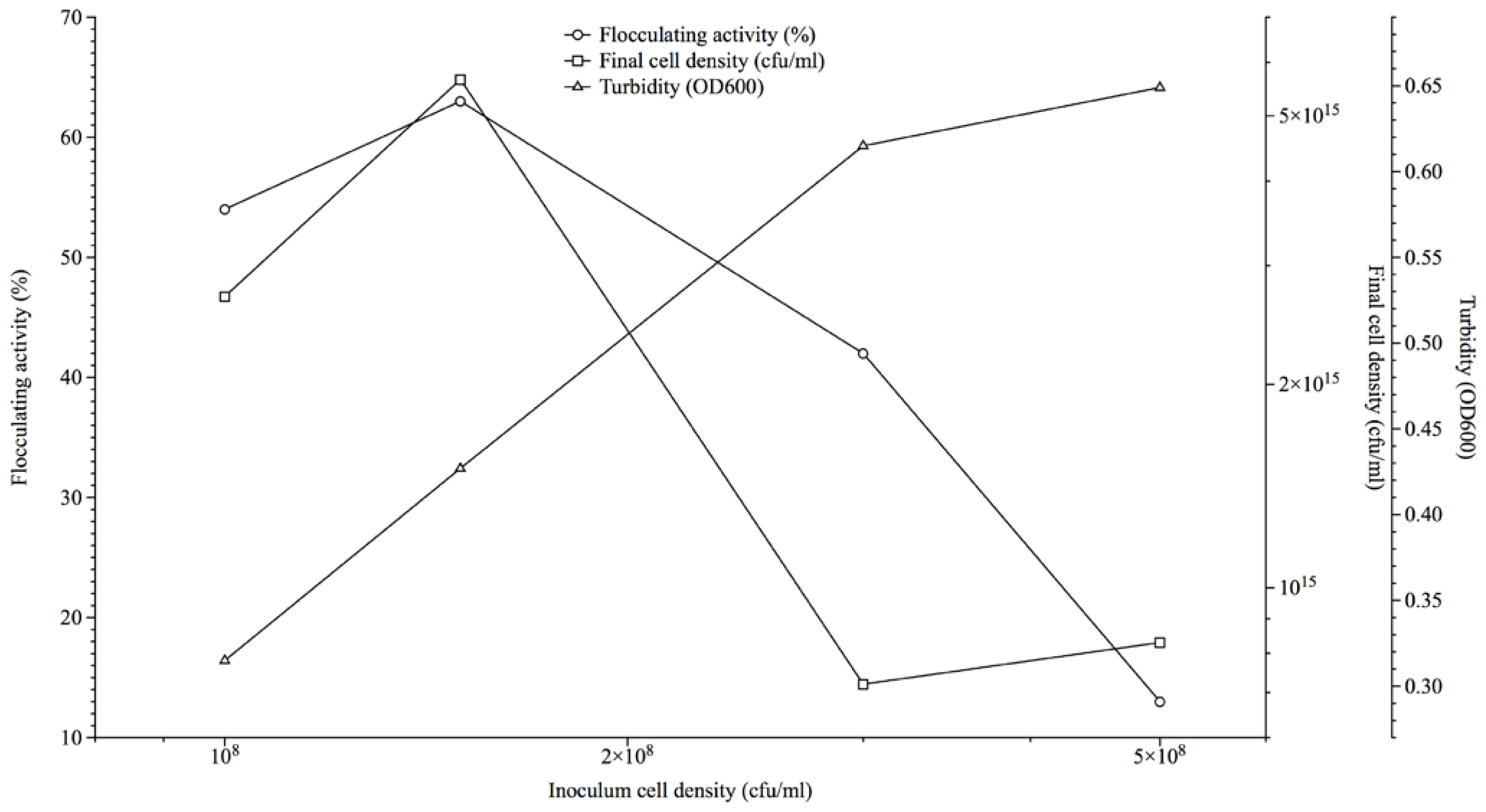 Share & Cite This Article
MDPI and ACS Style
Nwodo, U.U.; Agunbiade, M.O.; Green, E.; Mabinya, L.V.; Okoh, A.I. A Freshwater Streptomyces, Isolated from Tyume River, Produces a Predominantly Extracellular Glycoprotein Bioflocculant. Int. J. Mol. Sci. 2012, 13, 8679-8695.
Related Articles
Comments
[Return to top]