Effects of Brown Rice and White Rice on Expression of Xenobiotic Metabolism Genes in Type 2 Diabetic Rats
1
Laboratory of Molecular Biomedicine, Institute of Bioscience, Universiti Putra Malaysia, Serdang 43400, Selangor, Malaysia
2
Department of Nutrition and Dietetics, Faculty of Medicine and Health Sciences, Universiti Putra Malaysia, Serdang 43400, Selangor, Malaysia
*
Author to whom correspondence should be addressed.
Received: 6 June 2012 / Revised: 20 June 2012 / Accepted: 26 June 2012 / Published: 10 July 2012
Abstract
Xenobiotics constantly influence biological systems through several means of interaction. These interactions are disturbed in type 2 diabetes, with implications for disease outcome. We aimed to study the implications of such disturbances on type 2 diabetes and rice consumption, the results of which could affect management of the disease in developing countries. In a type 2 diabetic rat model induced through a combination of high fat diet and low dose streptozotocin injection, up-regulation of xenobiotic metabolism genes in the diabetic untreated group was observed. Xenobiotic metabolism genes were upregulated more in the white rice (WR) group than the diabetic untreated group while the brown rice (BR) group showed significantly lower expression values, though not as effective as metformin, which gave values closer to the normal non-diabetic group. The fold changes in expression in the WR group compared to the BR group for Cyp2D4, Cyp3A1, Cyp4A1, Cyp2B1, Cyp2E1, Cyp2C11, UGT2B1, ALDH1A1 and Cyp2C6 were 2.6, 2, 1.5, 4, 2.8, 1.5, 1.8, 3 and 5, respectively. Our results suggest that WR may upregulate these genes in type 2 diabetes more than BR, potentially causing faster drug metabolism, less drug efficacy and more toxicity. These results may have profound implications for rice eating populations, constituting half the world's population.
View Full-Text
►

▼

Figures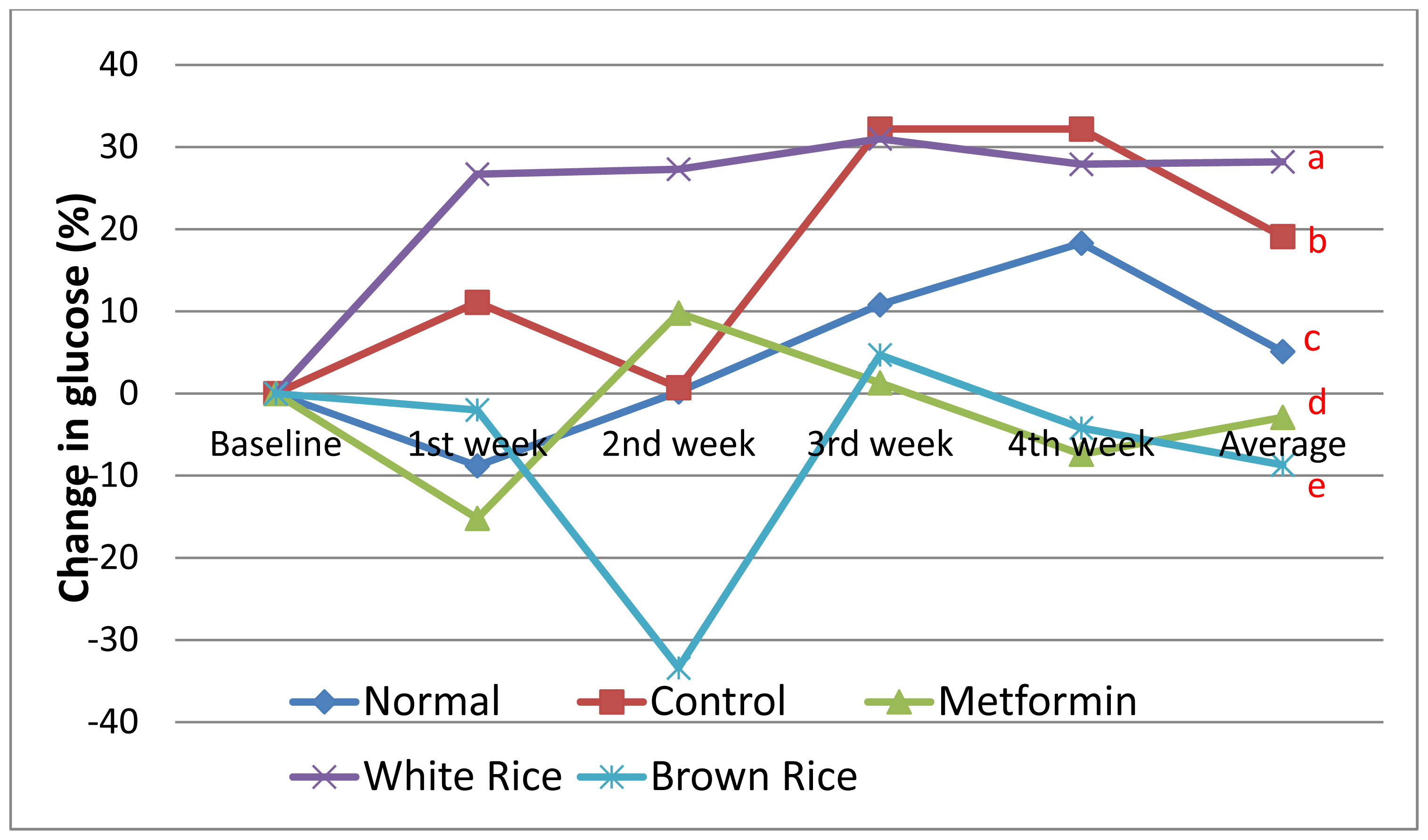 Share & Cite This Article
MDPI and ACS Style
Imam, M.U.; Ismail, M. Effects of Brown Rice and White Rice on Expression of Xenobiotic Metabolism Genes in Type 2 Diabetic Rats. Int. J. Mol. Sci. 2012, 13, 8597-8608.
Related Articles
Comments
[Return to top]