Pharmacophore and Molecular Docking Guided 3D-QSAR Study of Bacterial Enoyl-ACP Reductase (FabI) Inhibitors
1
Key Laboratory of Regenerative Biology and Institute of Chemical Biology, Guangzhou Institutes of Biomedicine and Health, Chinese Academy of Sciences, No. 190, Kaiyuan Avenue, Science Park, Guangzhou 510530, China
2
Department of Medicinal Chemistry, China Pharmaceutical University, 24 Tongjiaxiang, Nanjing 210009, China
*
Author to whom correspondence should be addressed.
Received: 20 March 2012 / Revised: 7 May 2012 / Accepted: 14 May 2012 / Published: 30 May 2012
Abstract
Enoyl acyl carrier protein (ACP) reductase (FabI) is a potential target for the development of antibacterial agents. Three-dimensional quantitative structure-activity relationships (3D-QSAR) for substituted formamides series of FabI inhibitors were investigated using comparative molecular field analysis (CoMFA) and comparative molecular similarity indices analysis (CoMSIA) techniques. Pharmacophore and molecular docking methods were used for construction of the molecular alignments. A training set of 36 compounds was performed to create the 3D-QSAR models and their external predictivity was proven using a test set of 11 compounds. Graphical interpretation of the results revealed important structural features of the formamides related to the active site of FabI. The results may be exploited for further optimization of the design of new potent FabI inhibitors.
View Full-Text
►

▼

Figures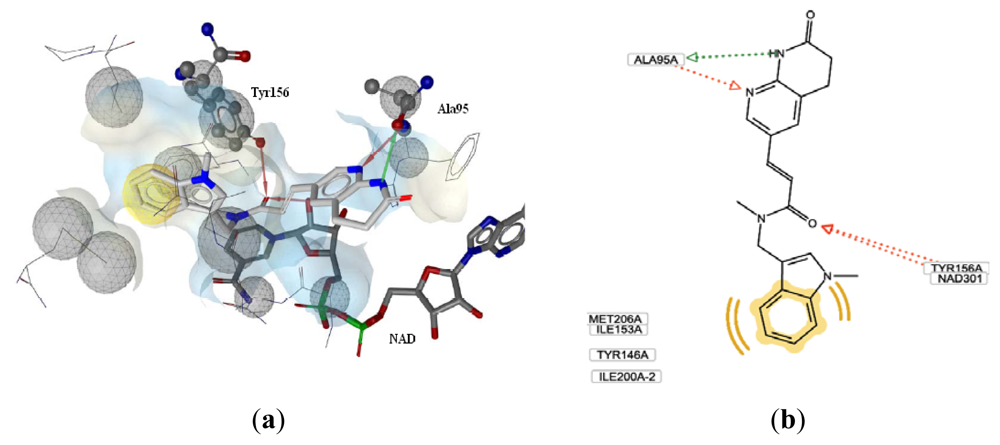 Share & Cite This Article
MDPI and ACS Style
Lu, X.; Lv, M.; Huang, K.; Ding, K.; You, Q. Pharmacophore and Molecular Docking Guided 3D-QSAR Study of Bacterial Enoyl-ACP Reductase (FabI) Inhibitors. Int. J. Mol. Sci. 2012, 13, 6620-6638.
Related Articles
Comments
[Return to top]