Genetic and Association Mapping Study of Wheat Agronomic Traits Under Contrasting Water Regimes
1
Maize Research Institute, Slobodana Bajica 1, Belgrade-Zemun Polje 11185, Serbia
2
Environmental and Molecular Plant Physiology Research Group, School of Biology, Devonshire Building, Newcastle University, Newcastle upon Tyne NE1 7RU, UK
3
Institute of Field and Vegetative Crops, Maksima Gorkog 30, Novi Sad 21000, Serbia
4
Faculty of Agriculture, University of Belgrade, Nemanjina 6, Belgrade 11080, Serbia
*
Author to whom correspondence should be addressed.
Received: 14 March 2012 / Revised: 2 May 2012 / Accepted: 15 May 2012 / Published: 18 May 2012
Abstract
Genetic analyses and association mapping were performed on a winter wheat core collection of 96 accessions sampled from a variety of geographic origins. Twenty-four agronomic traits were evaluated over 3 years under fully irrigated, rainfed and drought treatments. Grain yield was the most sensitive trait to water deficit and was highly correlated with above-ground biomass per plant and number of kernels per m
2
. The germplasm was structured into four subpopulations. The association of 46 SSR loci distributed throughout the wheat genome with yield and agronomic traits was analyzed using a general linear model, where subpopulation information was used to control false-positive or spurious marker-trait associations (MTAs). A total of 26, 21 and 29 significant (
P
< 0.001) MTAs were identified in irrigated, rainfed and drought treatments, respectively. The marker effects ranged from 14.0 to 50.8%. Combined across all treatments, 34 significant (
P
< 0.001) MTAs were identified with nine markers, and
R
2
ranged from 14.5 to 50.2%. Marker psp3200 (6DS) and particularly gwm484 (2DS) were associated with many significant MTAs in each treatment and explained the greatest proportion of phenotypic variation. Although we were not able to recognize any marker related to grain yield under drought stress, a number of MTAs associated with developmental and agronomic traits highly correlated with grain yield under drought were identified.
View Full-Text
►

▼

Figures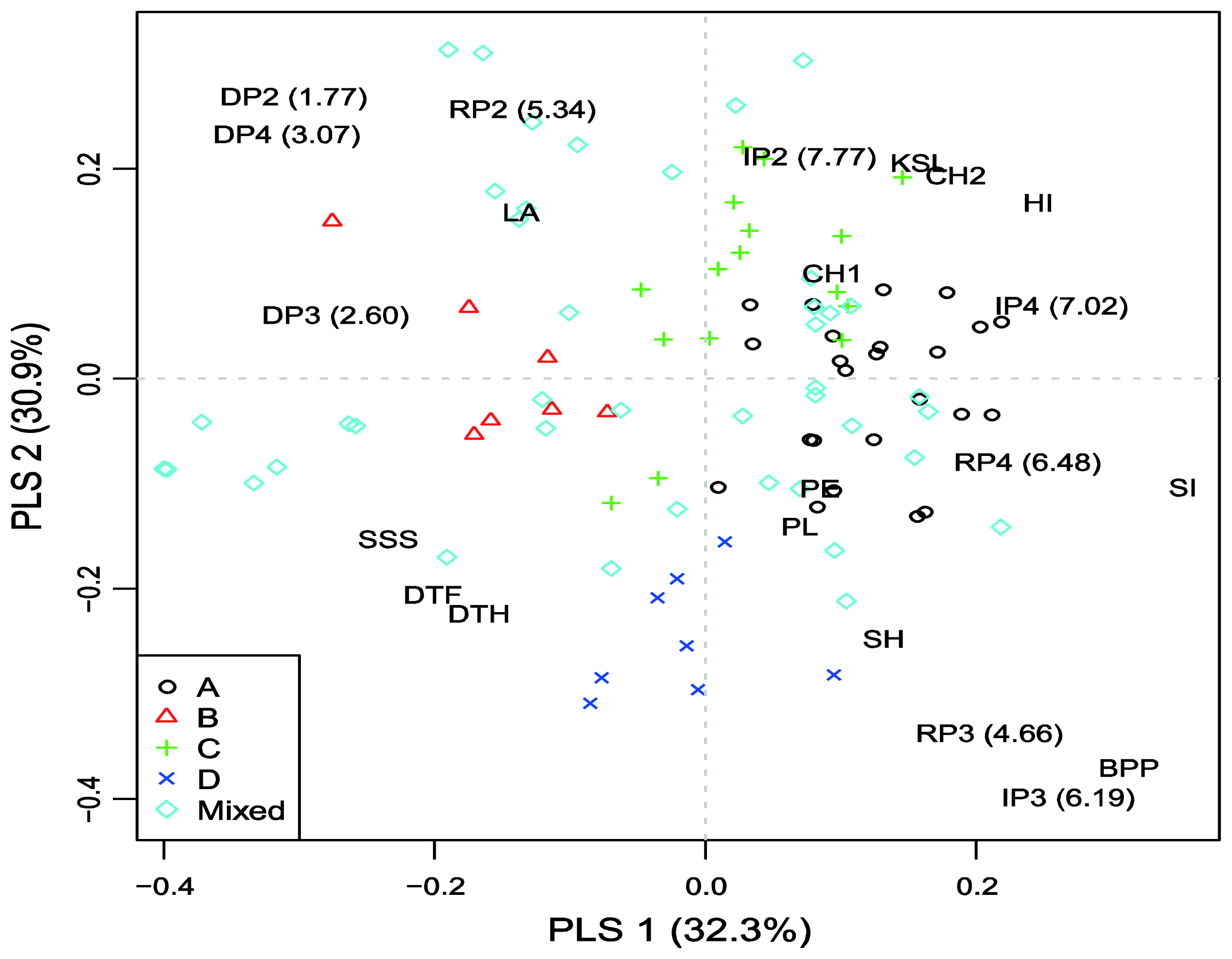 Share & Cite This Article
MDPI and ACS Style
Dodig, D.; Zoric, M.; Kobiljski, B.; Savic, J.; Kandic, V.; Quarrie, S.; Barnes, J. Genetic and Association Mapping Study of Wheat Agronomic Traits Under Contrasting Water Regimes. Int. J. Mol. Sci. 2012, 13, 6167-6188.
Related Articles
Comments
[Return to top]