Anti-TNF-α Activity of Portulaca oleracea in Vascular Endothelial Cells
1
College of Oriental Medicine and Professional Graduate School of Oriental Medicine, Wonkwang University, Shinyong-dong, Iksan, Jeonbuk, 570-749, Korea
2
Korea Institute of Oriental Medicine, Jeonmin-dong, Yusung-gu, Daejeon, 305-811, Republic of Korea
3
Hanbang Body-fluid Research Center, Wonkwang University, Shinyong-dong, Iksan, Jeonbuk, 570-749, Korea
†
These authors contributed equally to this work.
*
Authors to whom correspondence should be addressed.
Received: 20 February 2012 / Revised: 20 April 2012 / Accepted: 2 May 2012 / Published: 10 May 2012
Abstract
Vascular inflammation plays a key role in the pathogenesis and progression of atherosclerosis, a main complication of diabetes. The present study investigated whether an aqueous extract of
Portulaca oleracea
(AP) prevents the TNF-α-induced vascular inflammatory process in the human umbilical vein endothelial cell (HUVEC). The stimulation of TNF-α induced overexpression of adhesion molecules affects vascular cell adhesion molecule (VCAM)-1, intercellular adhesion molecule (ICAM)-1 and E-selectin for example. However, AP significantly suppressed TNF-α-induced over-expression of these adhesion molecules in a dose-dependent manner. In addition, pretreatment with AP dose-dependently reduced an increase of the adhesion of HL-60 cells to TNF-α-induced HUVEC. Furthermore, we observed that stimulation of TNF-α significantly increased intracellular reactive oxygen species (ROS) production. However, pretreatment with AP markedly blocked TNF-α-induced ROS production in a dose-dependent manner. The western blot and immunofluorescence analysis showed that AP inhibited the translocation of p65 NF-κB to the nucleus. In addition, AP suppressed the TNF-α-induced degradation of IκB-α and attenuated the TNF-α-induced NF-κB binding. AP also effectively reduced TNF-α-induced mRNA expressions of monocyte chemoattractant protein (MCP)-1 and interleukin (IL)-8 in a dose-dependent manner. Taken together, AP prevents the vascular inflammatory process through the inhibition of intracellular ROS production and NF-κB activation as well as the reduction of adhesion molecule expression in TNF-α-induced HUVEC. These results suggested that AP might have a potential therapeutic effect by inhibiting the vascular inflammation process in vascular diseases such as atherosclerosis.
View Full-Text
►

▼

Figures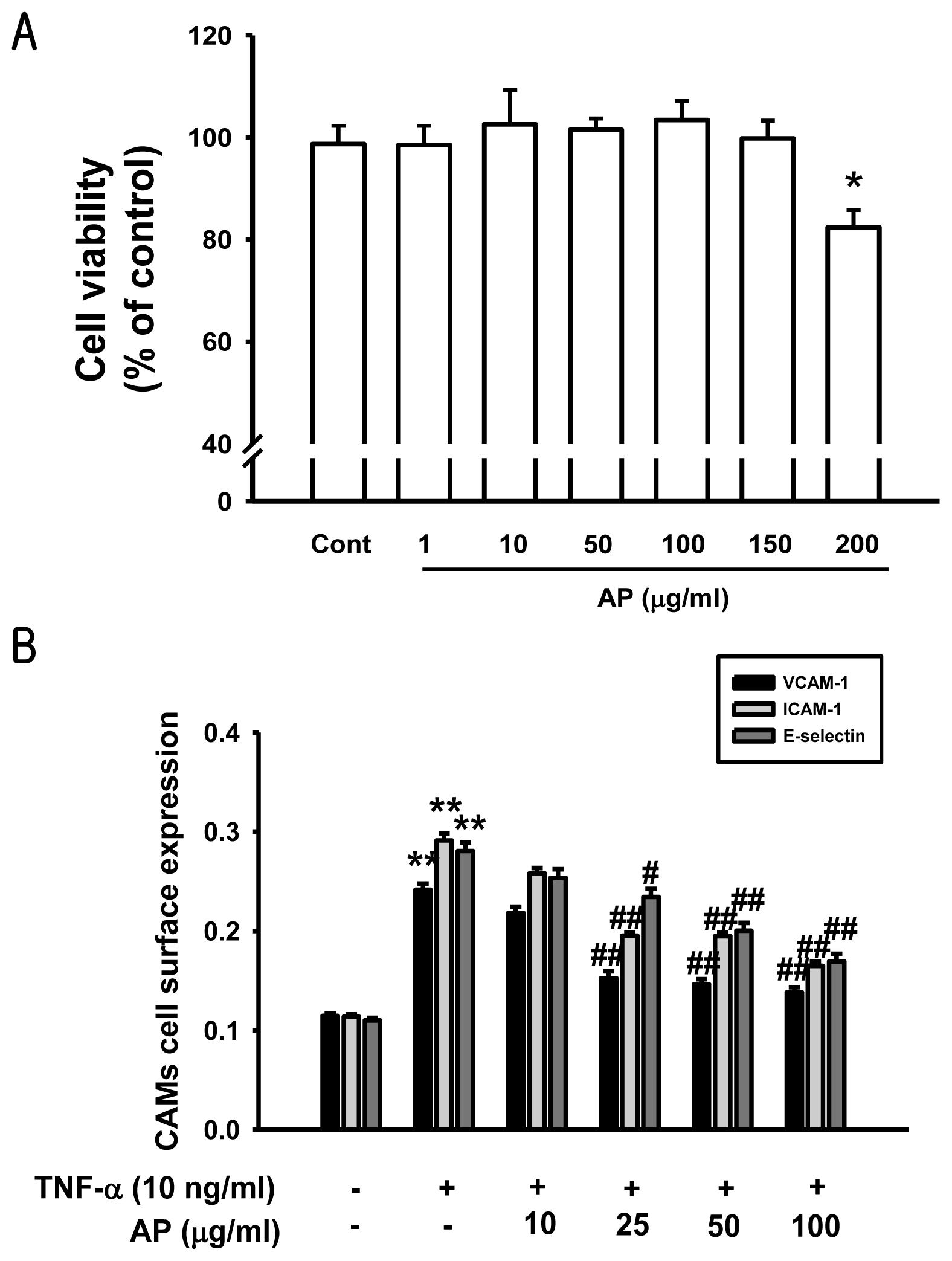 Share & Cite This Article
MDPI and ACS Style
Lee, A.S.; Kim, J.S.; Lee, Y.J.; Kang, D.G.; Lee, H.S. Anti-TNF-α Activity of Portulaca oleracea in Vascular Endothelial Cells. Int. J. Mol. Sci. 2012, 13, 5628-5644.
Related Articles
Comments
[Return to top]