A Glutamic Acid-Producing Lactic Acid Bacteria Isolated from Malaysian Fermented Foods
Faculty of Food Science and Technology, Universiti Putra Malaysia, Serdang 43400, Selangor, Malaysia
*
Author to whom correspondence should be addressed.
Received: 24 February 2012 / Revised: 9 April 2012 / Accepted: 16 April 2012 / Published: 7 May 2012
Abstract
L-glutamaic acid is the principal excitatory neurotransmitter in the brain and an important intermediate in metabolism. In the present study, lactic acid bacteria (218) were isolated from six different fermented foods as potent sources of glutamic acid producers. The presumptive bacteria were tested for their ability to synthesize glutamic acid. Out of the 35 strains showing this capability, strain MNZ was determined as the highest glutamic-acid producer. Identification tests including 16S rRNA gene sequencing and sugar assimilation ability identified the strain MNZ as
Lactobacillus plantarum.
The characteristics of this microorganism related to its glutamic acid-producing ability, growth rate, glucose consumption and pH profile were studied. Results revealed that glutamic acid was formed inside the cell and excreted into the extracellular medium. Glutamic acid production was found to be growth-associated and glucose significantly enhanced glutamic acid production (1.032 mmol/L) compared to other carbon sources. A concentration of 0.7% ammonium nitrate as a nitrogen source effectively enhanced glutamic acid production. To the best of our knowledge this is the first report of glutamic acid production by lactic acid bacteria. The results of this study can be further applied for developing functional foods enriched in glutamic acid and subsequently γ-amino butyric acid (GABA) as a bioactive compound.
View Full-Text
►

▼

Figures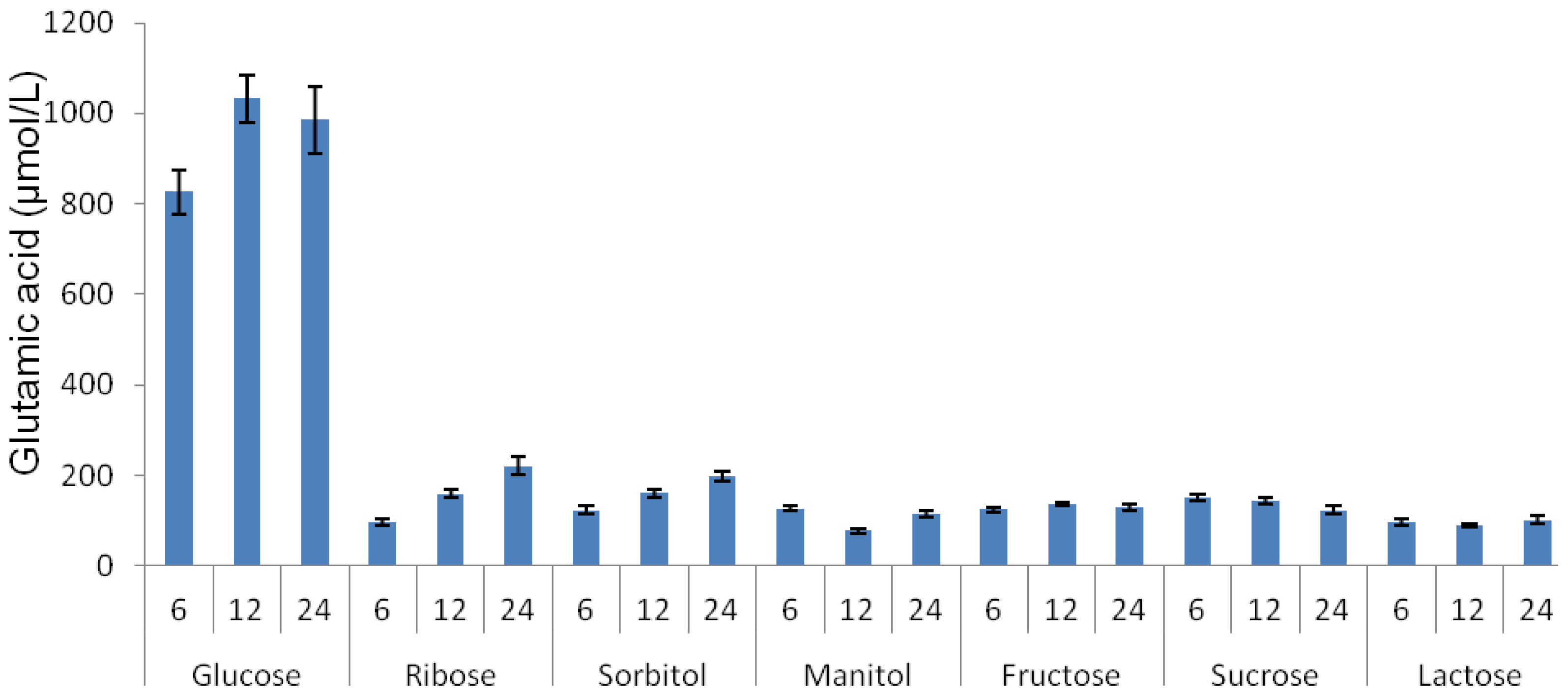 Share & Cite This Article
MDPI and ACS Style
Zareian, M.; Ebrahimpour, A.; Bakar, F.A.; Mohamed, A.K.S.; Forghani, B.; Ab-Kadir, M.S.B.; Saari, N. A Glutamic Acid-Producing Lactic Acid Bacteria Isolated from Malaysian Fermented Foods. Int. J. Mol. Sci. 2012, 13, 5482-5497.
Related Articles
Comments
[Return to top]