Antibody Phage Display Libraries: Contributions to Oncology
1
Centre de Recherche en Cancérologie de Lyon, UMR INSERM 1052-CNRS 5286, Centre Léon Bérard, Cheney D, 28 Rue Laënnec, 69373 Lyon Cedex 08, France
2
Laboratório de Biologia Molecular, CEL/IB, Universidade de Brasília, Campus Darcy Ribeiro, 70910-900, Brasília-DF, Brazil
*
Author to whom correspondence should be addressed.
Received: 1 March 2012 / Revised: 5 April 2012 / Accepted: 24 April 2012 / Published: 4 May 2012
Abstract
Since the advent of phage display technology, dating back to 1985, antibody libraries displayed on filamentous phage surfaces have been used to identify specific binders for many different purposes, including the recognition of tumors. Phage display represents a high-throughput technique for screening billions of random fusion antibodies against virtually any target on the surface or inside cancer cells, or even soluble markers found in patient serum. Many phage display derived binders targeting important tumor markers have been identified. Selection directed to tumoral cells' surfaces lead to the identification of unknown tumoral markers. Also the improvement of methods that require smaller amounts of cells has opened the possibility to use this approach on patient samples. Robust techniques combining an antibody library displayed on the phage surface and protein microarray allowed the identification of auto antibodies recognized by patient sera. Many Ab molecules directly or indirectly targeting angiogenesis have been identified, and one of them, ramucirumab, has been tested in 27 phase I–III clinical trials in a broad array of cancers. Examples of such antibodies will be discussed here with emphasis on those used as probes for molecular imaging and other clinical trials.
View Full-Text
►

▼

Figures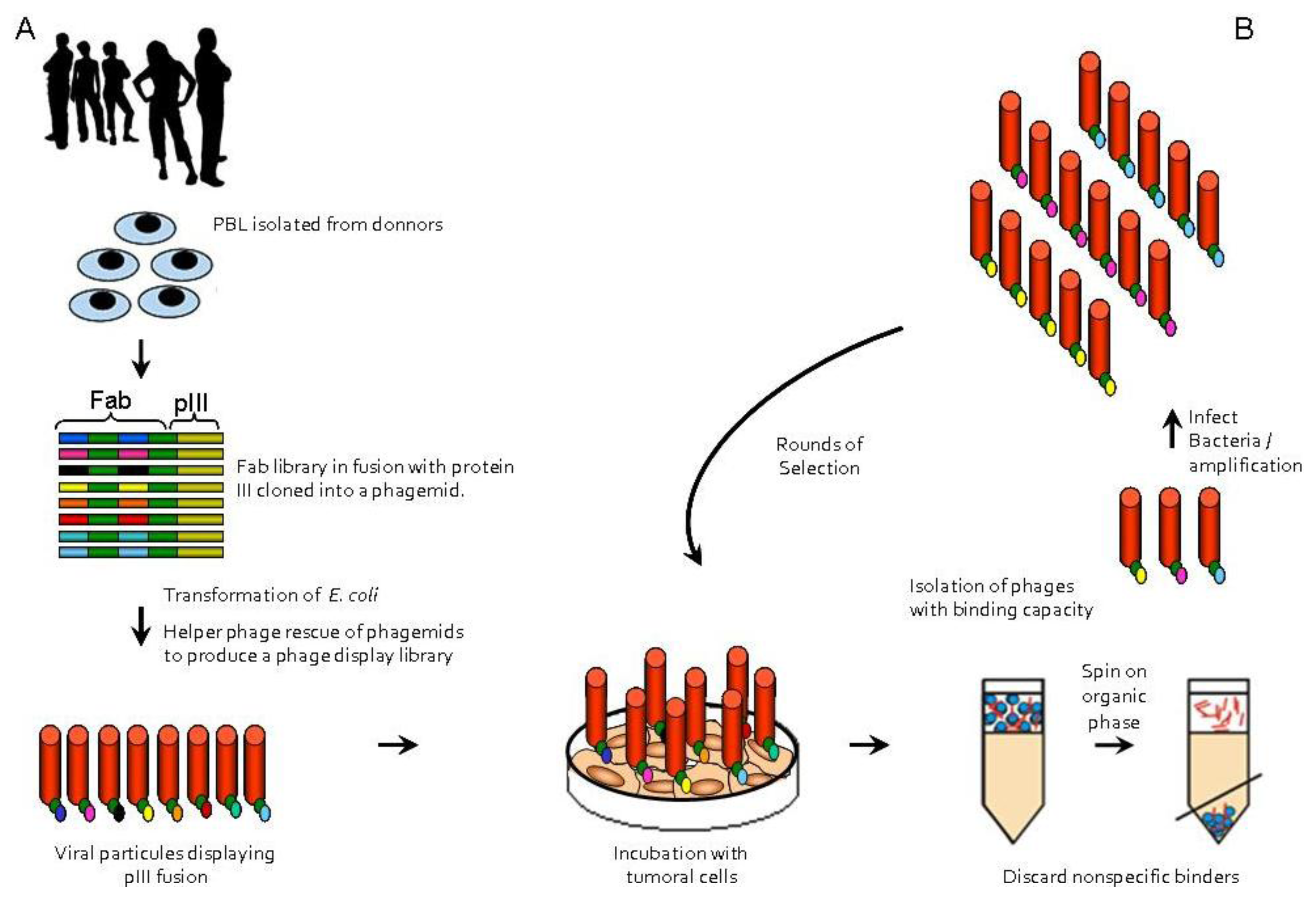 Share & Cite This Article
MDPI and ACS Style
Dantas-Barbosa, C.; de Macedo Brigido, M.; Maranhao, A.Q. Antibody Phage Display Libraries: Contributions to Oncology. Int. J. Mol. Sci. 2012, 13, 5420-5440.
Related Articles
Comments
[Return to top]