Role of 14-3-3ζ in Platelet Glycoprotein Ibα-von Willebrand Factor Interaction-Induced Signaling
1
School of Biological Science and Medical Engineering, Beijing University of Aeronautics and Astronautics, 37 Xueyuan Road, Haidian district, Beijing 100083, China
2
Jiangsu Institute of Hematology, The First Affiliated Hospital of Soochow University, Key Laboratory of Thrombosis and Hemostasis of Ministry of Health, Suzhou 215007, China
†
These authors contributed equally to this work.
*
Author to whom correspondence should be addressed.
Received: 21 March 2012 / Revised: 13 April 2012 / Accepted: 26 April 2012 / Published: 2 May 2012
Abstract
The interaction of platelet glycoprotein (GP) Ib-IX with von Willebrand factor (VWF) exposed at the injured vessel wall or atherosclerotic plaque rupture initiates platelet transient adhesion to the injured vessel wall, which triggers intracellular signaling cascades leading to platelet activation and thrombus formation. 14-3-3ζ has been verified to regulate the VWF binding function of GPIb-IX by interacting with the cytoplasmic domains of GPIb-IX. However, the data regarding the role of 14-3-3ζ in GPIb-IX-VWF interaction-induced signaling still remain controversial. In the present study, the data indicate that the S609A mutation replacing Ser
609
of GPIbα with alanine (S609A) significantly prevented the association of 14-3-3ζ with GPIbα before and after the VWF binding to GPIbα. GPIb-IX-VWF interaction-induced activations of Src family kinases and protein kinase C were clearly reduced in S609A mutation. Furthermore, S609A mutation significantly inhibited GPIb-IX-VWF interaction-induced elevation of cytoplasmic Ca
2+
levels in flow cytometry analysis. Taken together, these data indicate that the association of 14-3-3ζ with the cytoplasmic domain of GPIbα plays an important role in GPIb-IX-VWF interaction-induced signaling.
View Full-Text
►

▼

Figures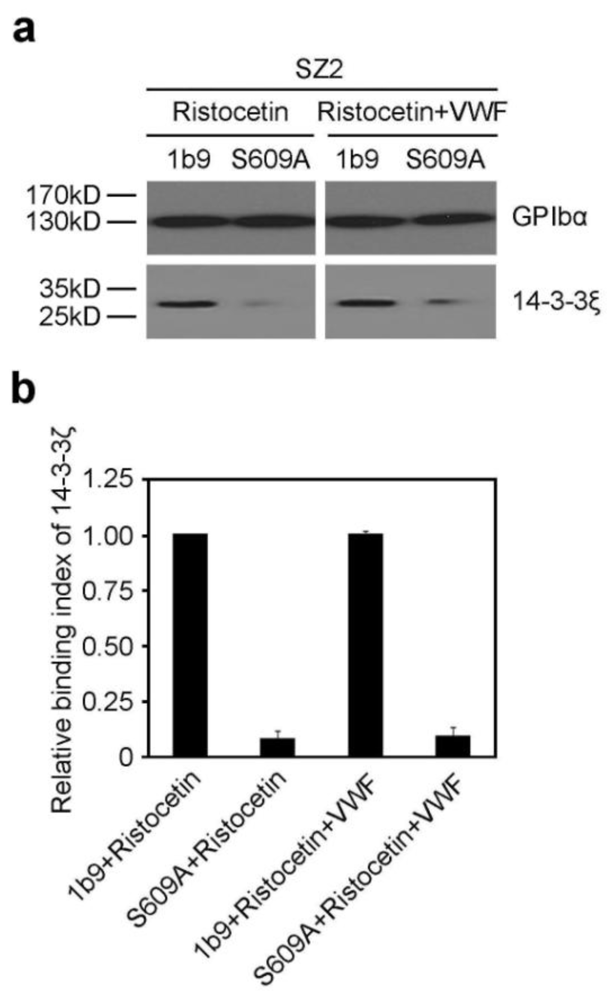 Share & Cite This Article
MDPI and ACS Style
Zhang, W.; Zhao, L.; Liu, J.; Du, J.; Yan, R.; Dai, K. Role of 14-3-3ζ in Platelet Glycoprotein Ibα-von Willebrand Factor Interaction-Induced Signaling. Int. J. Mol. Sci. 2012, 13, 5364-5374.
Related Articles
Comments
[Return to top]