Computational Studies of Difference in Binding Modes of Peptide and Non-Peptide Inhibitors to MDM2/MDMX Based on Molecular Dynamics Simulations
1
Laboratory of Molecular Modeling and Design, State Kay Laboratory of Molecular Reaction Dynamics, Dalian Institute of Chemical Physics, Chinese Academy of Science, Dalian 116011, China
2
Department of Mathematics and Physics, Shandong Jiaotong University, Jinan 250031, China
*
Author to whom correspondence should be addressed.
Received: 19 December 2011 / Revised: 4 January 2012 / Accepted: 9 January 2012 / Published: 17 February 2012
Abstract
Inhibition of p53-MDM2/MDMX interaction is considered to be a promising strategy for anticancer drug design to activate wild-type p53 in tumors. We carry out molecular dynamics (MD) simulations to study the binding mechanisms of peptide and non-peptide inhibitors to MDM2/MDMX. The rank of binding free energies calculated by molecular mechanics generalized Born surface area (MM-GBSA) method agrees with one of the experimental values. The results suggest that van der Waals energy drives two kinds of inhibitors to MDM2/MDMX. We also find that the peptide inhibitors can produce more interaction contacts with MDM2/MDMX than the non-peptide inhibitors. Binding mode predictions based on the inhibitor-residue interactions show that the π–π, CH–π and CH–CH interactions dominated by shape complimentarity, govern the binding of the inhibitors in the hydrophobic cleft of MDM2/MDMX. Our studies confirm the residue Tyr99 in MDMX can generate a steric clash with the inhibitors due to energy and structure. This finding may theoretically provide help to develop potent dual-specific or MDMX inhibitors.
View Full-Text
►

▼

Figures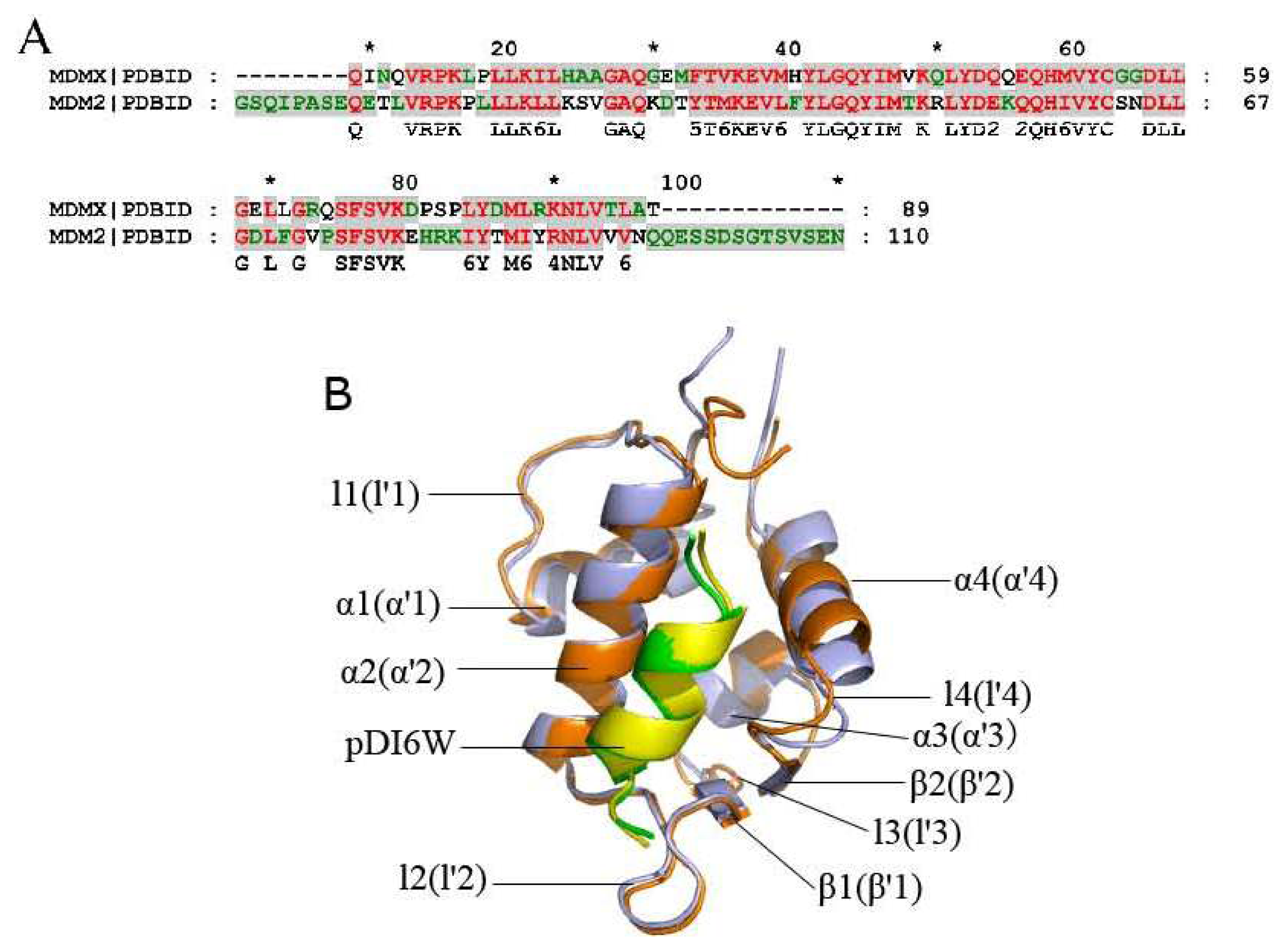 Share & Cite This Article
MDPI and ACS Style
Chen, J.; Zhang, D.; Zhang, Y.; Li, G. Computational Studies of Difference in Binding Modes of Peptide and Non-Peptide Inhibitors to MDM2/MDMX Based on Molecular Dynamics Simulations. Int. J. Mol. Sci. 2012, 13, 2176-2195.
Related Articles
Comments
[Return to top]