NotI Microarrays: Novel Epigenetic Markers for Early Detection and Prognosis of High Grade Serous Ovarian Cancer
1
Department of Microbiology, Tumor and Cell Biology, Karolinska Institute, Stockholm SE-171 77, Sweden
2
Department of Molecular Oncogenetics, Institute of Molecular Biology and Genetics, NASU, Kiev 01000, Ukraine
3
Laboratory of Structural and Functional Genomics, Engelhard Institute of Molecular Biology, Russian Academy of Science, Moscow 119991, Russia
4
Russian State Genetics Center GosNIIgenetika, Moscow 117545, Russia
5
Affina Biotechnologies, Stamford, CT 06902, USA
6
Linköping University, Department of Clinical and Experimental Medicine, Linköping SE-581 85, Sweden
†
These authors contributed equally to this work.
*
Author to whom correspondence should be addressed.
Received: 10 August 2012 / Revised: 12 September 2012 / Accepted: 12 September 2012 / Published: 18 October 2012
Abstract
Chromosome 3-specific
Not
I microarray (NMA) containing 180 clones with 188 genes was used in the study to analyze 18 high grade serous ovarian cancer (HGSOC) samples and 7 benign ovarian tumors. We aimed to find novel methylation-dependent biomarkers for early detection and prognosis of HGSOC. Thirty five
Not
I markers showed frequency of methylation/deletion more or equal to 17%. To check the results of NMA hybridizations several samples for four genes (
LRRC3B
,
THRB
,
ITGA9
and
RBSP3
(
CTDSPL
)) were bisulfite sequenced and confirmed the results of NMA hybridization. A set of eight biomarkers:
NKIRAS1/RPL15
,
THRB
,
RBPS3 (CTDSPL)
,
IQSEC1
,
NBEAL2
,
ZIC4
,
LOC285205
and
FOXP1
, was identified as the most prominent set capable to detect both early and late stages of ovarian cancer. Sensitivity of this set is equal to (72 ± 11)% and specificity (94 ± 5)%. Early stages represented the most complicated cases for detection. To distinguish between Stages I + II and Stages III + IV of ovarian cancer the most perspective set of biomarkers would include
LOC285205
,
CGGBP1
,
EPHB1
and
NKIRAS1/RPL15
. The sensitivity of the set is equal to (80 ± 13)% and the specificity is (88 ± 12)%. Using this technique we plan to validate this panel with new epithelial ovarian cancer samples and add markers from other chromosomes.
View Full-Text
►

▼

Figures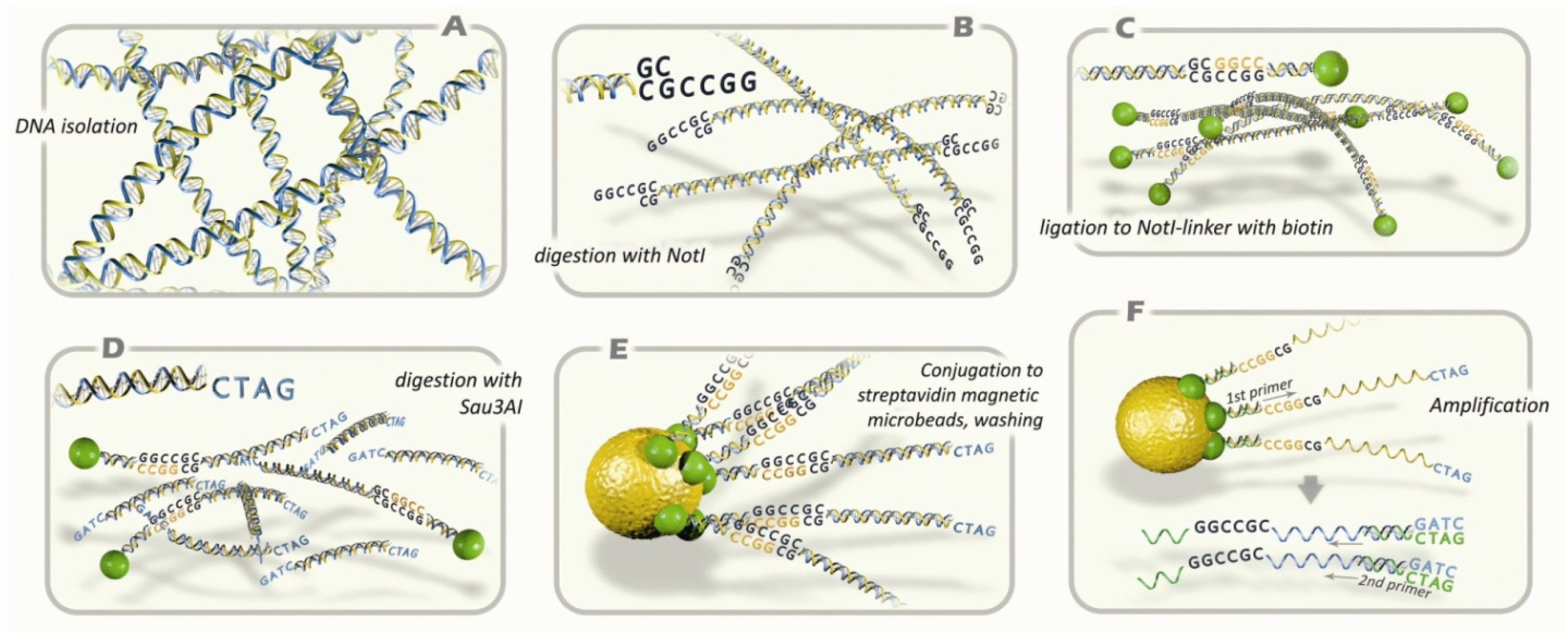 Share & Cite This Article
MDPI and ACS Style
Kashuba, V.; Dmitriev, A.A.; Krasnov, G.S.; Pavlova, T.; Ignatjev, I.; Gordiyuk, V.V.; Gerashchenko, A.V.; Braga, E.A.; Yenamandra, S.P.; Lerman, M.; Senchenko, V.N.; Zabarovsky, E. NotI Microarrays: Novel Epigenetic Markers for Early Detection and Prognosis of High Grade Serous Ovarian Cancer. Int. J. Mol. Sci. 2012, 13, 13352-13377.
Related Articles
Comments
[Return to top]