Isoflurane Protects Against Human Endothelial Cell Apoptosis by Inducing Sphingosine Kinase-1 via ERK MAPK
1
Department of Anesthesiology, College of Physicians and Surgeons of Columbia University, P&S Box 46 (PH-5), 630 West 168th Street, New York, NY 10032, USA
2
Department of Pediatrics, College of Physicians and Surgeons of Columbia University, CHN2-255, 3959 Broadway, New York, NY 10032, USA
†
These authors contributed equally to this work.
*
Author to whom correspondence should be addressed.
Received: 19 December 2011 / Revised: 11 January 2012 / Accepted: 12 January 2012 / Published: 17 January 2012
Abstract
Endothelial dysfunction is a major clinical problem affecting virtually every patient requiring critical care. Volatile anesthetics are frequently used during the perioperative period and protect the heart and kidney against ischemia and reperfusion injury. We aimed to determine whether isoflurane, the most commonly used volatile anesthetic in the USA, protects against endothelial apoptosis and necrosis and the mechanisms involved in this protection. Human endothelial EA.hy926 cells were pretreated with isoflurane or carrier gas (95% room air + 5% CO
2
) then subjected to apoptosis with tumor necrosis factor-α or to necrosis with hydrogen peroxide. DNA laddering and
in situ
Terminal Deoxynucleotidyl Transferase Biotin-dUTP Nick-End Labeling (TUNEL) staining determined EA.hy926 cell apoptosis and percent LDH released determined necrosis. We also determined whether isoflurane modulates the expression and activity of sphingosine kinase-1 (SK1) and induces the phosphorylation of extracellular signal regulated kinase (ERK MAPK) as both enzymes are known to protect against cell death. Isoflurane pretreatment significantly decreased apoptosis in EA.hy926 cells as evidenced by reduced TUNEL staining and DNA laddering without affecting necrosis. Mechanistically, isoflurane induces the phosphorylation of ERK MAPK and increased SK1 expression and activity in EA.hy926 cells. Finally, selective blockade of SK1 (with SKI-II) or S1P
1
receptor (with W146) abolished the anti-apoptotic effects of isoflurane. Taken together, we demonstrate that isoflurane, in addition to its potent analgesic and anesthetic properties, protects against endothelial apoptosis most likely via SK1 and ERK MAPK activation. Our findings have significant clinical implication for protection of endothelial cells during the perioperative period and patients requiring critical care.
View Full-Text
►

▼

Figures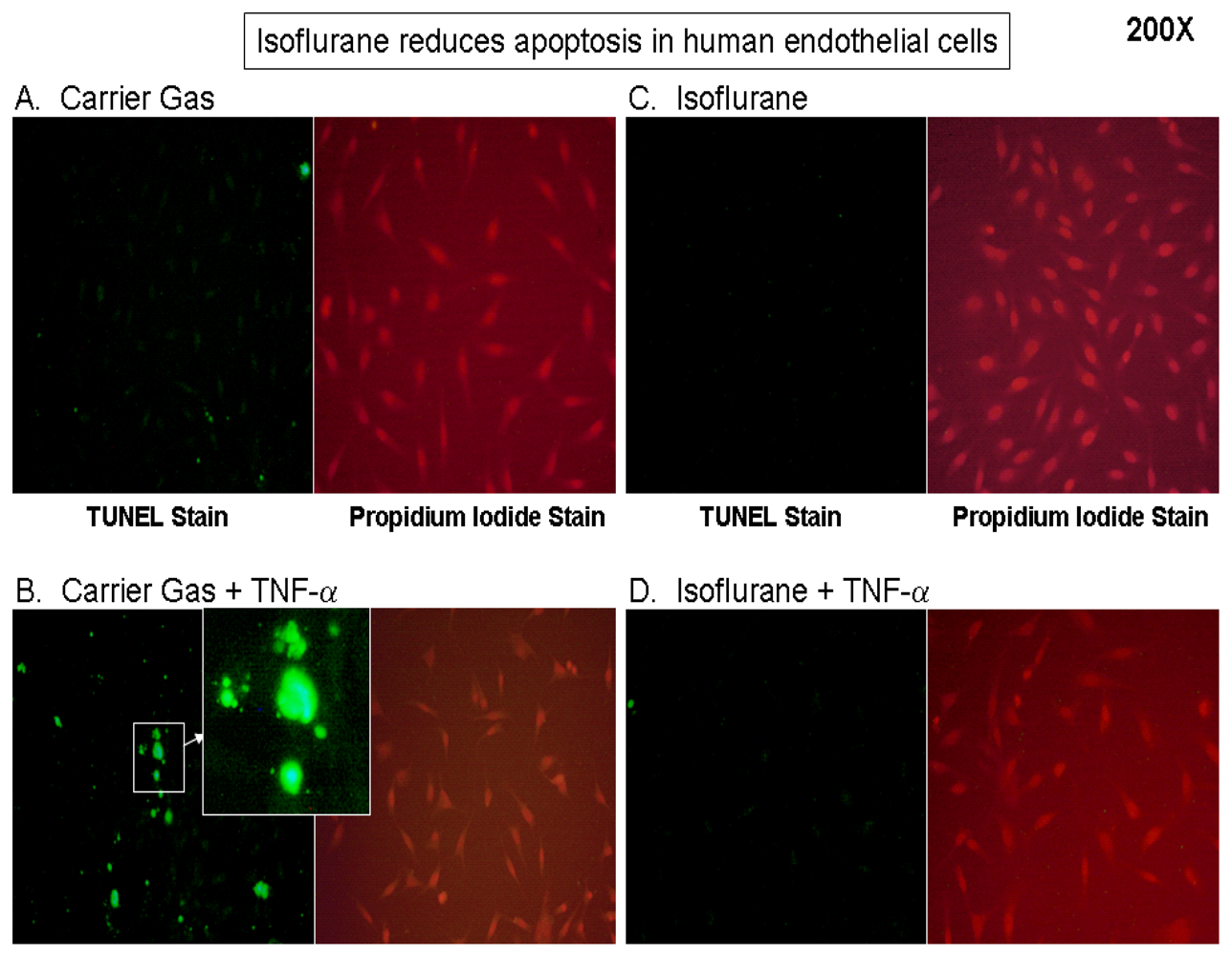 Share & Cite This Article
MDPI and ACS Style
Bakar, A.M.; Park, S.W.; Kim, M.; Lee, H.T. Isoflurane Protects Against Human Endothelial Cell Apoptosis by Inducing Sphingosine Kinase-1 via ERK MAPK. Int. J. Mol. Sci. 2012, 13, 977-993.
Related Articles
Comments
[Return to top]