The Effect of Secretory Factors of Adipose-Derived Stem Cells on Human Keratinocytes
1
Department of Biomaterial Control, Dong-Eui University, Busan 614-714, Korea
2
Prostemics Research Institute, Seoul 135-816, Korea
3
Department of Chemistry, Dong-Eui University, Busan 614-714, Korea
4
Blue-Bio Regional Innovation Center, Dong-Eui University, Busan 614-714, Korea
5
Department of Biotechnology and Bioengineering, Dong-Eui University, Busan 614-714, Korea
*
Author to whom correspondence should be addressed.
Received: 13 December 2011 / Revised: 12 January 2012 / Accepted: 13 January 2012 / Published: 23 January 2012
Abstract
The beneficial effects of adipose-derived stem cell conditioned medium (ADSC-CM) on skin regeneration have been reported. Although the mechanism of how ADSC-CM promotes skin regeneration is unclear, ADSC-CM contained various growth factors and it is an excellent raw material for skin treatment. ADSC-CM produced in a hypoxia condition of ADSC—in other words, Advanced Adipose-Derived Stem cell Protein Extract (AAPE)—has great merits for skin regeneration. In this study, human primary keratinocytes (HKs), which play fundamental roles in skin tissue, was used to examine how AAPE affects HK. HK proliferation was significantly higher in the experimental group (1.22 μg/mL) than in the control group. DNA gene chip demonstrated that AAPE in keratinocytes (
p
< 0.05) notably affected expression of 290 identified transcripts, which were associated with cell proliferation, cycle and migration. More keratinocyte wound healing and migration was shown in the experimental group (1.22 μg/mL). AAPE treatment significantly stimulated stress fiber formation, which was linked to the RhoA-ROCK pathway. We identified 48 protein spots in 2-D gel analysis and selected proteins were divided into 64% collagen components and 30% non-collagen components as shown by the MALDI-TOF analysis. Antibody array results contained growth factor/cytokine such as HGF, FGF-1, G-CSF, GM-CSF, IL-6, VEGF, and TGF-β3 differing from that shown by 2-D analysis. Conclusion: AAPE activates HK proliferation and migration. These results highlight the potential of the topical application of AAPE in the treatment of skin regeneration.
View Full-Text
►

▼

Figures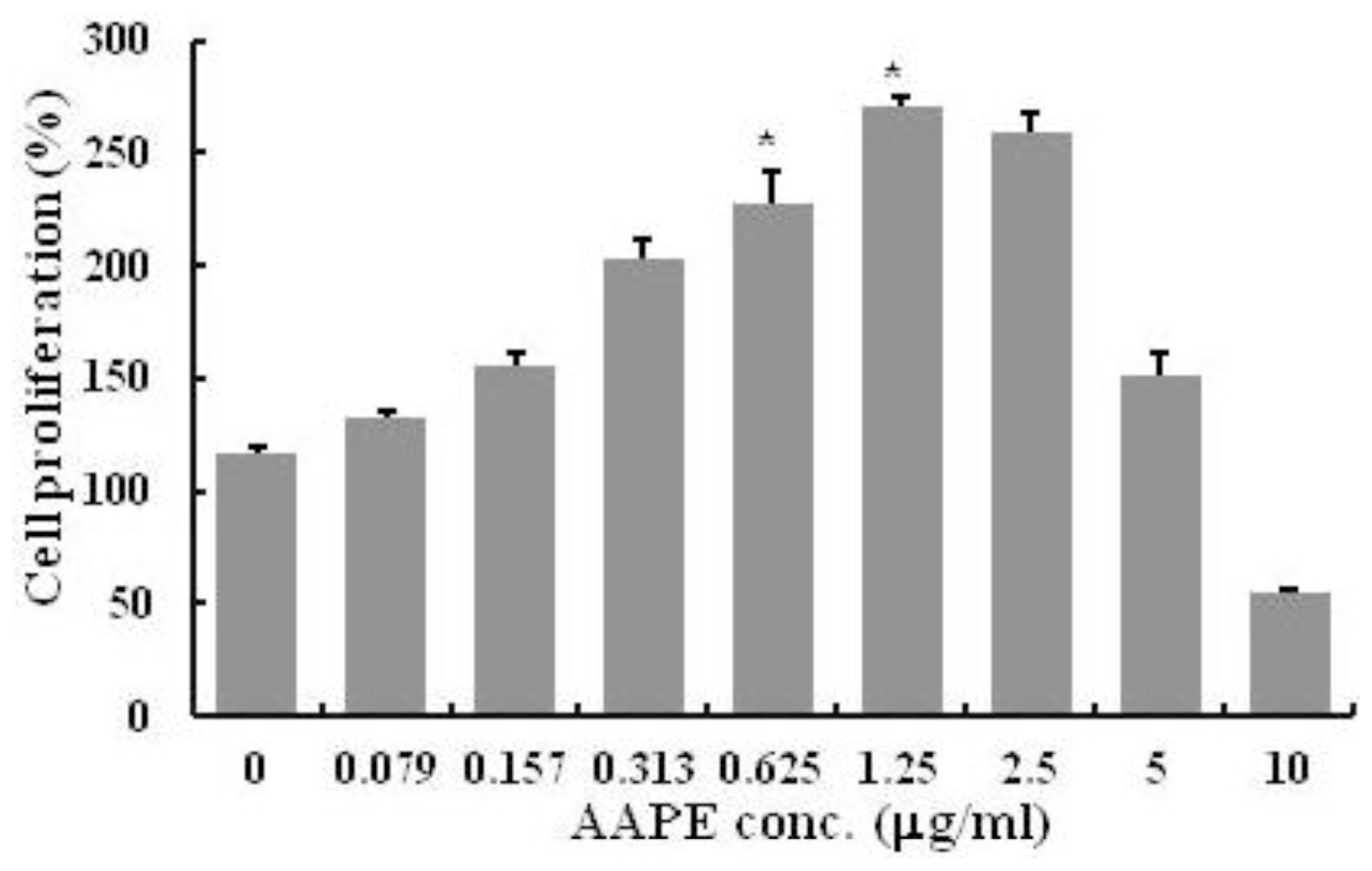 Share & Cite This Article
MDPI and ACS Style
Moon, K.M.; Park, Y.-H.; Lee, J.S.; Chae, Y.-B.; Kim, M.-M.; Kim, D.-S.; Kim, B.-W.; Nam, S.-W.; Lee, J.-H. The Effect of Secretory Factors of Adipose-Derived Stem Cells on Human Keratinocytes. Int. J. Mol. Sci. 2012, 13, 1239-1257.
Related Articles
Comments
[Return to top]