FK506-Binding Protein 22 from a Psychrophilic Bacterium, a Cold Shock-Inducible Peptidyl Prolyl Isomerase with the Ability to Assist in Protein Folding
1
Department of Material and Life Science, Osaka University, 2-1 Yamadaoka, Suita, Osaka 565-0871, Japan
2
Graduate School of Life and Environmental Sciences, Kyoto Prefectural University, 1-5 Hangi-Cho, Shimogamo, Sakyo-ku, Kyoto 606-8522, Japan
†
Permanent address: Department of Animal Production and Technology, Faculty of Animal Science, Bogor Agricultural University (IPB), Jl. Agatis, Kampus IPB Darmaga, Bogor 16680, Indonesia.
*
Author to whom correspondence should be addressed.
Received: 12 May 2011 / Revised: 28 July 2011 / Accepted: 9 August 2011 / Published: 17 August 2011
Abstract
Adaptation of microorganisms to low temperatures remains to be fully elucidated. It has been previously reported that peptidyl prolyl
cis-trans
isomerases (PPIases) are involved in cold adaptation of various microorganisms whether they are hyperthermophiles, mesophiles or phsycrophiles. The rate of
cis-trans
isomerization at low temperatures is much slower than that at higher temperatures and may cause problems in protein folding. However, the mechanisms by which PPIases are involved in cold adaptation remain unclear. Here we used FK506-binding protein 22, a cold shock protein from the psychrophilic bacterium
Shewanella
sp. SIB1 (SIB1 FKBP22) as a model protein to decipher the involvement of PPIases in cold adaptation. SIB1 FKBP22 is homodimer that assumes a V-shaped structure based on a tertiary model. Each monomer consists of an N-domain responsible for dimerization and a C-catalytic domain. SIB1 FKBP22 is a typical cold-adapted enzyme as indicated by the increase of catalytic efficiency at low temperatures, the downward shift in optimal temperature of activity and the reduction in the conformational stability. SIB1 FKBP22 is considered as foldase and chaperone based on its ability to catalyze refolding of a
cis-
proline containing protein and bind to a folding intermediate protein, respectively. The foldase and chaperone activites of SIB1 FKBP22 are thought to be important for cold adaptation of
Shewanella
sp. SIB1. These activities are also employed by other PPIases for being involved in cold adaptation of various microorganisms. Despite other biological roles of PPIases, we proposed that foldase and chaperone activities of PPIases are the main requirement for overcoming the cold-stress problem in microorganisms due to folding of proteins.
View Full-Text
►

▼

Figures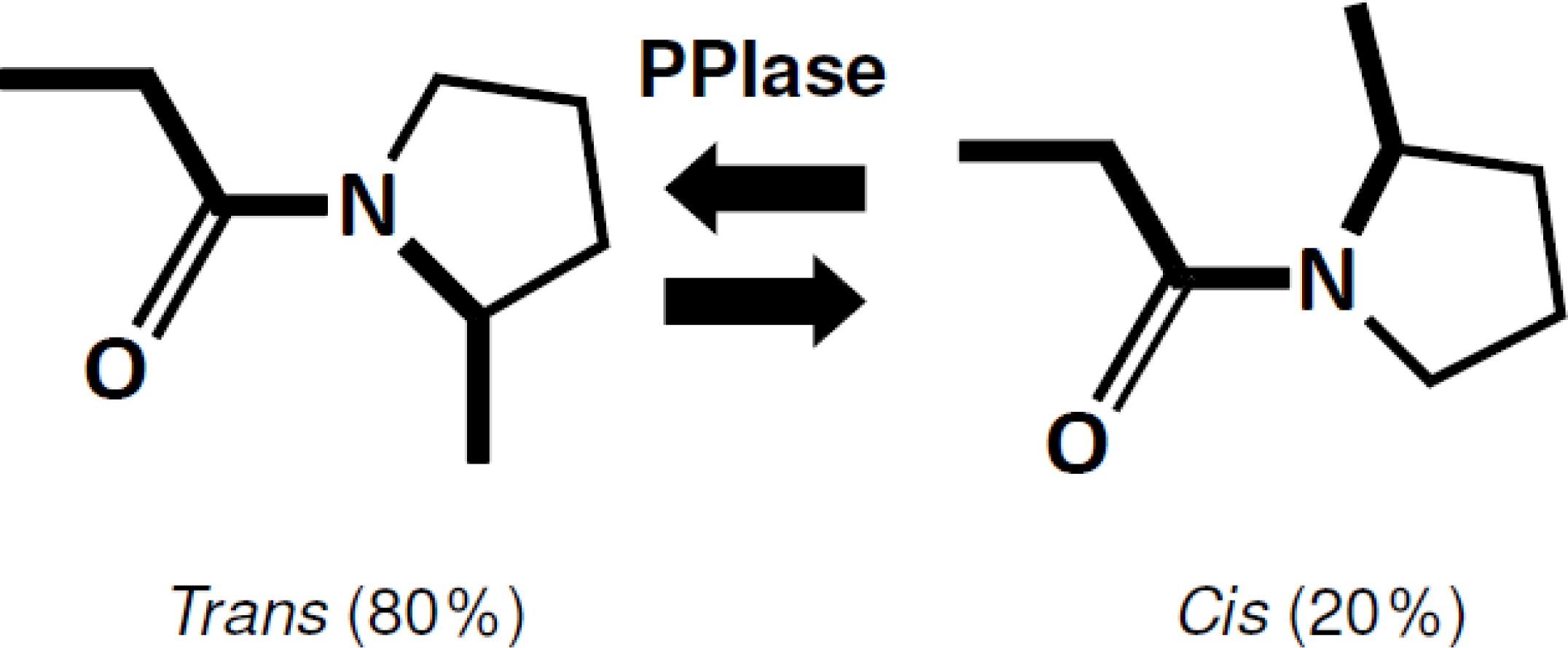 Share & Cite This Article
MDPI and ACS Style
Budiman, C.; Koga, Y.; Takano, K.; Kanaya, S. FK506-Binding Protein 22 from a Psychrophilic Bacterium, a Cold Shock-Inducible Peptidyl Prolyl Isomerase with the Ability to Assist in Protein Folding. Int. J. Mol. Sci. 2011, 12, 5261-5284.
Related Articles
Comments
[Return to top]