Simultaneous Structural Identification of Natural Products in Fractions of Crude Extract of the Rare Endangered Plant Anoectochilus roxburghii Using 1H NMR/RRLC-MS Parallel Dynamic Spectroscopy
1
Key Laboratory of Bioactive Substances and Resource Utilization of Chinese Herbal Medicine, Ministry of Education, Institute of Materia Medica, Chinese Academy of Medical Sciences and Peking Union Medical College, Beijing 100050, China
2
Institute of Medicinal Plant Development, Chinese Academy of Medical Sciences and Peking Union Medical College, Beijing 100094, China
3
Institute of Computing Technology, Chinese Academy of Sciences, Beijing 100080, China
*
Author to whom correspondence should be addressed.
Received: 18 March 2011 / Revised: 11 April 2011 / Accepted: 12 April 2011 / Published: 15 April 2011
Abstract
Nuclear magnetic resonance/liquid chromatography-mass spectroscopy parallel dynamic spectroscopy (NMR/LC-MS PDS) is a method aimed at the simultaneous structural identification of natural products in complex mixtures. In this study, the method is illustrated with respect to
1
H NMR and rapid resolution liquid chromatography-mass spectroscopy (RRLC-MS) data, acquired from the crude extract of
Anoectochilus roxburghii
, which was separated into a series of fractions with the concentration of constituent dynamic variation using reversed-phase preparative chromatography. Through fraction ranges and intensity changing profiles in
1
H NMR/RRLC–MS PDS spectrum,
1
H NMR and the extracted ion chromatogram (XIC) signals deriving from the same individual constituent, were correlated due to the signal amplitude co-variation resulting from the concentration variation of constituents in a series of incompletely separated fractions.
1
H NMR/RRLC-MS PDS was then successfully used to identify three types of natural products, including eight flavonoids, four organic acids and p-hydroxybenzaldehyde, five of which have not previously been reported in
Anoectochilus roxburghii
. In addition, two groups of co-eluted compounds were successfully identified. The results prove that this approach should be of benefit in the unequivocal structural determination of a variety of classes of compounds from extremely complex mixtures, such as herbs and biological samples, which will lead to improved efficiency in the identification of new potential lead compounds.
View Full-Text
►

▼

Figures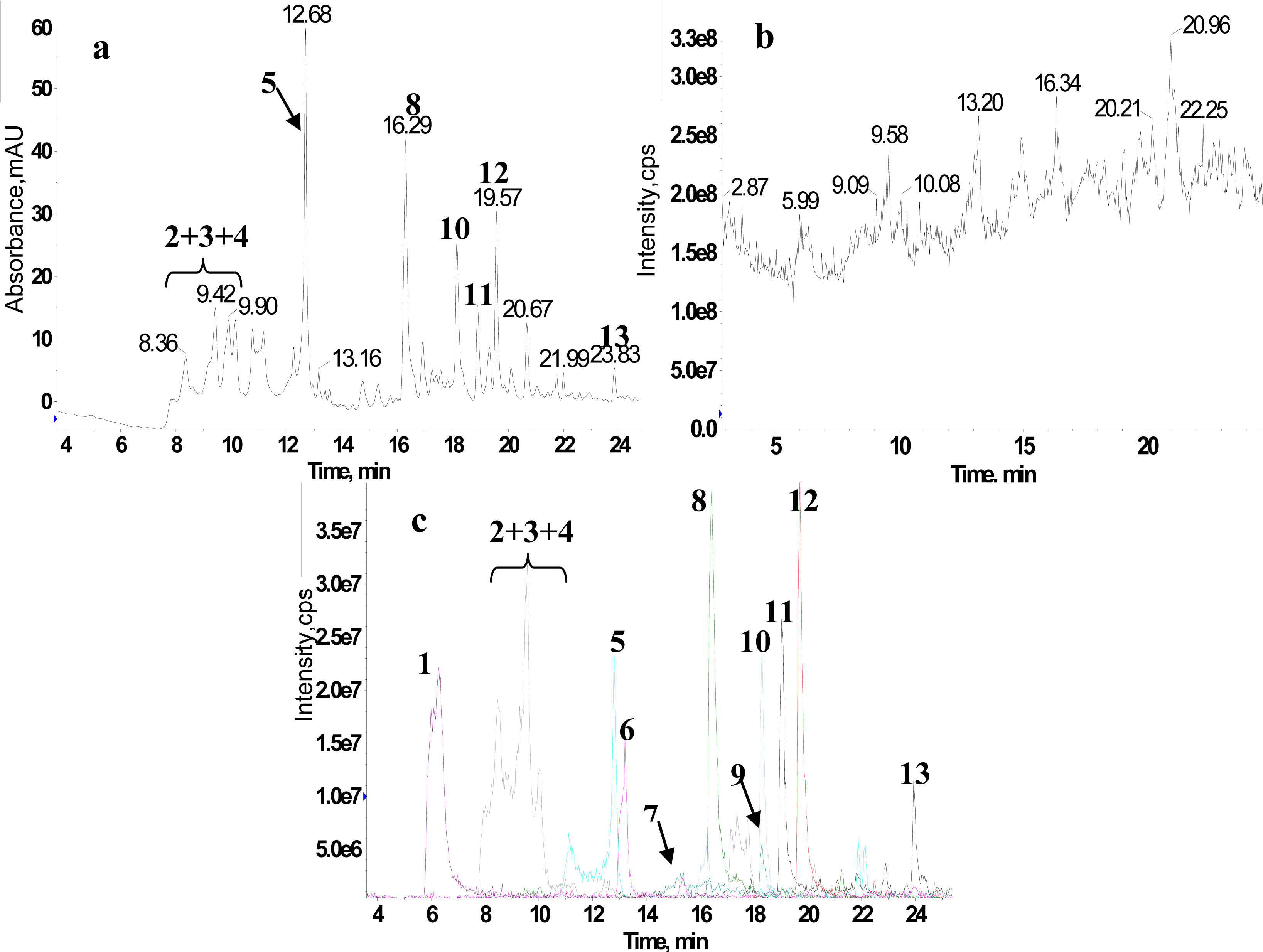 Share & Cite This Article
MDPI and ACS Style
Wang, X.-X.; He, J.-M.; Wang, C.-L.; Zhang, R.-P.; He, W.-Y.; Guo, S.-X.; Sun, R.-X.; Abliz, Z. Simultaneous Structural Identification of Natural Products in Fractions of Crude Extract of the Rare Endangered Plant Anoectochilus roxburghii Using 1H NMR/RRLC-MS Parallel Dynamic Spectroscopy. Int. J. Mol. Sci. 2011, 12, 2556-2571.
Related Articles
Comments
[Return to top]