Identification of Receptor Tyrosine Kinase, Discoidin Domain Receptor 1 (DDR1), as a Potential Biomarker for Serous Ovarian Cancer
Division of Obstetrics and Gynecology, Niigata University, Graduate School of Medical and Dental Sciences, Niigata, 951-8520, Japan
*
Author to whom correspondence should be addressed.
Received: 20 December 2010 / Revised: 18 January 2011 / Accepted: 18 January 2011 / Published: 31 January 2011
Abstract
Ovarian cancer, one of the most common gynecological malignancies, has an aggressive phenotype. It is necessary to develop novel and more effective treatment strategies against advanced disease. Protein tyrosine kinases (PTKs) play an important role in the signal transduction pathways involved in tumorigenesis, and represent potential targets for anticancer therapies. In this study, we performed cDNA subtraction following polymerase chain reaction (PCR) using degenerate oligonucleotide primers to identify specifically overexpressed PTKs in ovarian cancer. Three PTKs, janus kinase 1, insulin-like growth factor 1 receptor, and discoidin domain receptor 1 (DDR1), were identified and only DDR1 was overexpressed in all ovarian cancer tissues examined for the validation by quantitative real-time PCR. The DDR1 protein was expressed in 63% (42/67) of serous ovarian cancer tissue, whereas it was undetectable in normal ovarian surface epithelium. DDR1 was expressed significantly more frequently in high-grade (79%) and advanced stage (77%) tumors compared to low-grade (50%) and early stage (43%) tumors. The expression of the DDR1 protein significantly correlated with poor disease-free survival. Although its functional role and clinical utility remain to be examined in future studies, our results suggest that the expression of DDR1 may serve as both a potential biomarker and a molecular target for advanced ovarian cancer.
View Full-Text
►

▼

Figures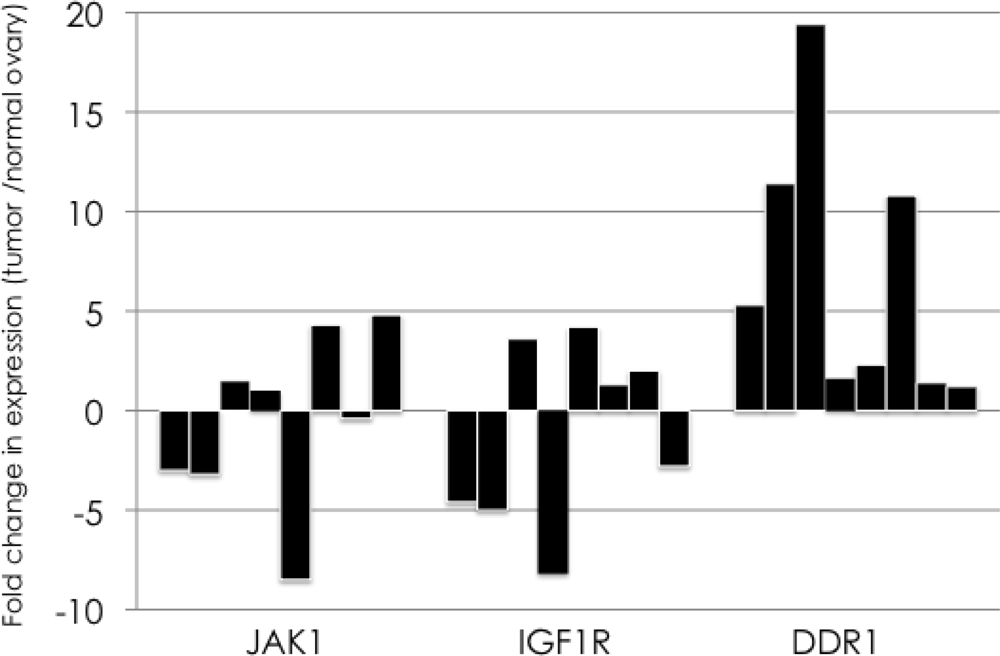 Share & Cite This Article
MDPI and ACS Style
Quan, J.; Yahata, T.; Adachi, S.; Yoshihara, K.; Tanaka, K. Identification of Receptor Tyrosine Kinase, Discoidin Domain Receptor 1 (DDR1), as a Potential Biomarker for Serous Ovarian Cancer. Int. J. Mol. Sci. 2011, 12, 971-982.
Related Articles
Comments
[Return to top]