Protein Misdirection Inside and Outside Motor Neurons in Amyotrophic Lateral Sclerosis (ALS): A Possible Clue for Therapeutic Strategies
1
Unit for Neurobiology and Therapeutics, Molecular Neuroscience Research Center, Shiga University of Medical Science, Seta-Tsukinowa-cho, Otsu, Shiga 520-2192, Japan
2
Human Brain Research Center, Kyoto University Graduate School of Medicine, Kyoto, Japan
*
Author to whom correspondence should be addressed.
Received: 28 September 2011 / Revised: 9 October 2011 / Accepted: 11 October 2011 / Published: 19 October 2011
Abstract
Amyotrophic lateral sclerosis (ALS) is a devastating neurodegenerative disease characterized by progressive muscle wasting and weakness with no effective cure. Emerging evidence supports the notion that the abnormal conformations of ALS-linked proteins play a central role in triggering the motor neuron degeneration. In particular, mutant types of superoxide dismutase 1 (SOD1) and TAR DNA binding protein 43kDa (TDP-43) are key molecules involved in the pathogenesis of familial and sporadic ALS, respectively. The commonalities of the two proteins include a propensity to aggregate and acquire detrimental conformations through oligomerization, fragmentation, or post-translational modification that may drive abnormal subcellular localizations. Although SOD1 is a major cytosolic protein, mutated SOD1 has been localized to mitochondria, endoplasmic reticulum, and even the extracellular space. The nuclear exclusion of TDP-43 is a pathological hallmark for ALS, although the pathogenic priority remains elusive. Nevertheless, these abnormal behaviors based on the protein misfolding are believed to induce diverse intracellular and extracellular events that may be tightly linked to non-cell-autonomous motor neuron death. The generation of mutant- or misfolded protein-specific antibodies would help to uncover the distribution and propagation of the ALS-linked proteins, and to design a therapeutic strategy to clear such species. Herein we review the literature regarding the mislocalization of ALS-linked proteins, especially mutant SOD1 and TDP-43 species, and discuss the rationale of molecular targeting strategies including immunotherapy.
View Full-Text
►

▼

Figures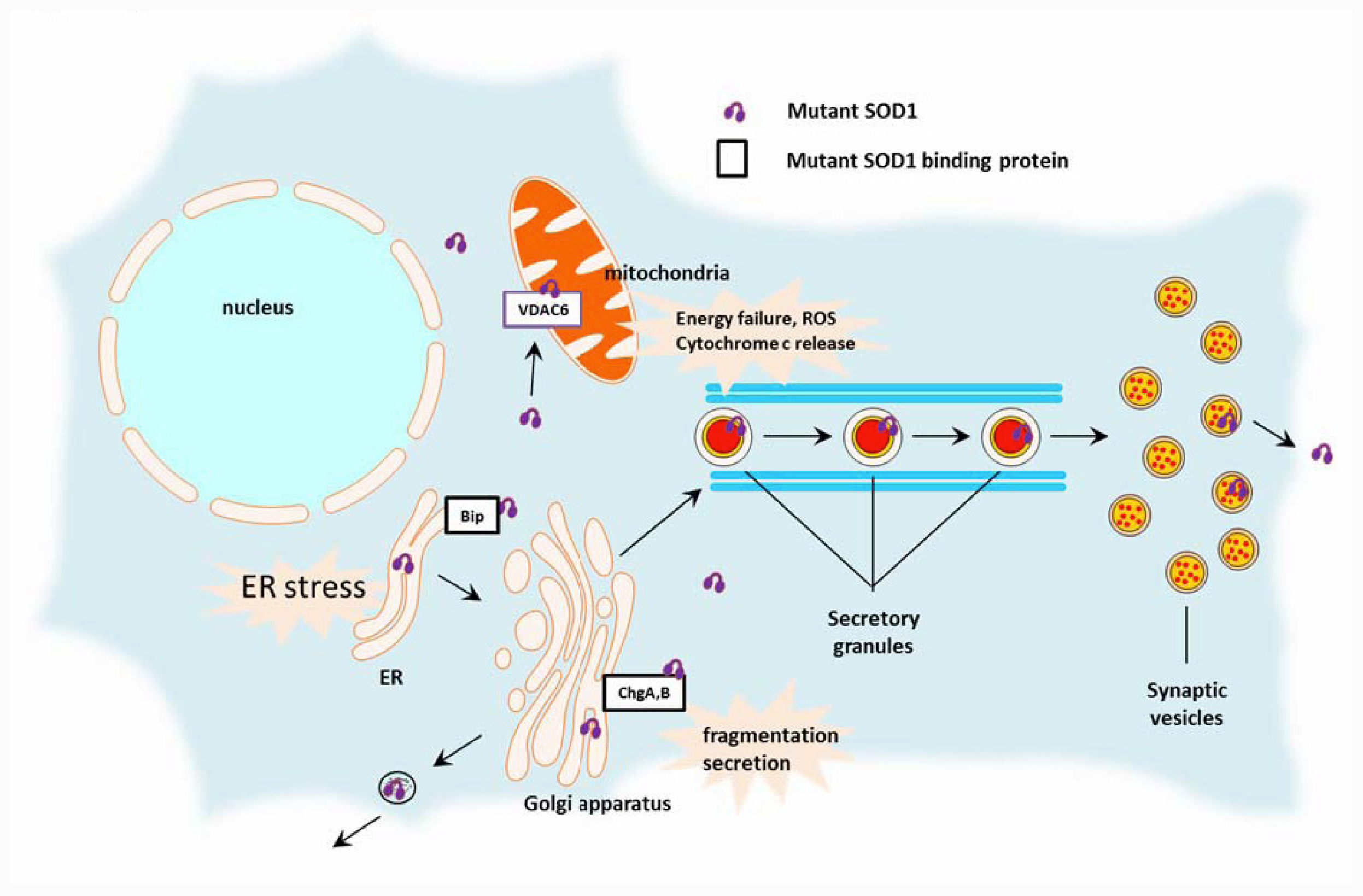 Share & Cite This Article
MDPI and ACS Style
Ido, A.; Fukuyama, H.; Urushitani, M. Protein Misdirection Inside and Outside Motor Neurons in Amyotrophic Lateral Sclerosis (ALS): A Possible Clue for Therapeutic Strategies. Int. J. Mol. Sci. 2011, 12, 6980-7003.
Related Articles
Comments
[Return to top]