Evolutionary Divergence of Duplicate Copies of the Growth Hormone Gene in Suckers (Actinopterygii: Catostomidae)
Department of Ecology and Evolutionary Biology, Tulane University, New Orleans, LA 70118, USA
†
Current Address: Natural History Museum and Biodiversity Research Center, University of Kansas, Lawrence, KS 66045, USA
‡
Current Address: Department of Biological Sciences, University of New Orleans, New Orleans, LA 70148, USA
*
Author to whom correspondence should be addressed.
Received: 9 January 2010 / Revised: 1 March 2010 / Accepted: 3 March 2010 / Published: 16 March 2010
Abstract
Catostomid fishes (suckers) have duplicate copies of the growth hormone gene and other nuclear genes, due to a genome duplication event early in the group's history. Yet, paralogs of GH in suckers are more than 90% conserved in nucleotide (nt) and amino acid (aa) sequence. Within paralogs across species, variation in nt and aa sequence averages 3.33% and 4.46% for GHI, and 3.22% and 2.43% for GHII, respectively. Selection tests suggest that the two GH paralogs are under strong purifying selection. Consensus trees from phylogenetic analysis of GH coding region data for 23 species of suckers, other cypriniform fishes and outgroups resolved cypriniform relationships and relationships among GHI sequences of suckers more or less consistently with analyses based on other molecular data. However, the analysis failed to resolve all sucker GHI and GHII sequences as monophyletic sister groups. This unexpected topology did not differ significantly from topologies constrained to make all GH sequences monophyletic. We attribute this result either to limitations in our GHII data set or convergent adaptive changes in GHII of tribe Catostomini.
View Full-Text
►

▼

Figures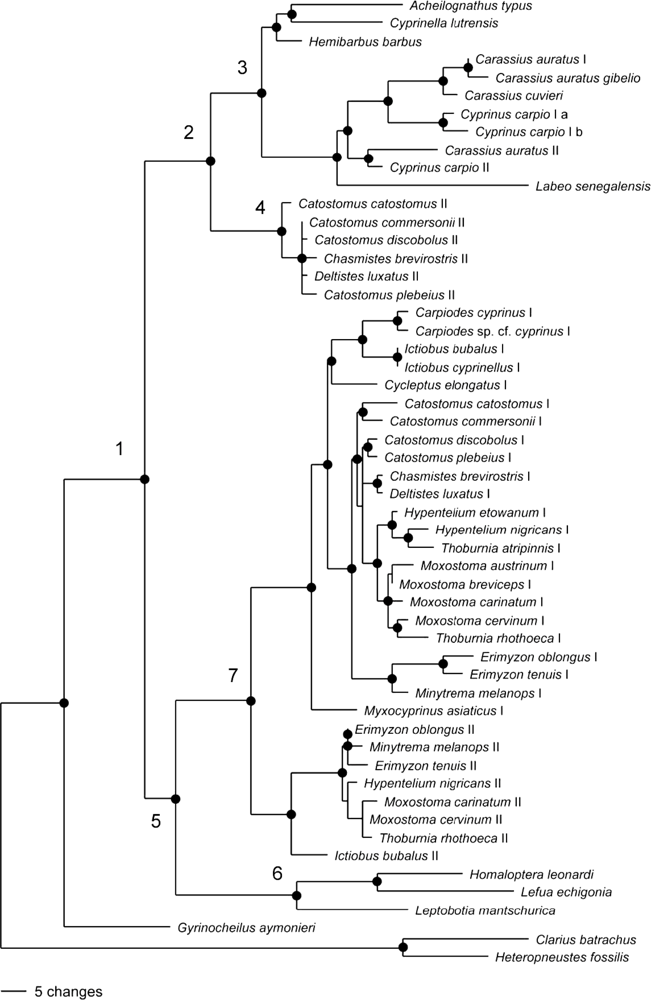 Share & Cite This Article
MDPI and ACS Style
Bart, H.L., Jr.; Reneau, P.C.; Doosey, M.H.; Bell, C.D. Evolutionary Divergence of Duplicate Copies of the Growth Hormone Gene in Suckers (Actinopterygii: Catostomidae). Int. J. Mol. Sci. 2010, 11, 1090-1102.
Related Articles
Comments
[Return to top]