Molecular Interactions and Protein-Induced DNA Hairpin in the Transcriptional Control of Bacteriophage Ø29 DNA
Institute Eladio Viñuela (CSIC), Center of Molecular Biology Severo Ochoa (CSIC-UAM), Madrid Autonomous University, 28049 Madrid, Spain
*
Author to whom correspondence should be addressed.
Received: 8 October 2010 / Revised: 22 November 2010 / Accepted: 7 December 2010 / Published: 13 December 2010
Abstract
Studies on the regulation of phage Ø29 gene expression revealed a new mechanism to accomplish simultaneous activation and repression of transcription leading to orderly gene expression. Two phage-encoded early proteins, p4 and p6, bind synergistically to DNA, modifying the topology of the sequences encompassing early promoters A2c and A2b and late promoter A3 in a hairpin that allows the switch from early to late transcription. Protein p6 is a nucleoid-like protein that binds DNA in a non-sequence specific manner. Protein p4 is a sequence-specific DNA binding protein with multifaceted sequence-readout properties. The protein recognizes the chemical signature of only one DNA base on the inverted repeat of its target sequence through a direct-readout mechanism. In addition, p4 specific binding depends on the recognition of three A-tracts by indirect-readout mechanisms. The biological importance of those three A-tracts resides in their individual properties rather than in the global curvature that they may induce.
View Full-Text
►

▼

Figures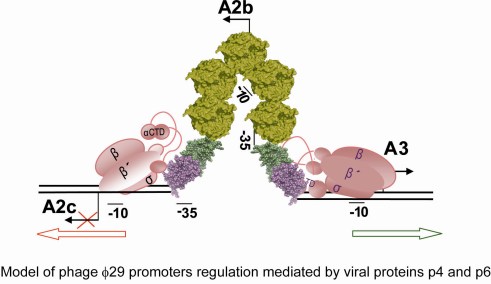 Share & Cite This Article
MDPI and ACS Style
Camacho, A.; Salas, M. Molecular Interactions and Protein-Induced DNA Hairpin in the Transcriptional Control of Bacteriophage Ø29 DNA. Int. J. Mol. Sci. 2010, 11, 5129-5142.
Related Articles
Comments
[Return to top]