Inactivation and Unfolding of the Hyperthermophilic Inorganic Pyrophosphatase from Thermus thermophilus by Sodium Dodecyl Sulfate
1
State Key Laboratory of Biomembrane and Membrane Biotechnology, Department of Biological Sciences and Biotechnology, Tsinghua University, Beijing 100084, China
2
Yangtze Delta Region Institute of Tsinghua University, Jiaxing 314006, China
3
College of Biology and Chemical Engineering, Jiaxing University, Jiaxing 314001, China
*
Authors to whom correspondence should be addressed.
Received: 19 May 2009 / Revised: 31 May 2009 / Accepted: 17 June 2009 / Published: 23 June 2009
Abstract
Inorganic pyrophosphatase (PPase, EC 3.6.1.1) is an essential constitutive enzyme for energy metabolism and clearance of excess pyrophosphate. In this research, we investigated the sodium dodecyl sulfate (SDS)-induced inactivation and unfolding of PPase from
Thermus thermophilus
(T-PPase), a hyperthermophilic enzyme. The results indicated that like many other mesophilic enzymes, T-PPase could be fully inactivated at a low SDS concentration of 2 mM. Using an enzyme activity assay, SDS was shown to act as a mixed type reversible inhibitor, suggesting T-PPase contained specific SDS binding sites. At high SDS concentrations, T-PPase was denatured via a two-state process without the accumulation of any intermediate, as revealed by far-UV CD and intrinsic fluorescence. A comparison of the inactivation and unfolding data suggested that the inhibition might be caused by the specific binding of the SDS molecules to the enzyme, while the unfolding might be caused by the cooperative non-specific binding of SDS to T-PPase. The possible molecular mechanisms underlying the mixed type inhibition by SDS was proposed to be caused by the local conformational changes or altered charge distributions.
View Full-Text
►

▼

Figures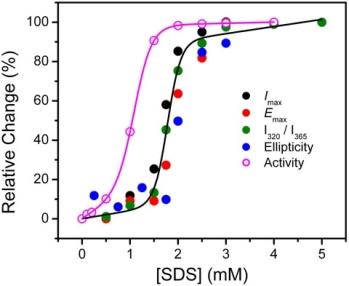 Share & Cite This Article
MDPI and ACS Style
Mu, H.; Zhou, S.-M.; Xia, Y.; Zou, H.; Meng, F.; Yan, Y.-B. Inactivation and Unfolding of the Hyperthermophilic Inorganic Pyrophosphatase from Thermus thermophilus by Sodium Dodecyl Sulfate. Int. J. Mol. Sci. 2009, 10, 2849-2859.
Related Articles
Comments
[Return to top]