Density Functional Studies of Molecular Polarizabilities. 10. Fulvenes and Fulvalenes
1
Department of Chemistry, UMIST, Sackville Street, Manchester M60 1QD, UK
2
Departamento de Química, Fac. Exp. de Ciencias, La Universidad del Zulia, Grano de Oro, Módulo No. 2, Maracaibo, Venezuela
*
Author to whom correspondence should be addressed.
Received: 2 August 2000 / Accepted: 18 August 2000 / Published: 4 September 2000
Abstract
We report accurate
Ab Initio
Hartree Fock (HF) and Density Functional Theory (DFT) studies of the static dipole polarizabilities and first hyperpolarizabilities of the [n] fulvene and the [n,m] fulvalene series of molecules (with n, m = 3,5,7). Calculations are also reported for the parent cycloalkenes: cyclopropene, cyclopentadiene and cycloheptatriene (1-3 respectively). Geometries were optimized at the HF/6-311G(3d,2p) level of theory. All the fulvenes (4-6) and the smaller fulvalenes (7, 9 and 10) are found to be planar. Pentaheptafulvalene (11) is slightly non-planar whilst heptafulvalene (12) has a folded C
2h
structure. Calculated C-C bond lengths are consistently smaller than the experimental values. Dipole polarizabilities and non-zero hyperpolarizabilities were calculated at the HF/6-311++G(3d,2p) and BLYP/6-311++G(3d,2p) levels of theory, using HF/6-311G(3d,2p) geometries. Dipole polarizabilities correlate well with those given on the basis of atom additivity. Molecules (8), (9) and (11) show very large dipole hyperpolarizabilities.
View Full-Text
►

▼

Figures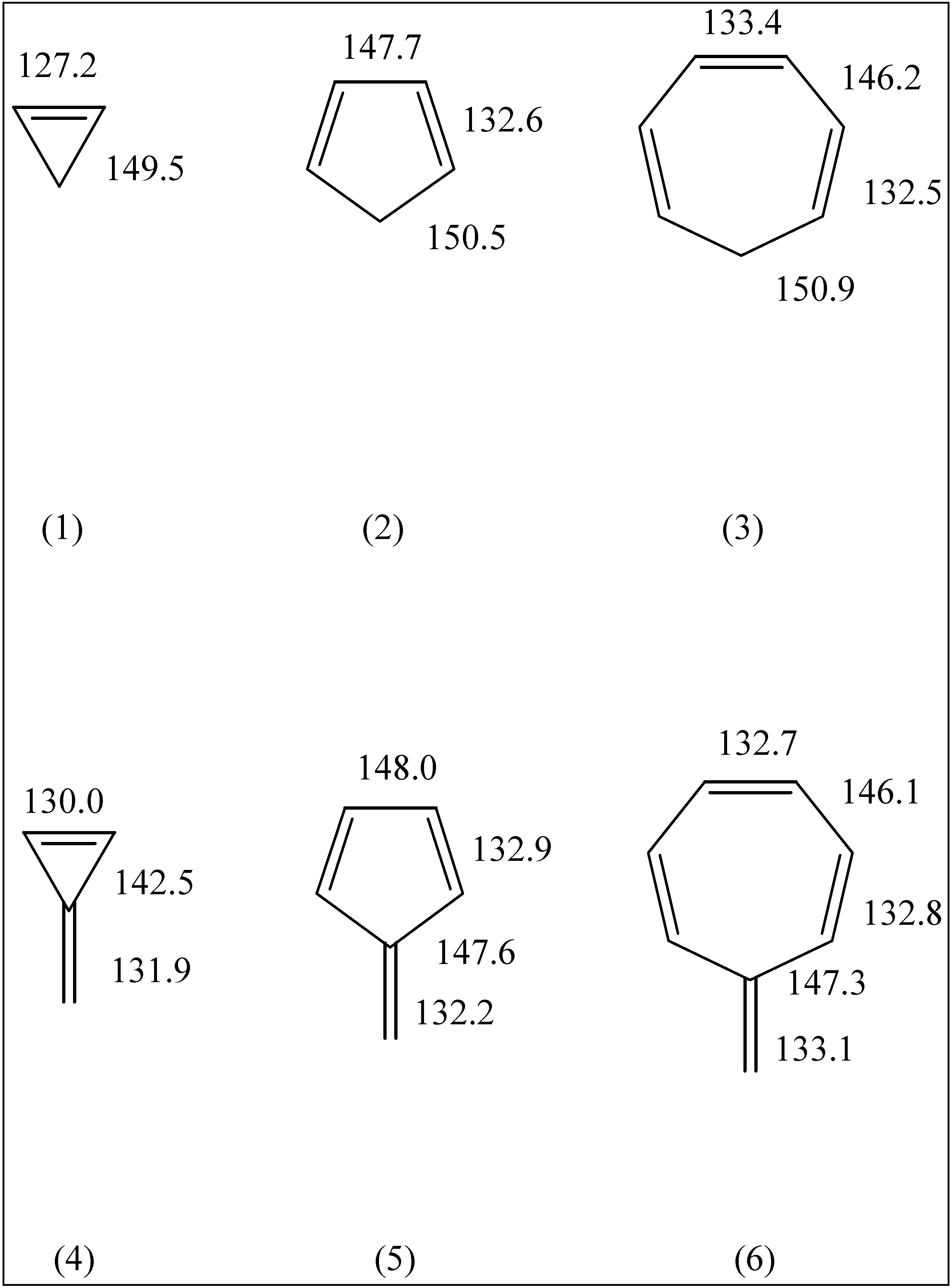 Figure 1
Share & Cite This Article
MDPI and ACS Style
Hinchliffe, A.; Soscún Machado, H.J. Density Functional Studies of Molecular Polarizabilities. 10. Fulvenes and Fulvalenes. Int. J. Mol. Sci. 2000, 1, 39-48.
Related Articles
Comments
[Return to top]