Synthesis, Crystal Structure and QuantumChemical Study on 3-Phenylamino-4-Phenyl-1,2,4-Triazole-5-Thione
1
Jiangsu Key Laboratory for Chemistry of Low-Dimensional Materials Huaiyin Teachers College,Huaian, Jiangsu, 223300, P. R. China
2
Department of Chemical Engineering, Huaiyin Industry College, Huaian Jiangsu, 223001, P. R. China
*
Author to whom correspondence should be addressed.
Received: 13 December 2008 / Revised: 15 January 2009 / Accepted: 21 January 2009 / Published: 4 February 2009
Abstract
3-Phenylamino-4-phenyl-1,2,4-triazole-5-thione was synthesized and characterized by elemental analysis, IR and X-ray single crystal diffraction. Density functional theory calculations of the structure, natural bond orbitals, atomic charge distributions and thermodynamic functions of the title compound were performed at B3LYP/ 6-311G** and PBE1PBE/6-311G**levels of theory, respectively. NPA atomic charge distributions indicate that the title compound can be used as a potential multi-dentate ligand to coordinate with various metallic ions. Calculation of the second order optical nonlinearity was also carried out. The thermodynamic properties of
C
0
p,m
,
S
0
m
and
H
0
m
were calculated and correlative equations between the thermodynamic properties and temperatures were also obtained
View Full-Text
►

▼

Figures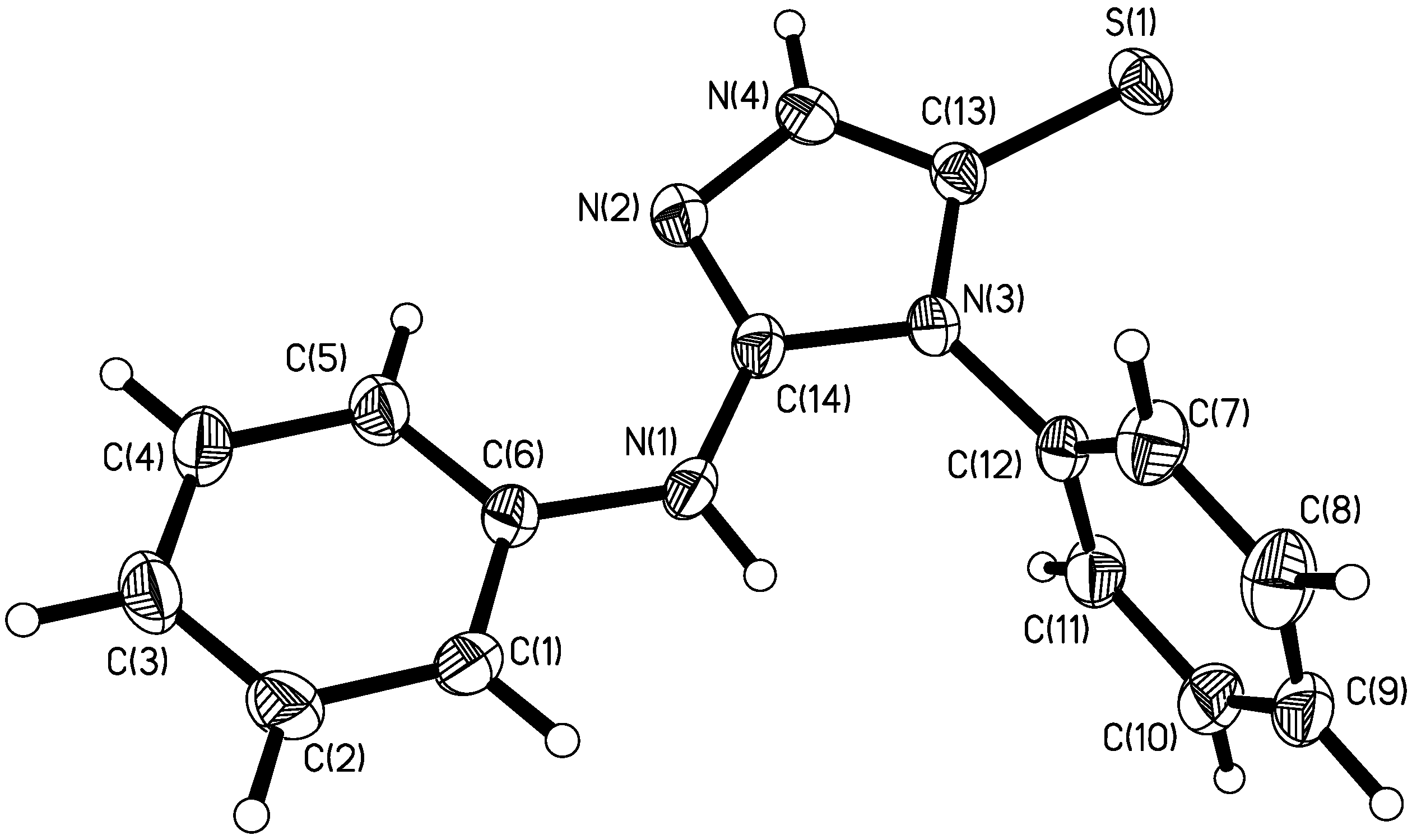 Figure 1
Share & Cite This Article
MDPI and ACS Style
Wang, H.-Y.; Zhao, P.-S.; Li, R.-Q.; Zhou, S.-M. Synthesis, Crystal Structure and QuantumChemical Study on 3-Phenylamino-4-Phenyl-1,2,4-Triazole-5-Thione. Molecules 2009, 14, 608-620.
Related Articles
Comments
[Return to top]