Synthesis and Cytotoxic Activity of Some 3-Benzyl-5-Arylidenefuran-2(5H)-ones
1
Department of Chemistry, Federal University of Viçosa, Av. P.H. Rolfs, S/N, CEP 36570-000, Viçosa, MG, Brazil
2
Department of Chemistry, Federal University of Minas Gerais, Av. Antônio Carlos, 6627, CEP 31270-901, Belo Horizonte, MG, Brazil
3
Department of Physiology and Pharmacology, Federal University of Ceará, Rua Coronel Nunes de Melo, 1127, CEP 60431-970, Fortaleza, CE, Brazil
*
Author to whom correspondence should be addressed.
Received: 26 April 2007 / Revised: 21 May 2007 / Accepted: 21 May 2007 / Published: 24 May 2007
Abstract
3-Benzyl-furan-2(5H)-one (2a) and 3-(4-bromobenzyl)-furan-2(5H)-one (2b) were treated with TBDMSOTf and converted into the corresponding tert-butyldimethyl-silylfuran ethers. These furans were further condensed with several aromatic aldehydes affording compounds 5-14 with general 3-benzyl-5-arylidene-furan-2(5H)-one structures in 31% to 98% yields. Such compounds are analogues of the naturally occurring nostoclide lactones, reported to present moderate cytotoxic activity. Compounds 5-14 were submitted to an in vitro bioassay against the HL-60, HCT-8, SF295 and MDA-MB-435 cancer cell lines using the MTT cytotoxicity assay.
View Full-Text
►

▼

Figures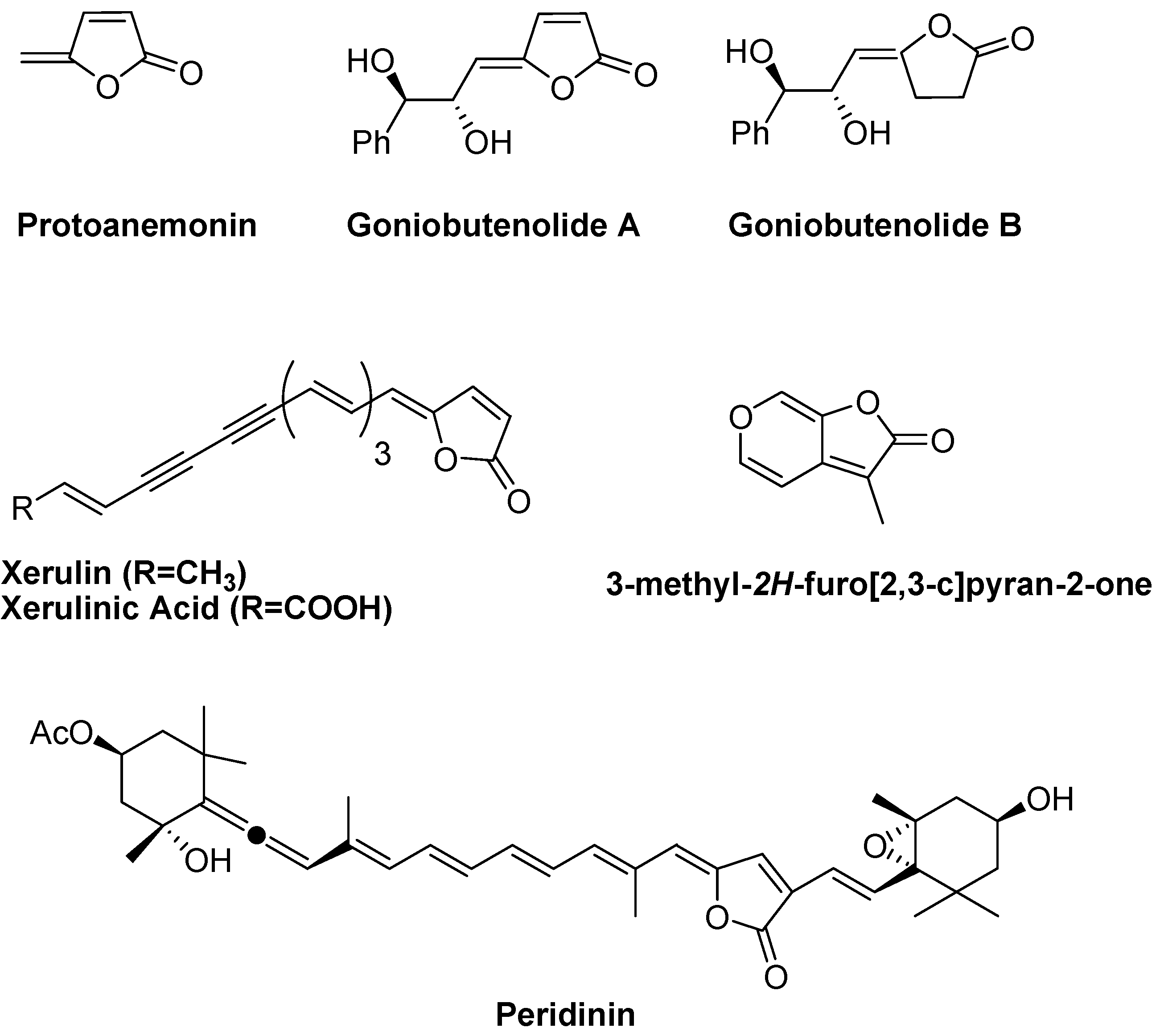 Figure 1
Share & Cite This Article
MDPI and ACS Style
Teixeira, R.R.; Barbosa, L.C.; Maltha, C.R.A.; Rocha, M.E.; Bezerra, D.P.; Costa-Lotuf, L.V.; Pessoa, C.; Moraes, M.O. Synthesis and Cytotoxic Activity of Some 3-Benzyl-5-Arylidenefuran-2(5H)-ones. Molecules 2007, 12, 1101-1116.
Related Articles
Comments
[Return to top]