Memory and Learning Complaints in Relation to Depression among Elderly People with Multimorbidity
1
School of Medicine and Health Management, Tongji Medical College, Huazhong University of Science and Technology, Wuhan 430030, China
2
Department of Pathophysiology, School of Basic Medicine and the Collaborative Innovation Center for Brain Science, Key Laboratory of Ministry of Education of China for Neurological Disorders, Tongji Medical College, Huazhong University of Science and Technology, Wuhan 430030, China
*
Author to whom correspondence should be addressed.
Academic Editor: Robert C. Abrams
Received: 23 March 2017 / Revised: 27 April 2017 / Accepted: 5 May 2017 / Published: 9 May 2017
Abstract
Although current models of care are generally well-suited to providing treatment for individual medical conditions, the emergence of multimorbidity is becoming a serious concern for practitioners and policy researchers, particularly in developing countries. The challenges of tackling multimorbidity are further compounded when the multimorbidity co-occurs with psychiatric conditions such as cognitive and depressive disorders. Understanding the relationships between multimorbidity and psychiatric illnesses is therefore of considerable clinical importance. In the present study, we cross-sectionally examined whether multimorbidity has an association with perceived cognition—including memory, learning complaints, and depression—among elderly population in South Africa. Study subjects were 422 men and women aged 50 years and older. The prevalence of arthritis, asthma, cancer, diabetes, heart disease, chronic lung disease, hypertension, and stroke was respectively 31.5, 7.3, 1.7, 10.2, 1.2, 1.7, 52.1, and 31.5%, and that of multimorbidity was 30.8%. In the multivariate analysis, women with multimorbidity were 4.33 times (OR = 4.33, 95%CI = 2.96–14.633) more likely to report memory complaints. The odds of diagnosed depression were 1.4 times (OR = 1.4, 95%CI = 1.045–5.676), and the odds of self-reported depression were 1.7 times (OR = 1.7, 95%CI = 1.41–2.192) higher among women who had multimorbidity compared with those who had no morbid conditions. However, the association was not significant among men. Overall, the findings suggest that the occurrence of multimorbidity warrants special attention, especially regarding its compounding effects on psychological health. The findings need to be replicated through longitudinal studies that consider a broader range of chronic conditions.
View Full-Text
►

▼

Figures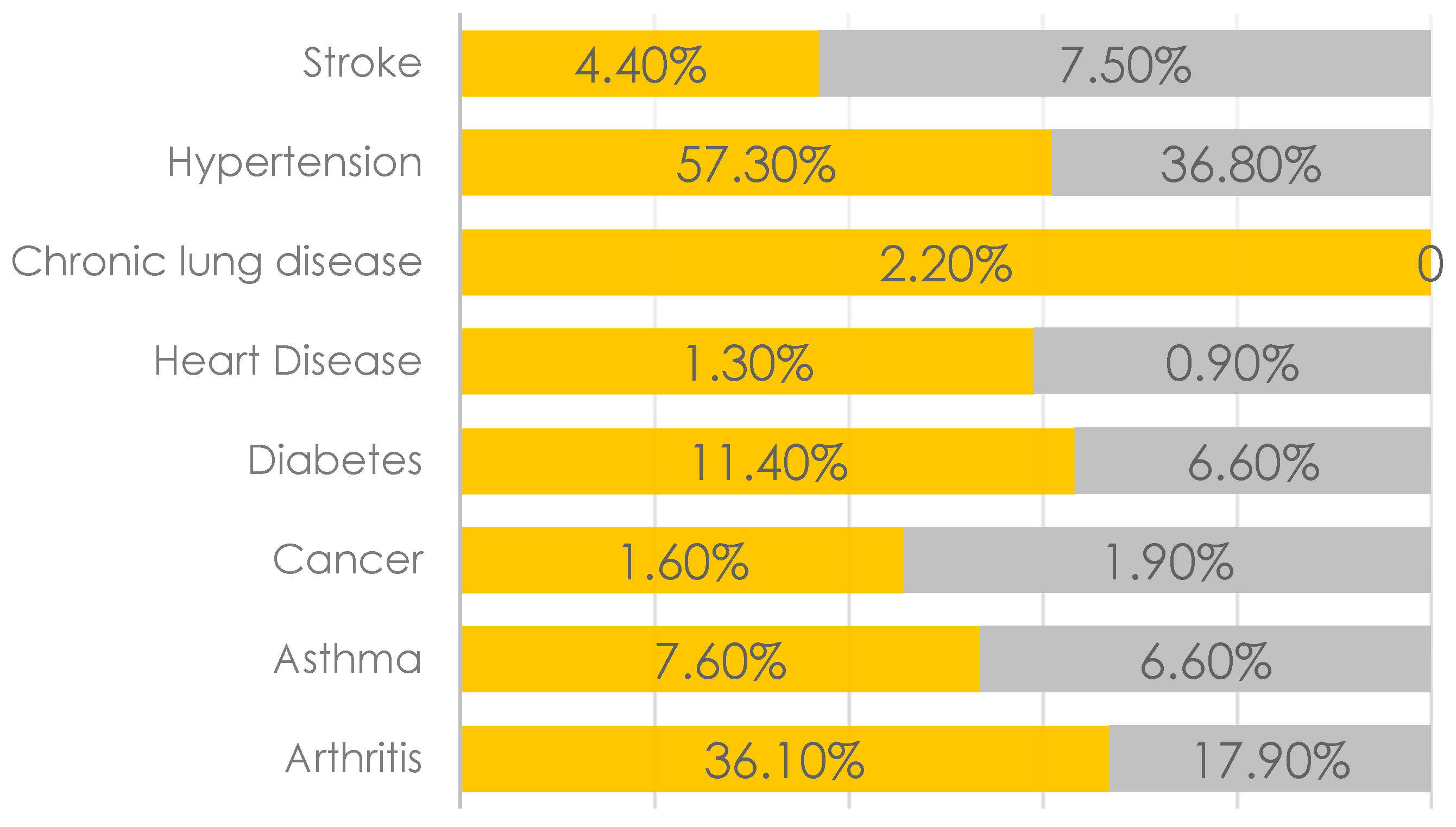 Figure 1
This is an open access article distributed under the
Creative Commons Attribution License
which permits unrestricted use, distribution, and reproduction in any medium, provided the original work is properly cited. (CC BY 4.0).
Share & Cite This Article
MDPI and ACS Style
Ghose, B.; Abdoul Razak, M.Y. Memory and Learning Complaints in Relation to Depression among Elderly People with Multimorbidity. Geriatrics 2017, 2, 15.
Note that from the first issue of 2016, MDPI journals use article numbers instead of page numbers. See further details here.
Comments
[Return to top]