Plasmodesmata-Mediated Cell-to-Cell Communication in the Shoot Apical Meristem: How Stem Cells Talk
Cold Spring Harbor Laboratory, 1 Bungtown Road, Cold Spring Harbor, NY 11724, USA
*
Author to whom correspondence should be addressed.
Academic Editor: Jae-Yean Kim
Received: 6 January 2017 / Accepted: 23 February 2017 / Published: 1 March 2017
Abstract
Positional information is crucial for the determination of plant cell fates, and it is established based on coordinated cell-to-cell communication, which in turn is essential for plant growth and development. Plants have evolved a unique communication pathway, with tiny channels called plasmodesmata (PD) spanning the cell wall. PD interconnect most cells in the plant and generate a cytoplasmic continuum, to mediate short- and long-distance trafficking of various molecules. Cell-to-cell communication through PD plays a role in transmitting positional signals, however, the regulatory mechanisms of PD-mediated trafficking are still largely unknown. The induction and maintenance of stem cells in the shoot apical meristem (SAM) depends on PDmediated cell-to-cell communication, hence, it is an optimal model for dissecting the regulatory mechanisms of PD-mediated cell-to-cell communication and its function in specifying cell fates. In this review, we summarize recent knowledge of PD-mediated cell-to-cell communication in the SAM, and discuss mechanisms underlying molecular trafficking through PD and its role in plant development.
View Full-Text
►

▼

Figures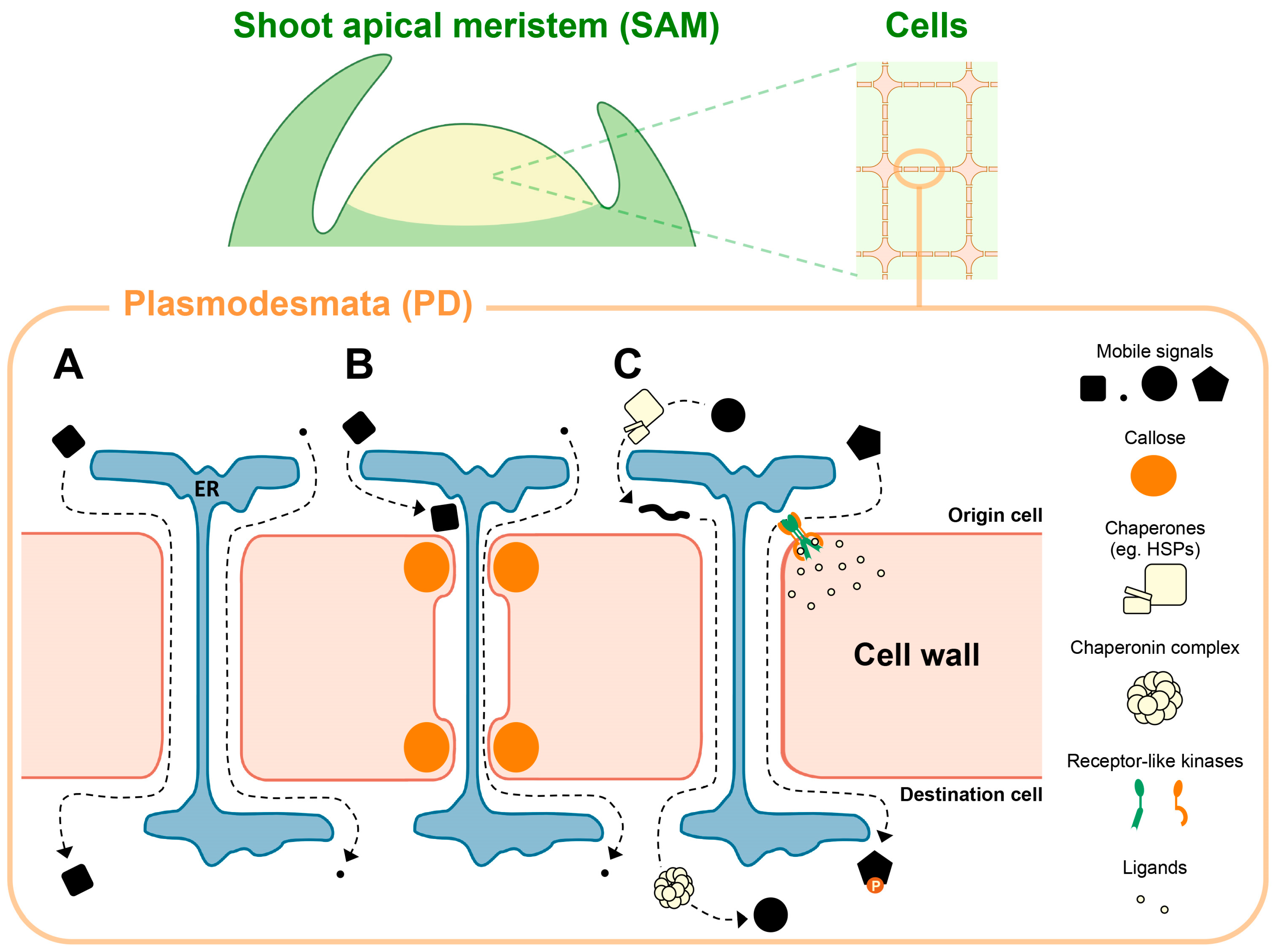 Figure 1
This is an open access article distributed under the
Creative Commons Attribution License
which permits unrestricted use, distribution, and reproduction in any medium, provided the original work is properly cited. (CC BY 4.0).
Share & Cite This Article
MDPI and ACS Style
Kitagawa, M.; Jackson, D. Plasmodesmata-Mediated Cell-to-Cell Communication in the Shoot Apical Meristem: How Stem Cells Talk. Plants 2017, 6, 12.
Note that from the first issue of 2016, MDPI journals use article numbers instead of page numbers. See further details here.
Related Articles
Comments
[Return to top]