Dissociation and Re-Aggregation of Multicell-Ensheathed Fragments Responsible for Rapid Production of Massive Clumps of Leptothrix Sheaths
1
Core Research for Evolutionary Science and Technology (CREST), Japan Science and Technology Agency (JST), Okayama 700-0082, Japan
2
Graduate School of Natural Science and Technology, Okayama University, Okayama 700-0082, Japan
3
Advanced Research Center for Oral and Craniofacial Sciences, Okayama University Dental School, Okayama 700-8558, Japan
4
Department of Physics and Astronomy, University of Southern California, Los Angeles, CA 90089, USA
5
Molecular and Computational Biology Section, Department of Biological Sciences, University of Southern California, Los Angeles, CA 90089, USA
6
Department of Chemistry, University of Southern California, Los Angeles, CA 90089, USA
*
Authors to whom correspondence should be addressed.
Academic Editor: Chris O'Callaghan
Received: 16 June 2016 / Revised: 21 July 2016 / Accepted: 22 July 2016 / Published: 1 August 2016
Abstract
Species of the Fe/Mn-oxidizing bacteria
Leptothrix
produce tremendous amounts of microtubular, Fe/Mn-encrusted sheaths within a few days in outwells of groundwater that can rapidly clog water systems. To understand this mode of rapid sheath production and define the timescales involved, behaviors of sheath-forming
Leptothrix
sp. strain OUMS1 were examined using time-lapse video at the initial stage of sheath formation. OUMS1 formed clumps of tangled sheaths. Electron microscopy confirmed the presence of a thin layer of bacterial exopolymer fibrils around catenulate cells (corresponding to the immature sheath). In time-lapse videos, numerous sheath filaments that extended from the periphery of sheath clumps repeatedly fragmented at the apex of the same fragment, the fragments then aggregated and again elongated, eventually forming a large sheath clump comprising tangled sheaths within two days. In this study, we found that fast microscopic fragmentation, dissociation, re-aggregation and re-elongation events are the basis of the rapid, massive production of
Leptothrix
sheaths typically observed at macroscopic scales.
View Full-Text
►

▼

Figures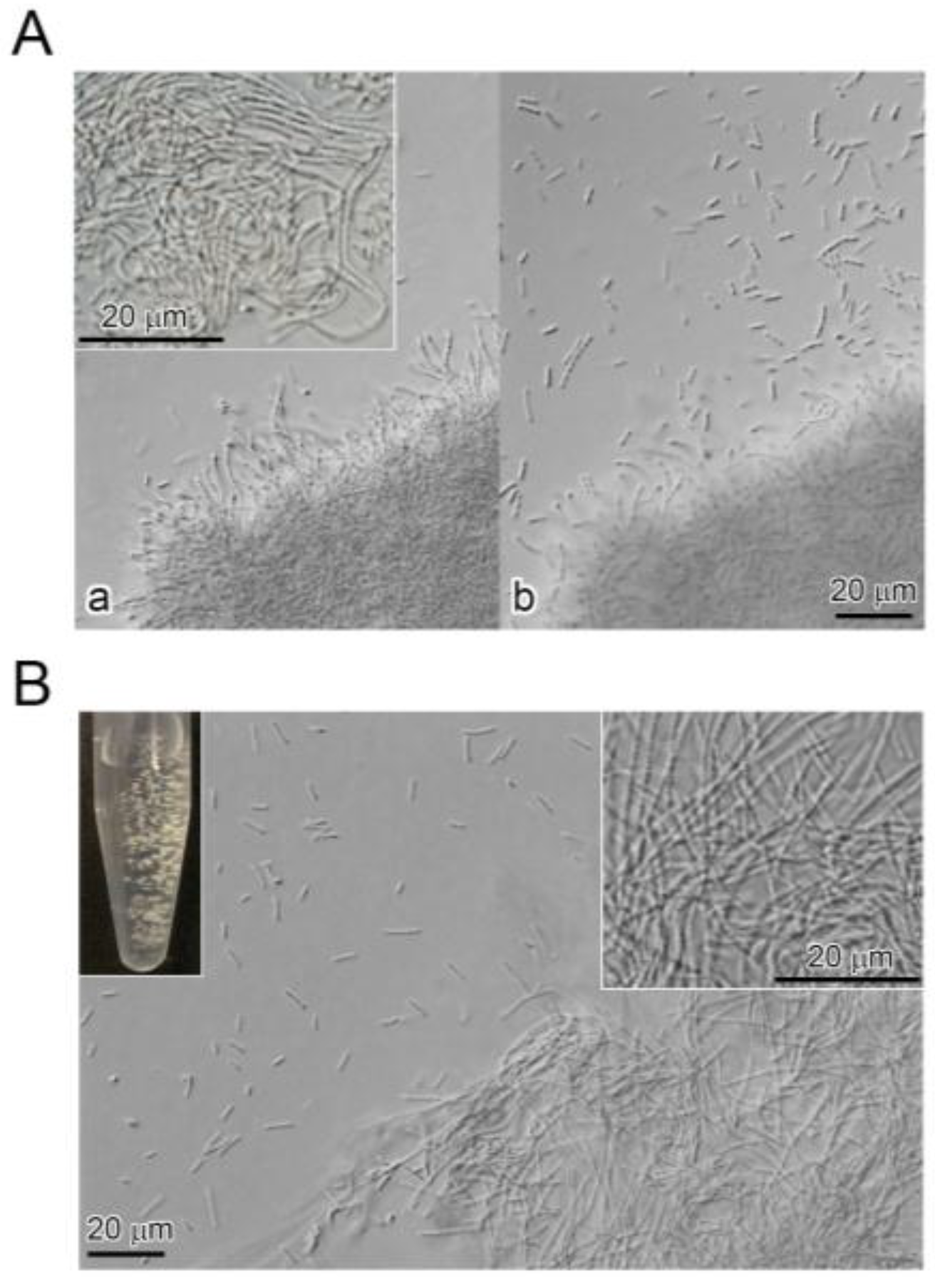 Figure 1
This is an open access article distributed under the
Creative Commons Attribution License
which permits unrestricted use, distribution, and reproduction in any medium, provided the original work is properly cited. (CC BY 4.0).
Supplementary materials
Supplementary File 1:

DOCX-Document (DOCX, 129 KB)

Externally hosted supplementary file 1
Doi: no
Link: http://no
Description: Figure S1: Rapid massive sheath clump production of Leptothrix ochracea. Table S1: Composition of SGP. Video S1: Time-lapse video images acquired at 5-min intervals of dissociation of multicell-ensheathed fragments. Video S2: Time-lapse video images acquired at 5-min intervals of aggregation and elongation of multicell-ensheathed fragments
Share & Cite This Article
MDPI and ACS Style
Kunoh, T.; Nagaoka, N.; McFarlane, I.R.; Tamura, K.; El-Naggar, M.Y.; Kunoh, H.; Takada, J. Dissociation and Re-Aggregation of Multicell-Ensheathed Fragments Responsible for Rapid Production of Massive Clumps of Leptothrix Sheaths. Biology 2016, 5, 32.
Note that from the first issue of 2016, MDPI journals use article numbers instead of page numbers. See further details here.
Related Articles
Comments
[Return to top]