Higher Desolvation Energy Reduces Molecular Recognition in Multi-Drug Resistant HIV-1 Protease
1
Department of Biochemistry and Molecular Biology, Wayne State University School of Medicine, Detroit, MI 48201, USA
2
Department of Molecular Pharmacology and Biochemistry, Feinberg School of Medicine, Northwestern University, Chicago, IL 60611, USA
*
Author to whom correspondence should be addressed.
Received: 30 April 2012 / Revised: 23 May 2012 / Accepted: 25 May 2012 / Published: 31 May 2012
Abstract
Designing HIV-1 protease inhibitors that overcome drug-resistance is still a challenging task. In this study, four clinical isolates of multi-drug resistant HIV-1 proteases that exhibit resistance to all the US FDA-approved HIV-1 protease inhibitors and also reduce the substrate recognition ability were examined. A multi-drug resistant HIV-1 protease isolate, MDR 769, was co-crystallized with the p2/NC substrate and the mutated CA/p2 substrate, CA/p2 P1'F. Both substrates display different levels of molecular recognition by the wild-type and multi-drug resistant HIV-1 protease. From the crystal structures, only limited differences can be identified between the wild-type and multi-drug resistant protease. Therefore, a wild-type HIV-1 protease and four multi-drug resistant HIV-1 proteases in complex with the two peptides were modeled based on the crystal structures and examined during a 10 ns-molecular dynamics simulation. The simulation results reveal that the multi-drug resistant HIV-1 proteases require higher desolvation energy to form complexes with the peptides. This result suggests that the desolvation of the HIV-1 protease active site is an important step of protease-ligand complex formation as well as drug resistance. Therefore, desolvation energy could be considered as a parameter in the evaluation of future HIV-1 protease inhibitor candidates.
View Full-Text
►

▼

Figures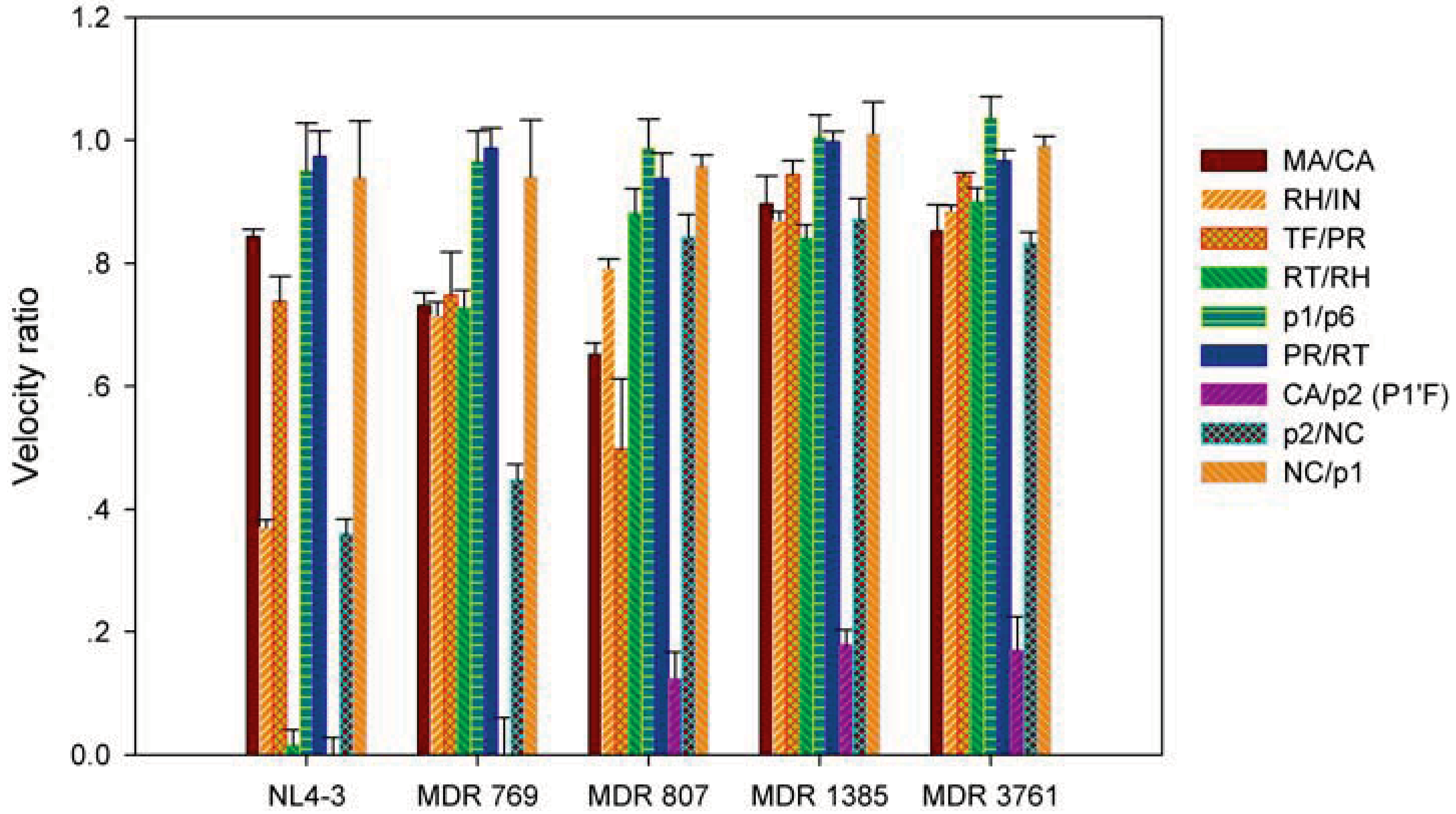 Figure 1
Share & Cite This Article
MDPI and ACS Style
Wang, Y.; Dewdney, T.G.; Liu, Z.; Reiter, S.J.; Brunzelle, J.S.; Kovari, I.A.; Kovari, L.C. Higher Desolvation Energy Reduces Molecular Recognition in Multi-Drug Resistant HIV-1 Protease. Biology 2012, 1, 81-93.
Related Articles
Comments
[Return to top]