Open Access This article is
freely available
re-usable
Review
Rock Art in Kurdistan Iran
Independent Scholar, 4-13, Bessat Town, Sanandaj, 94415-66149, Iran; Tel.: +98-918-9709411
Received: 30 August 2013; in revised form: 25 October 2013 / Accepted: 31 October 2013 / Published: 5 December 2013
Abstract
: Kurdistan, with great potential and prehistoric resources, has numerous petroglyphs in different areas of the province. During the last 14 years of extensive field study, more than 30 sites of rock art have been identified and introduced by the author. In this article, we summarize these rock art areas in Iranian Kurdistan.
Keywords:
rock art; petroglyph; cupule; Iran; Kurdistan
1. Introduction
Rock art study in Iran is at the beginning of its development and this important category of cultural heritage is neglected by researchers and archaeologists. During the last two decades, most searches have been done that have been mostly focused on locating and registering the sites. Each site, for which a report was filed, was found to be neglected. Research is mostly based on reports that are available in the archives of cultural heritages offices of the provinces, and no analysis or completed studies focused on rock art have been done yet in Iran. Unfortunately, there is no rule for the studying and protection of this heritage in Iran. There is no institution in Iran to protect and support this ancient art within the International Federation of Rock Art Organizations (IFRAO) framework and provision [1]. Identifying and introduction of the rock art in Kurdistan as a free and independent researcher started in summer 1998, and an initial report was published previously [2].
Kurdistan has great prehistoric cultures, and contains numerous petroglyphs in different areas of the province. During g the last 14 years, more than 30 rock art sites have been identified and introduced by the author [1,2,3,4,5,6,7,8]. In this paper, an attempt is made to study the rock art of Kurdistan, providing a general perspective for the reader.
In order to protect the sites, the name of the villages and the locations of sites were not mentioned in prior articles, and only the name of the regions of occurrence were mentioned.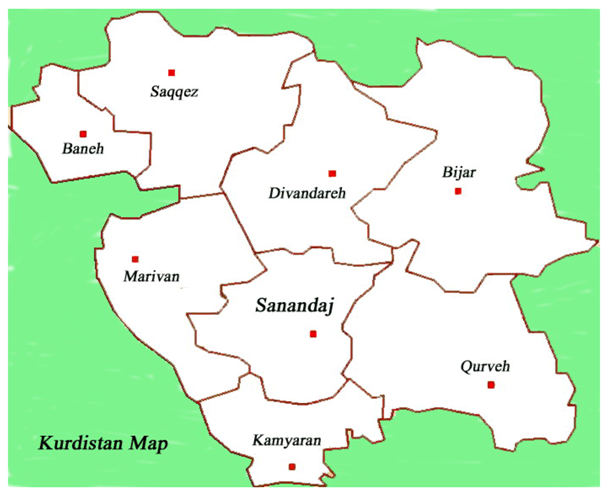 2. Kurdistan in Iran
Seas of the second era of geology have covered all parts of Kurdistan and a considerable amount of sediment has remained here. At the end of second era, some parts of Jurassic calcic sediments in Kurdistan emerged from the water in the form of vast lands or numerous islands [9]. According to uranium/thorium and carbon 14 experiments done on remnants belonging to the Mousterian era in Shana-Dar Cave in the Baradust mountains in Iraqi Kurdistan, their antiquity lies in the range of between 46,900 + 1500 and 60,000 years ago [10].
In Hawraman, in the Kurdistan province of Iran, there are caves and refuges adjacent to Sirwan River; most of them are to the east and located in low altitudes. Archaeologists have not delivered a report about prehistoric sites in Hawraman Kurdistan of Iran. Its caves and rock shelters have remained intact [2,7]. Although painting on potteries of the Neolithic was common, the prevalence of completely new paintings in the Chalcolithic distinguishes this era from older ones. The Chalcolithic cultures of Iran cover the middle of fifth millennium BCE, around (4300–4500), and had been common in many parts of Iran [11]. Rock art displays the artistic sensitivity and atheism of our old antecedents in many parts of the world. It is the only cultural explanation form of humans that lasts unceasingly for tens of thousands years [12].
3. Regions Including Rock Art in Kurdistan
Hawraman region (mountainous area located among Sanandaj, Kermanshah, Mariwan, and Sharazour)

Saral region (mountains and plains between Sanandaj and Divandareh)

Petroglyphs in northeast of Qorveh

Petroglyph in Karaftou cave, to the north of Divandareh, and east of Saqez

Petrglyph to the north of Dehgolan

Cupules in east of Saqez

Petroglyph in Ghomchocgai, north of Bijar

Cupules and mortars in the west of Sanandaj
4. Conclusion
There is no protection for rock art sites in Iran right now. There is just one boulder protected in Lakh Mazar in Birjand [23]. There are two main reasons for the Kurdistan petroglyphs destruction: (1) unfortunately, over recent decades, graffiti and remaking of rock art motifs can be seen; (2) natural factors like cold and heat, rain and erosion have an impact on rock art images. The plentiful and scattered rock art sites in Kurdistan are related to different periods. The rock art of this province includes all important factors, which have been found in other parts of the world. Cupules of different sizes in groups or individually are plentiful, in different arrangements such as circles of 5 to 10 cupules with one or two cupules carved in the middle of them.
Acknowledgments
The help of Hadad Zamaniin translating this paper into English is greatly appreciated. The great help of Robert. G. Bednarik also is highly acknowledged. I also thank Borhan Lohoni, Ahmad Mohammad Rezai and all of those who helped me throughout this work.
Conflicts of Interest
The authors declare no conflict of interest.
References
Lahafian, J. The Honourable Head of Iran's Cultural Heritage Archaeology and Tourism. In IFRAO Report, IFRAO Global State of the Art with the UISPP 15th Congress, Lisbon, Portugal, 9 September 2006; 2006; Volume 36. [Google Scholar]
Lahafian, J. Petroglyphs of Kurdistan.

Rock Art Res.

2004,

21

, 3–10. [Google Scholar]
Lahafian, J. Prehistoric petroglyphs of Kurdistan.

Persain J. Kurd. Cult.

2000,

3–4

, 14–20. [Google Scholar]
Lahafian, J. Hawraman in prehistory.

Persian J. Kurd. Cult.

2001,

7–8

, 59–63. [Google Scholar]
Lahafian, J. Study of the Kurdistan pertroglyphs. (in persian). 2001. Unpublished work. [Google Scholar]
Lahafian, J. Petroglyphs of Kurdistan.

Kurd. Hazar Mird J.

2005,

26

, 43–59. [Google Scholar]
Lahafian, J. Cupules in Kurdistan rock art.

Rock Art Research.

2010,

27

, 177–183. [Google Scholar]
Lahafian, J. Cupules in rock art of Kurdistan.

Persian Archaeology J. Pajooheshhay Bastanshenasi

2011,

4–5

, 79–88. [Google Scholar]
Mahmoodi, F.

Regional Geography of Qurveh, Bijar and Divandarreh

; (in Persian). Tehran university publishing: Tehran, Iran, 1973. [Google Scholar]
Oakley, K.P.

Framework for Dating Fossil Man

, 3rd Edition ed; Adline Publishing Company: Chicago, IL, USA, 1968. [Google Scholar]
Talaei, H. Bronz Age of Iran. In

Research and Codification of Humanity Science University's books

; Samt Publications, Research and Development of Humanity Science Center: Tehran, Iran, 2006. [Google Scholar]
Mary, J.T. Globalization of the rock art.

UNESCO Message. Mag.

1998,

335

, 38. [Google Scholar]
Lahafian, J. The Report of Identifying the Oldest Petroglyphs of Iran in Kurdistan, Cultural Heritage Organization of Iran, Sanandaj, Iran, 1998. Unpublished work.
Bednarik, R.G. Cupules.

Rock Art Res.

2008,

25

, 66–100. [Google Scholar]
Framkin, G.

History of Civilazation of Central Asia, Volume I, The Dawn of Civilization: Earliest Times to 700 B.C.

, 2nd impression ed; Unesco Publishing, Printed by Imprimerie des Presses Universitaires de France, Vendom: Paris, France, 1996. [Google Scholar]
Talaei, H.

Iran's Iron Age

; Samt Publication: Tehran, Iran, 2010. [Google Scholar]
Kurdowani, M.

Unpublished Report in Archive of the Cultural Heritage Organization of Kurdistan Province

; In Persian: Sanandaj, Iran, 1969. [Google Scholar]
Vahdati, A.

Two Complexes of Petroglyphs in Khorasan-e-Shomali, Jorbat and Nargeslooy-e-Olya

; The Cultural Heritage Organization: Birjand, Iran, 2010. [Google Scholar]
Kerpoter, R.

Travels in Georgia, Persian, and Armenia

; Ancient Babylonia: London, UK, 1822. [Google Scholar]
Oshtudan, R. The Survey of Karaftu Cave. M.A Thesis, Tehran University, Tehran, Iran, 1994. [Google Scholar]
Hamzelu, M.; Mireskandary, M. Castle and cave of Karaftou.

Persian J. Asar

2002,

33–34

, 278–304. [Google Scholar]
Rustaei, K.; Rezvani, H.; Heidari, S.; Biglari, D.; Miller, N. Preliminary report of excavation in Kani-Michail Cave in Kurdistan, August and September 2001.

Pesian J. Archaeol. Hist.

2002,

16

, 72–74. [Google Scholar]
Khaniki, R.L.; Bashash, R. Petroglyphs of Lakhmazar in Birjand.

Res. Articles Cult. Herit. Organ. Tehran

1994,

1

, 4–74. [Google Scholar]
© 2013 by the authors; licensee MDPI, Basel, Switzerland. This article is an open access article distributed under the terms and conditions of the Creative Commons Attribution license (http://creativecommons.org/licenses/by/3.0/).