Nanoscale Study of Clausthalite-Bearing Symplectites in Cu-Au-(U) Ores: Implications for Ore Genesis
1
School of Chemical Engineering, The University of Adelaide, Adelaide, SA 5005, Australia
2
Adelaide Microscopy, The University of Adelaide, Adelaide, SA 5005, Australia
*
Author to whom correspondence should be addressed.
Received: 19 January 2018 / Revised: 9 February 2018 / Accepted: 9 February 2018 / Published: 13 February 2018
Abstract
Symplectites comprising clausthalite (PbSe) and host Cu-(Fe)-sulphides (chalcocite, bornite, and chalcopyrite) are instructive for constraining the genesis of Cu-Au-(U) ores if adequately addressed at the nanoscale. The present study is carried out on samples representative of all three Cu-(Fe)-sulphides displaying clausthalite inclusions that vary in size, from a few µm down to the nm-scale (<5 nm), as well as in morphology and inclusion density. A Transmission Electron Microscopy (TEM) study was undertaken on foils prepared by Focussed Ion Beam and included atom-scale High-Angle Annular Dark-Field Scanning TEM (HAADF-STEM) imaging. Emphasis is placed on phase relationships and their changes in speciation during cooling, as well as on boundaries between inclusions and host sulphide. Three species from the chalcocite group (Cu
2–x
S) are identified as 6
a
digenite superstructure, monoclinic chalcocite, and djurleite. Bornite is represented by superstructures, of which 2
a
and 4
a
are discussed here, placing constraints for ore formation at T > 265 °C. A minimum temperature of 165 °C is considered for clausthalite-bearing symplectites from the relationships with antiphase boundaries in 6
a
digenite. The results show that alongside rods, blebs, and needle-like grains of clausthalite within the chalcocite that likely formed via exsolution, a second, overprinting set of replacement textures, extending down to the nanoscale, occurs and affects the primary symplectites. In addition, other reactions between pre-existing Se, present in solid solution within the Cu-(Fe)-sulphides, and Pb, transported within a fluid phase, account for the formation of composite, commonly pore-attached PbSe and Bi-bearing nanoparticles within the chalcopyrite. The inferred reorganisation of PbSe nanoparticles into larger tetragonal superlattices represents a link between the solid solution and the symplectite formation and represents the first such example in natural materials. Epitaxial growth between clausthalite and monazite is further evidence for the interaction between pre-existing Cu ores and fluids carrying REE, P, and most likely Pb. In U-bearing ores, such Pb can form via decay of uranium within the ore, implying hydrothermal activity after the initial ore deposition. The U-Pb ages obtained for such ores therefore need to be carefully assessed as to whether they represent primary ore deposition or, more likely, an overprinting event. A latest phase of fluid infiltration is the recognised formation of Cu-selenide bellidoite (Cu
2
Se), as well as Fe oxides.
View Full-Text
►

▼

Figures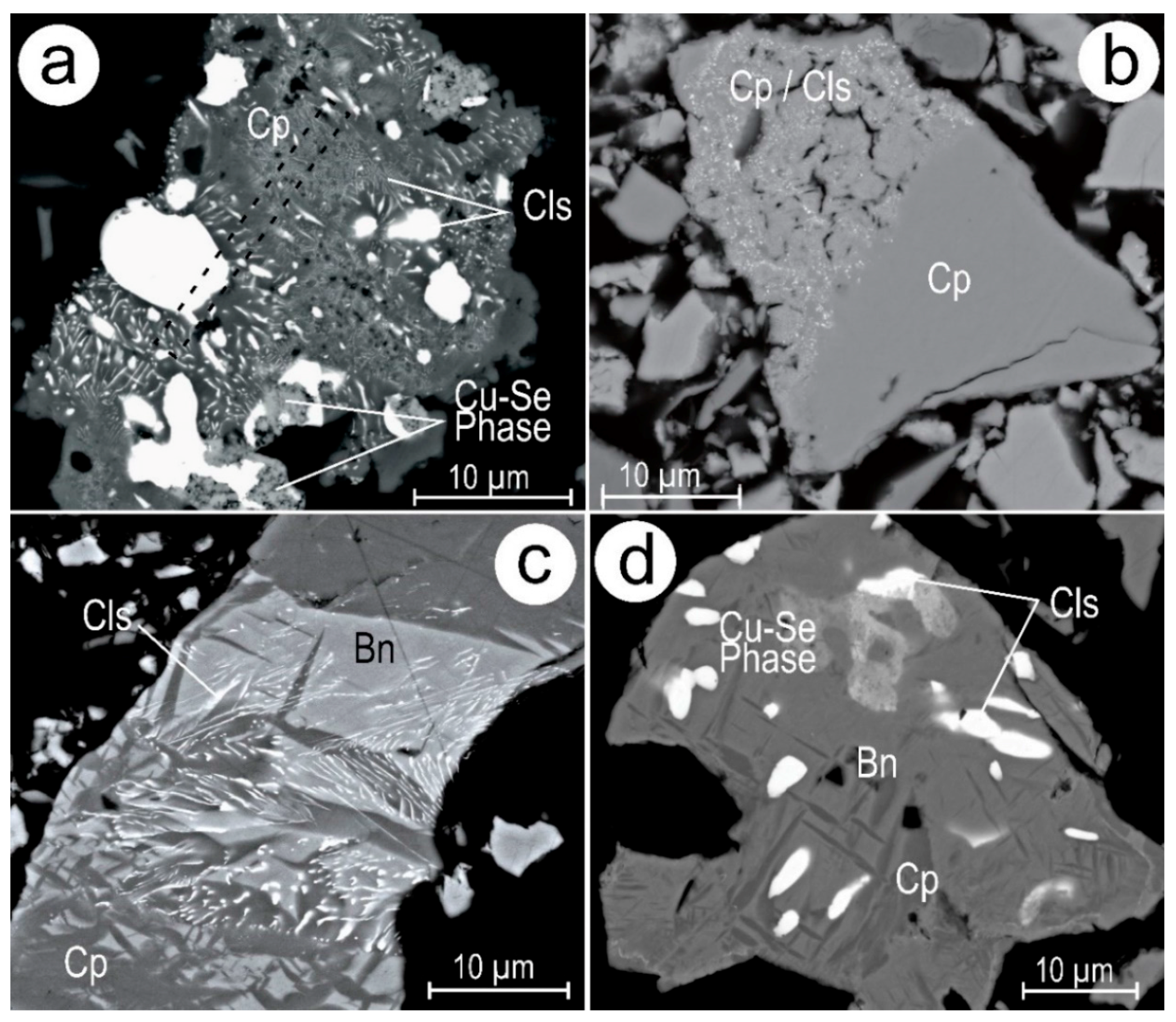 Figure 1
This is an open access article distributed under the
Creative Commons Attribution License
which permits unrestricted use, distribution, and reproduction in any medium, provided the original work is properly cited. (CC BY 4.0).
Share & Cite This Article
MDPI and ACS Style
Owen, N.D.; Ciobanu, C.L.; Cook, N.J.; Slattery, A.; Basak, A. Nanoscale Study of Clausthalite-Bearing Symplectites in Cu-Au-(U) Ores: Implications for Ore Genesis. Minerals 2018, 8, 67.
Note that from the first issue of 2016, MDPI journals use article numbers instead of page numbers. See further details here.
Related Articles
Comments
[Return to top]