Fingerprinting the Hydrothermal Fluid Characteristics from LA-ICP-MS Trace Element Geochemistry of Garnet in the Yongping Cu Deposit, SE China
1
Key Laboratory of Mineralogy and Metallogeny, Guangzhou Institute of Geochemistry, Chinese Academy of Sciences, Guangzhou 510640, China
2
School of Resources and Safety Engineering, Central South University, Changsha 410083, China
3
Key Laboratory of Metallogenic Prediction of Nonferrous Metals and Geological Environment Monitor (Central South University), Ministry of Education, Changsha 410083, China
4
Graduate School of Engineering and Resource Science, Akita University, Akita 010-0862, Japan
*
Author to whom correspondence should be addressed.
Received: 9 August 2017 / Revised: 10 October 2017 / Accepted: 12 October 2017 / Published: 19 October 2017
Abstract
The large Yongping Cu deposit is situated in the eastern Qin-Hang Metallogenic Belt, Southeast China and on the southern side of the Yangtze—Cathaysia suture zone, and is characterized by large stratiform orebodies. Garnet represents the main non-metallic mineral at Yongping, and shows variations in color from dark red to green to light brown with distance from the Shizitou porphyritic biotite granite stock. An in situ elemental analysis using EPMA and LA-ICP-MS and fluid inclusions microthermometric measurement on the Yongping garnet were conducted to constrain the hydrothermal and physicochemical mineralization conditions and the ore origin. The Yongping garnet ranges from nearly pure to impure andradite, is characterized by low concentrations of MnO (0.11–0.71 wt %) with a wide range of Y/Ho (2.1–494.9) and does not exhibit any melting inclusions or fluid-melt inclusions, indicating that they are likely to be resulted from hydrothermal replacements. The Yongping garnet is rich in LREEs, Cs, Th, U and Pb; relatively depleted in HREEs, Rb, Sr and Ba; but exhibits distinct Eu anomalies (δEu of the dark red, green and light brown garnet range 2.12–20.54, 0.74–1.70 and 0.52–0.85, respectively) with the homogenization temperatures and salinities of the fluid inclusions principally ranging from 387–477 °C and 7.8–16.0 wt % NaCl equivalent, respectively. The distinct trace elements and microthermometric characteristics reveal that the garnet was formed in a physicochemical conditions of medium-high temperature, 44–64 MPa pressures, mildly acidic pH levels, and unstable oxygen fugacity, and indicate that they were primarily formed by infiltration metasomatism, quite fitting with the scenario that the preferential entrance of magmatic-hydrothermal fluids derived from the Shizitou stock into the relatively low-pressure fracture zones between the limestone and quartz sandstone in the Yejiawan Formation, and further led to the formation of the Yongping stratiform mineralization.
View Full-Text
►

▼

Figures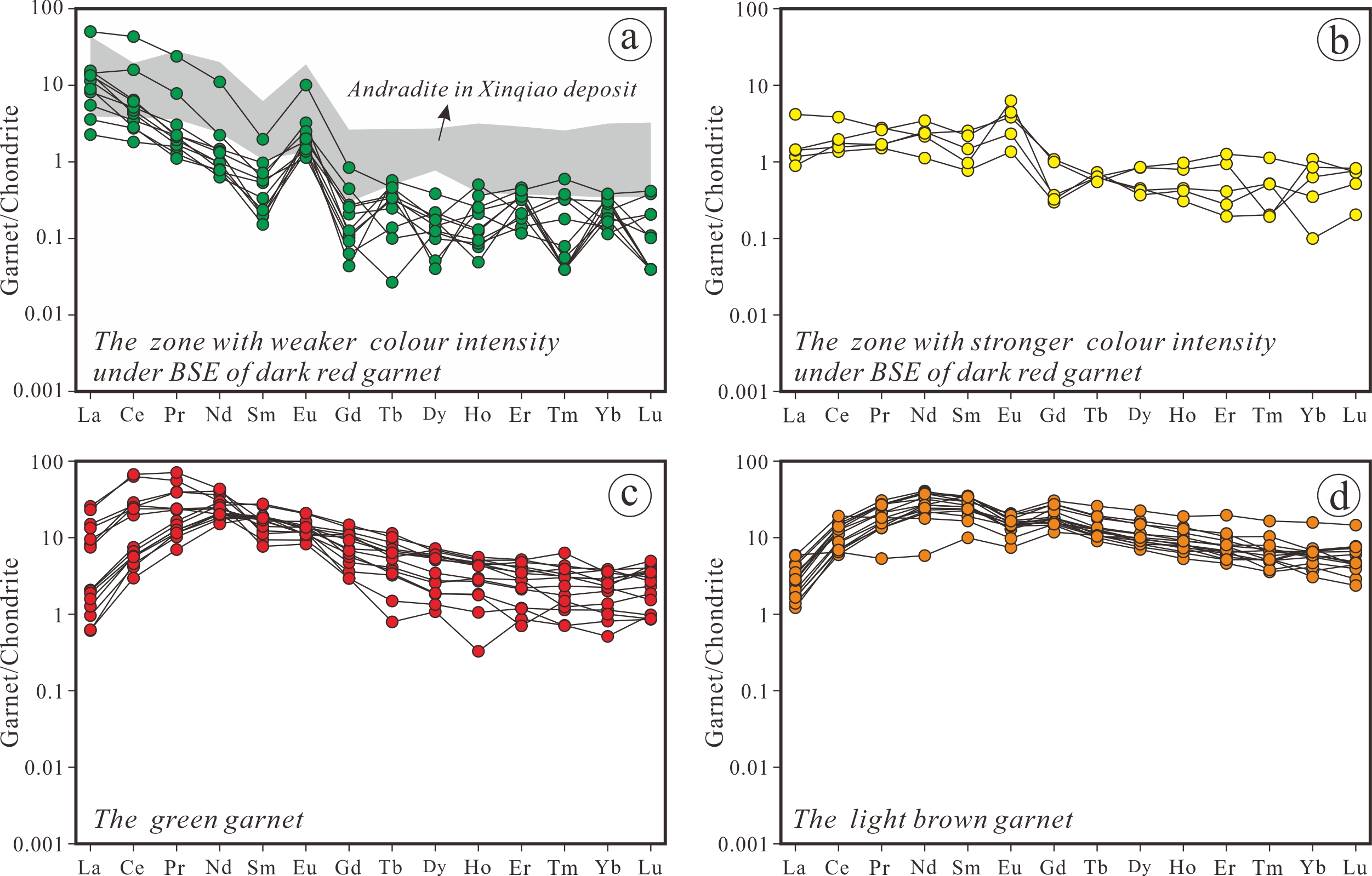 This is an open access article distributed under the
Creative Commons Attribution License
which permits unrestricted use, distribution, and reproduction in any medium, provided the original work is properly cited. (CC BY 4.0).
Share & Cite This Article
MDPI and ACS Style
Zhang, Y.; Liu, Q.; Shao, Y.; Li, H. Fingerprinting the Hydrothermal Fluid Characteristics from LA-ICP-MS Trace Element Geochemistry of Garnet in the Yongping Cu Deposit, SE China. Minerals 2017, 7, 199.
Note that from the first issue of 2016, MDPI journals use article numbers instead of page numbers. See further details here.
Related Articles
Comments
[Return to top]