Clay Mineralogy of Coal-Hosted Nb-Zr-REE-Ga Mineralized Beds from Late Permian Strata, Eastern Yunnan, SW China: Implications for Paleotemperature and Origin of the Micro-Quartz
1
College of Geoscience and Surveying Engineering, China University of Mining and Technology (Beijing), Beijing 100083, China
2
State Key Laboratory of Coal Resources and Safe Mining, China University of Mining and Technology (Beijing), Beijing 100083, China
3
School of Biological, Earth and Environmental Sciences, University of New South Wales, Sydney 2052, Australia
†
These authors contributed equally to this work.
*
Author to whom correspondence should be addressed.
Academic Editor: Dimitrina Dimitrova
Received: 24 January 2016 / Revised: 17 March 2016 / Accepted: 11 May 2016 / Published: 17 May 2016
Abstract
The clay mineralogy of pyroclastic Nb(Ta)-Zr(Hf)-REE-Ga mineralization in Late Permian coal-bearing strata from eastern Yunnan Province; southwest China was investigated in this study. Samples from XW and LK drill holes in this area were analyzed using XRD (X-ray diffraction) and SEM (scanning electronic microscope). Results show that clay minerals in the Nb-Zr-REE-Ga mineralized samples are composed of mixed layer illite/smectite (I/S); kaolinite and berthierine. I/S is the major component among the clay assemblages. The source volcanic ashes controlled the modes of occurrence of the clay minerals. Volcanic ash-originated kaolinite and berthierine occur as vermicular and angular particles, respectively. I/S is confined to the matrix and is derived from illitization of smectite which was derived from the original volcanic ashes. Other types of clay minerals including I/S and berthierine precipitated from hydrothermal solutions were found within plant cells; and coexisting with angular berthierine and vermicular kaolinite. Inferred from the fact that most of the I/S is R1 ordered with one case of the R3 I/S; the paleo-diagenetic temperature could be up to 180 °C but mostly 100–160 °C. The micro-crystalline quartz grains (<10 µm) closely associated with I/S were observed under SEM and were most likely the product of desiliconization during illitization of smectite.
View Full-Text
►

▼

Figures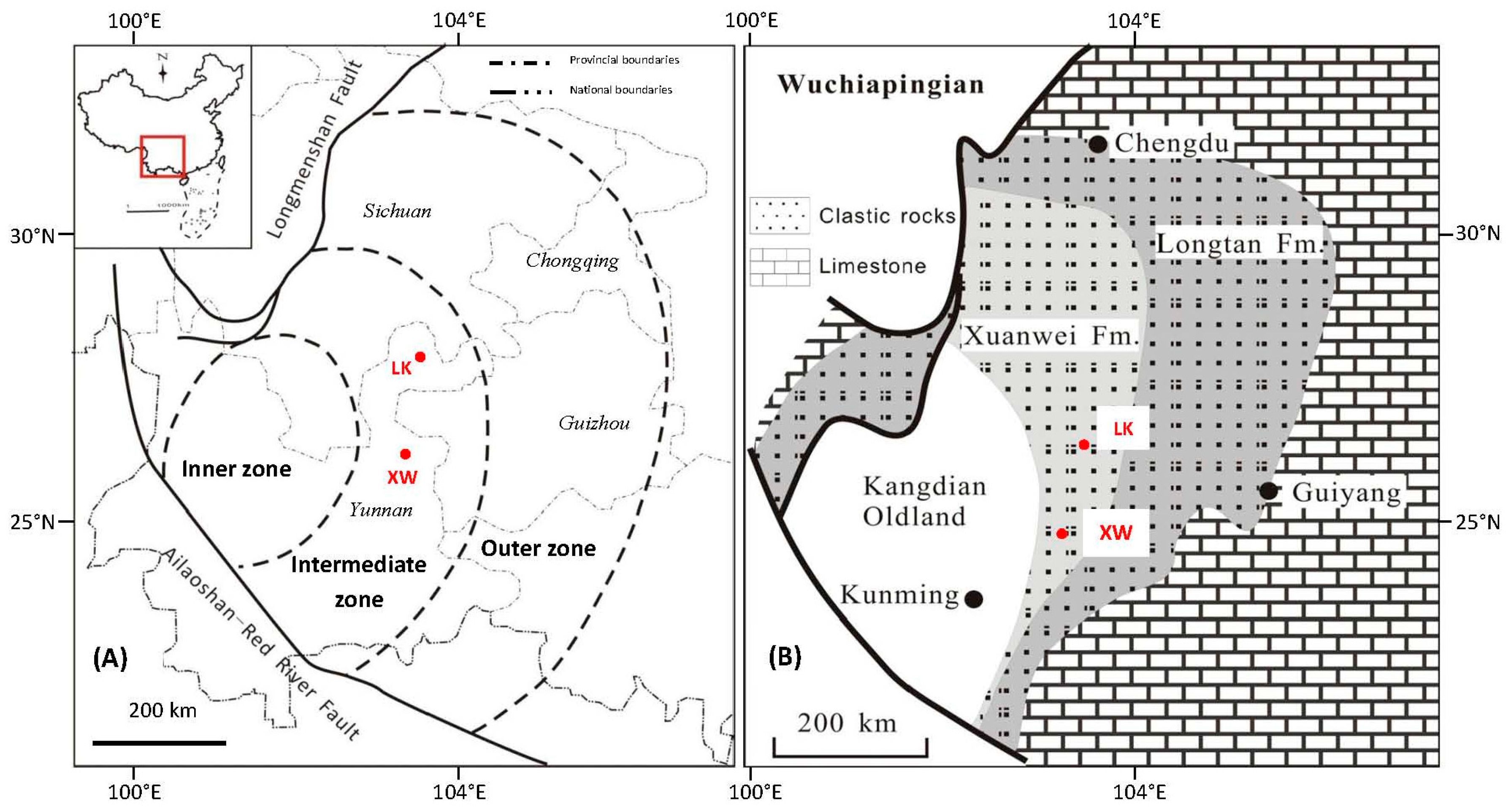 Figure 1
This is an open access article distributed under the
Creative Commons Attribution License
which permits unrestricted use, distribution, and reproduction in any medium, provided the original work is properly cited. (CC BY 4.0).
Share & Cite This Article
MDPI and ACS Style
Zhao, L.; Dai, S.; Graham, I.T.; Wang, P. Clay Mineralogy of Coal-Hosted Nb-Zr-REE-Ga Mineralized Beds from Late Permian Strata, Eastern Yunnan, SW China: Implications for Paleotemperature and Origin of the Micro-Quartz. Minerals 2016, 6, 45.
Note that from the first issue of 2016, MDPI journals use article numbers instead of page numbers. See further details here.
Related Articles
Comments
[Return to top]