Evidence for the Multi-Stage Petrogenetic History of the Oka Carbonatite Complex (Québec, Canada) as Recorded by Perovskite and Apatite
Department of Civil & Environmental Engineering & Earth Sciences, University of Notre Dame, 156 Fitzpatrick Hall, Notre Dame, IN 46556, USA
*
Author to whom correspondence should be addressed.
Received: 28 February 2014 / Revised: 7 May 2014 / Accepted: 13 May 2014 / Published: 26 May 2014
Abstract
The Oka complex is amongst the youngest carbonatite occurrences in North America and is associated with the Monteregian Igneous Province (MIP; Québec, Canada). The complex consists of both carbonatite and undersaturated silicate rocks (e.g., ijolite, alnöite), and their relative emplacement history is uncertain. The aim of this study is to decipher the petrogenetic history of Oka via the compositional, isotopic and geochronological investigation of accessory minerals, perovskite and apatite, using laser ablation inductively coupled plasma mass spectrometry (LA-ICP-MS). The new compositional data for individual perovskite and apatite grains from both carbonatite and associated alkaline silicate rocks are highly variable and indicative of open system behavior.
In situ
Sr and Nd isotopic compositions for these two minerals are also variable and support the involvement of several mantle sources. U-Pb ages for both perovskite and apatite define a bimodal distribution, and range between 113 and 135 Ma, which overlaps the range of ages reported previously for Oka and the entire MIP. The overall distribution of ages indicates that alnöite was intruded first, followed by okaite and carbonatite, whereas ijolite defines a bimodal emplacement history. The combined chemical, isotopic, and geochronological data is best explained by invoking the periodic generation of small volume, partial melts generated from heterogeneous mantle.
View Full-Text
►

▼

Figures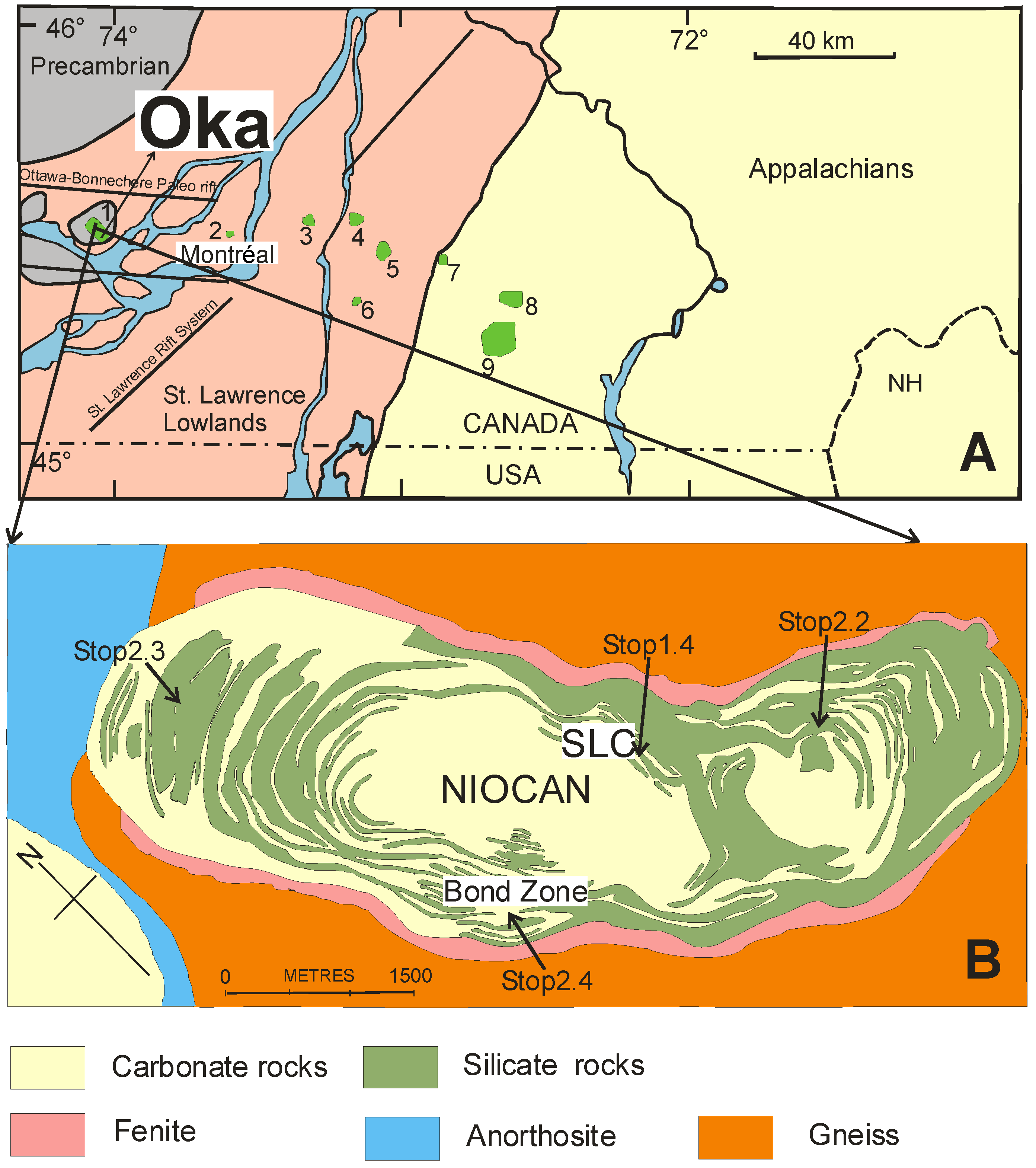 Figure 1
Share & Cite This Article
MDPI and ACS Style
Chen, W.; Simonetti, A. Evidence for the Multi-Stage Petrogenetic History of the Oka Carbonatite Complex (Québec, Canada) as Recorded by Perovskite and Apatite. Minerals 2014, 4, 437-476.
Related Articles
Comments
[Return to top]