Study on an Adaptive Co-Evolutionary ACO Algorithm for Complex Optimization Problems
1
Software Institute, Dalian Jiaotong University, Dalian 116028, China
2
Key Laboratory of Guangxi High Schools Complex System and Computational Intelligence, Nanning 530006, China
3
Guangxi Key Lab of Multi-Source Information Mining & Security, Guangxi Normal University, Guilin 541004, China
4
Guangxi Key Laboratory of Hybrid Computation and IC Design Analysis, Guangxi University for Nationalities, Nanning 530006, China
5
Traction Power State Key Laboratory, Southwest Jiaotong University, Chengdu 610031, China
6
Liaoning Key Laboratory ofWelding and Reliability of Rail Transportation Equipment, Dalian Jiaotong University, Dalian 116028, China
*
Author to whom correspondence should be addressed.
Received: 24 March 2018 / Revised: 7 April 2018 / Accepted: 9 April 2018 / Published: 11 April 2018
Abstract
The ant colony optimization (ACO) algorithm has the characteristics of positive feedback, essential parallelism, and global convergence, but it has the shortcomings of premature convergence and slow convergence speed. The co-evolutionary algorithm (CEA) emphasizes the existing interaction among different sub-populations, but it is overly formal, and does not form a very strict and unified definition. Therefore, a new adaptive co-evolutionary ant colony optimization (SCEACO) algorithm based on the complementary advantages and hybrid mechanism is proposed in this paper. Firstly, the pheromone update formula is improved and the pheromone range of the ACO algorithm is limited in order to achieve the adaptive update of the pheromone. The elitist strategy and co-evolutionary idea are used for reference, the symbiotic mechanism and hybrid mechanism are introduced to better utilize the advantages of the CEA and ACO. Then the multi-objective optimization problem is divided into several sub-problems, each sub-problem corresponds to one population. Each ant colony is divided into multiple sub-populations in a common search space, and each sub-population performs the search activity and pheromone updating strategy. The elitist strategy is used to retain the elitist individuals within the population and the min-max ant strategy is used to set pheromone concentration for each path. Next, the selection, crossover, and mutation operations of individuals are introduced to adaptively adjust the parameters and implement the information sharing of the population and the co-evolution. Finally, the gate assignment problem of a hub airport is selected to verify the optimization performance of the SCEACO algorithm. The experiment results show that the SCEACO algorithm can effectively solve the gate assignment problem of a hub airport and obtain the effective assignment result. The SCEACO algorithm improves the convergence speed, and enhances the local search ability and global search capability.
View Full-Text
►

▼

Figures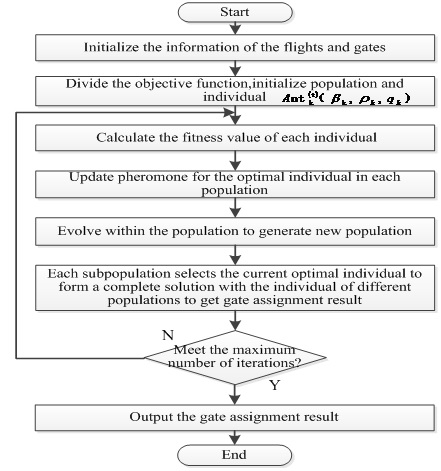 This is an open access article distributed under the
Creative Commons Attribution License
which permits unrestricted use, distribution, and reproduction in any medium, provided the original work is properly cited. (CC BY 4.0).
Share & Cite This Article
MDPI and ACS Style
Zhao, H.; Gao, W.; Deng, W.; Sun, M. Study on an Adaptive Co-Evolutionary ACO Algorithm for Complex Optimization Problems. Symmetry 2018, 10, 104.
Note that from the first issue of 2016, MDPI journals use article numbers instead of page numbers. See further details here.
Related Articles
Comments
[Return to top]