Immunohistochemistry of Programmed Cell Death in Archival Human Pathology Specimens
1
Division of Immunology, Department of Infection and Immunity, Institute Research Center (Health Research Course), Kagoshima University Graduate School of Medical and Dental Sciences, Sakuragaoka 8-35-1, Kagoshima 890-8544, Japan
2
Department of Pathology, China Medical University, 92 Bei Er Ma Lu, He Ping Qu, Shenyang 110001, China
3
Department of Pathology, Graduate School of Medicine, Faculty of Medicine, Osaka University, Yamadaoka 565-0871, Suita, Japan
4
Chronic Viral Diseases Division of Molecular Pathology, Center for Chronic Viral Diseases (Infection and Immunity), Institute Research Center (Health Research Course), Kagoshima University Graduate School of Medical and Dental Sciences, Sakuragaoka 8-35-1, Kagoshima 890-8544, Japan
5
Division of Pediatrics, Department of Developmental Medicine, Institute Research Center (Heath Research Course), Kagoshima University Graduate School of Medical and Dental Sciences, Sakuragaoka 8-35-1, Kagoshima 890-8544, Japan
6
Division of Dermatology, Department of Sensory Organology, Institute Research Center (Advanced Therapeutics Course), Kagoshima University Graduate School of Medical and Dental Sciences, Sakuragaoka 8-35-1, Kagoshima 890-8544, Japan
7
Chronic Viral Diseases Division of Persistent & Oncogenic Viruses, Center for Chronic Viral Diseases (Infection and Immunity), Institute Research Center (Health Research Course), Kagoshima University Graduate School of Medical and Dental Sciences, Sakuragaoka 8-35-1, Kagoshima 890-8544, Japan
†
Present address: INAMORI Frontier Research Center, Kyushu University, 744 Motooka, Nishi-ku, Fukuoka 819-0395, Japan.
*
Author to whom correspondence should be addressed.
Received: 24 March 2012 / Revised: 5 April 2012 / Accepted: 28 April 2012 / Published: 7 May 2012
Abstract
Immunohistochemistry (IHC) for detecting key signal molecules involved in programmed cell death (PCD) in archival human pathology specimens is fairly well established. Detection of cleaved caspase-3 in lymphocytes in rheumatoid arthritis (RA) and gastric surface foveolar glandular epithelia but not in synoviocytes in RA, gastric fundic glandular epithelia, or nasal NK/T-cell lymphoma (NKTCL) cells suggests anti-apoptotic mechanisms in cell differentiation and in oncogenesis such as the induction of survivin. Enzymatically pretreated and ultra-super sensitive detection of beclin-1 in synoviocytes in RA and gastric fundic glandular epithelia suggests enhanced autophagy. The deposition of beclin-1 in fibrinoid necrosis in RA and expression of beclin-1 in detached gastric fundic glandular cells suggest that enhanced autophagy undergoes autophagic cell death (ACD). NKTCL exhibited enhanced autophagy through LC3 labeling and showed densely LC3 labeled cell-debris in regions of peculiar necrosis without deposition of beclin-1, indicating massive ACD in NKTCL and the alternative pathway enhancing autophagy following autophagic vesicle nucleation. Autophagy progression was monitored by labeling aggregated mitochondria and cathepsin D. The cell-debris in massive ACD in NKTCL were positive for 8-hydroxydeoxyguanosine, suggesting DNA oxidation occurred in ACD. Immunohistochemical autophagy and PCD analysis in archival human pathology specimens may offer new insights into autophagy in humans.
View Full-Text
►

▼

Figures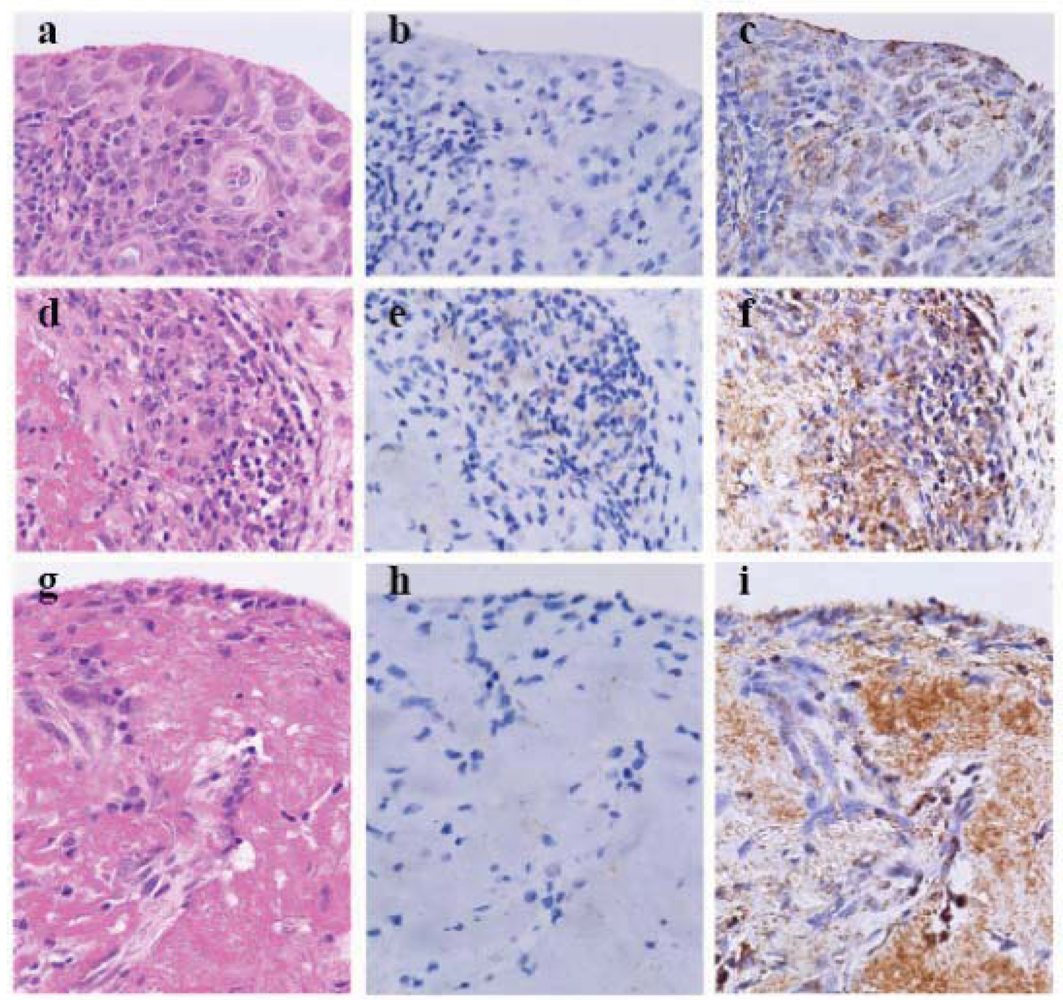 Figure 1
Scifeed alert for new publications
Never miss any articles
matching your research
from any publisher
Get alerts for new papers matching your research
Find out the new papers from selected authors
Updated daily for 49'000+ journals and 6000+ publishers
Share & Cite This Article
MDPI and ACS Style
Hasui, K.; Nagai, T.; Wang, J.; Jia, X.; Aozasa, K.; Izumo, S.; Kawano, Y.; Kanekura, T.; Eizuru, Y.; Matsuyama, T. Immunohistochemistry of Programmed Cell Death in Archival Human Pathology Specimens. Cells 2012, 1, 74-88.
Related Articles
Comments
[Return to top]