Open Access This article is
freely available
re-usable
Review
Interfacing 2D Semiconductors with Functional Oxides: Fundamentals, Properties, and Applications
State Key Laboratory of New Ceramics and Fine Processing, School of Materials Science and Engineering, Tsinghua University, Beijing 100084, China
*
Author to whom correspondence should be addressed.
Academic Editor: Cristina E. Giusca
Received: 29 July 2017 / Accepted: 28 August 2017 / Published: 31 August 2017
Abstract
:
Two-dimensional semiconductors, such as transition-metal dichalcogenides (TMDs) and black phosphorous (BP), have found various potential applications in electronic and opto-electronic devices. However, several problems including low carrier mobility and low photoluminescence efficiencies still limit the performance of these devices. Interfacing 2D semiconductors with functional oxides provides a way to address the problems by overcoming the intrinsic limitations of 2D semiconductors and offering them multiple functionalities with various mechanisms. In this review, we first focus on the physical effects of various types of functional oxides on 2D semiconductors, mostly on MoS2 and BP as they are the intensively studied 2D semiconductors. Insulating, semiconducting, conventional piezoelectric, strongly correlated, and magnetic oxides are discussed. Then we introduce the applications of these 2D semiconductors/functional oxides systems in field-effect devices, nonvolatile memory, and photosensing. Finally, we discuss the perspectives and challenges within this research field. Our review provides a comprehensive understanding of 2D semiconductors/functional oxide heterostructures, and could inspire novel ideas in interface engineering to improve the performance of 2D semiconductor devices.
Keywords:
two-dimensional semiconductors; functional oxides; interface; heterostructures
1. Introduction
Dielectric materials are essential components in modern electronics. In field-effect transistors (FETs), the electric on/off states of semiconducting channel materials are switched by a gate voltage applied through dielectrics. This has been a fundamental use of various FET-based devices in large-scale logic circuits. Most traditional dielectrics are made of metal or non-metal oxides. Their properties could drastically influence the gating efficiency of FET-based devices, especially when the channel is a nanometer-thick material.
Monolayer or few-layer two-dimensional (2D) semiconductors are promising channel materials in field-effect devices due to their very large surface-to-volume ratio and ultrathin body thickness. They usually have novel electronic and optical band structures, high carrier mobility, and extremely strong light–matter interactions that enable their applications in electronic and optoelectronic devices. They also possess an atomic level of surface roughness and anisotropic physical properties (in-plane versus out-of-plane) because of strong in-plane covalent bonds and weak van der Waals (vdW) interlayer interactions [
1
,
2
,
3
]. Because of their ultrathin nature, however, monolayer or few-layer 2D semiconductors must be placed on a solid substrate in electronics. Currently, most of these substrates are dielectric oxides, such as SiO
2
, Al
2
O
3
, and mica. Interface interactions between 2D semiconductors and substrates must be considered. Besides the traditional dielectric screening effect, several new effects of oxide substrates, including charge transfer, energy transfer, and strain, have emerged and may separately or co-functionally dominate the properties of overlayer 2D semiconductors [
4
,
5
].
Challenges still exist in the present 2D semiconductor devices. For example, molybdenum disulfide (MoS
2
) and black phosphorous (BP) have already been integrated into nano-electronic devices, but problems like low carrier mobility and low photoluminescence (PL) efficiency limit their further applications in electronics and opto-electronics. As Moore's law is still proven to be effective, FET devices scale down in size very rapidly. When the leakage current through dielectric oxides caused by quantum mechanical tunneling becomes unacceptable, high-κ oxide materials, such as ZrO
2
, HfO
2
, and Ta
2
O
5
, are expected to replace traditional SiO
2
as insulating gate layers [
6
,
7
]. Such high-κ materials also prove to be successful in enhancing the carrier mobility of channels because their strong dielectric screening effectively reduces the interface impurity scattering. On the other hand, multiple functions are also desirable in electronic devices for their miniaturization. This purpose could be achieved by either a multiple functional channel material or a functional substrate that modulates the channel in multiple ways. In this regard, many functional oxides may offer unique properties such as piezoelectricity, strong polarization, and spin injection. When 2D semiconductors interface with functional oxides, not only can the band gap be manipulated, but also multi-functional, co-operative devices could be built to output new features through coupling. These aspects may open up a new route to modulate novel 2D devices with interface engineering by functional oxides.
In this review, we first focus on the physical effects of various types of functional oxides on 2D semiconductors. Insulating, semiconducting, conventional piezoelectric, strongly correlated, and magnetic oxides are discussed. Then we introduce the applications of these 2D semiconductors/functional oxide systems in FET devices, nonvolatile memory, and photosensing. Finally, we discuss the perspectives and challenges in this research field.
2. Physical Effects of Oxides on 2D Semiconductors
2.1. 2D Semiconductors/Traditional Dielectric Material Heterostructures
Most traditional dielectrics are made of metal oxides and non-metal oxides. The dielectric layers in transistors are indispensable and control the electric on-off states of channel materials. In 2D semiconductor devices, different dielectric environments will influence the electrical and optical properties of the 2D channels. At the same time, charge traps at the interface and doping effect also have a significant impact on their physical properties.
2.2. 2D Semiconductors/Semiconducting Oxide Heterostructures
When 2D semiconductors interface with semiconducting oxides, their band alignment must be considered. Some novel phenomena, such as exciton magnetic polarons and two-dimensional electron gas, emerge in the case of large band offsets. The overall mobility is influenced by both carrier injection and scattering.
2.3. 2D Semiconductors/Conventional Piezoelectric Oxide Heterostructures
Piezoelectric ceramics are also usually oxides in which electric charges can be accumulated in response to external mechanical fields, or, conversely, mechanical strains can be generated in response to external electric fields. ZnO and lead zirconate titanate (PZT) are both conventional piezoelectric oxides. When piezoelectrics and 2D semiconductors form heterostructures, strain and electronic properties can have a mutual effect and one can be utilized to modulate the other property.
Piezoelectric charge accumulation at a 2D semiconductor/piezoelectric ceramic heterojunction will influence the carrier density and the electrical conductance in the 2D semiconducting channel. Chen et al. have utilized a piezoelectric ZnO nanowire to function as a gate to modulate the electrical transport behavior of MoS
2
by external mechanical stimulus [
51
]. In FET devices, the source-drain current is usually modulated by a gate voltage. In this MoS
2
/ZnO system, however, environmental air pressure is instead applied for gating. When the ZnO nanowire is grown on top of an exfoliated MoS
2
flake, the increase of pressure is significantly lower the source-drain current, where the ZnO nanowire functions as an effective back gate voltage: the drain current curve when V
gs
= −7 V with 6.25 MPa pressure is similar to that when V
gs
= −15 V without pressure. Another device is fabricated with an Al
2
O
3
interlayer. In this device, a larger pressure induces a larger source-drain current, which is in sharp contrast to the former device. The mechanism is further explained by the piezotronic effect. At the interface of an n–n heterojunction, electrons accumulate and form a charged barrier for the balance of Fermi levels. In the ZnO–MoS
2
heterostructure, free electrons accumulate to screen positive polarization charges of ZnO. Pressure will induce stronger polarization in ZnO and deplete electrons in the MoS
2
channel. With an interlayer, Al
2
O
3
functions as a capacitor dielectric layer where holes accumulate at the ZnO–Al
2
O
3
interface and electrons accumulate at the MoS
2
–Al
2
O
3
interface. Thus a larger electron concentration leads to a larger source-drain current when the polarization is enhanced by the applied pressure. In a reverse case, piezoelectricity has also been utilized in touch sensors to detect pressure based on a change in the channel current difference [
52
]. In ferroelectrics, strong spontaneous polarization exists and can be tuned by temperature. Fang reported a MoS
2
/PMN-PT composite structure, in which infrared light (IR) is used to generate heat and reduce previous polarization in ferroelectrics [
53
]. The charge accumulates at the interface and the carrier concentration is therefore modulated. Under such circumstances, the IR works as a negative 'gate' in the FET devices [
53
,
54
].
The piezoelectricity also has a great impact on the photoelectric response of 2D semiconductors. Xue et al. fabricated a p-MoS
2
and an n–ZnO diode and measured its photoresponse performance under different pressures [
55
]. MoS
2
is pretreated by SF
6
to become p-type and acrylic is used to apply a pressure and simultaneously transmit the ultraviolet. The highest external quantum efficiency (EQE) is 52.7% with six layers of MoS
2
at a −2 V drain voltage. The photoresponse time is much longer at low power densities, mainly because the separation of excitons in the heterojunction is slow. The barrier formed at the p–n junction interface and depleting area is crucial to stabilizing the separated photogenerated carriers [
56
]. When applying pressure, charges generated by piezoelectricity accumulate at the interface and lower both the valence and conduction bands of ZnO. Thus a lower barrier results in a larger depletion region, which is beneficial to optoelectronic performance. As shown in
Figure 4
b, the photo current and EQE both increase quickly as external pressure increases. The EQE almost quadruples at 23 MPa external mechanical stimulus. ZnO proves to be a good 'gate' to modulate the separation, transport, and recombination process of photocarriers. A similar experiment has been conducted at the graphene/ZnO junction with a higher Schottky barrier and a wider depletion area induced by strain, which resulted in better device performance [
57
].
2.4. 2D Semiconductors/Strongly Correlated Oxide Heterostructures
Strongly correlated systems are a wide range of materials where their electronic structures, magnetic properties, spin, and mechanical strain are strongly correlated with each other. The traditional band theory is based on independent electron approximation, i.e., only electron-ion interaction is considered and electron-electron interaction is ignored. However, when the interaction between electrons or spinons is not negligible, some novel phenomena such as metal-insulator transitions, spin-charge separation, and high-temperature superconductivity may appear in such strongly correlated systems. Many transition metal oxides are classified into strongly correlated materials. For example, the concept of strongly correlated Mott insulators was first proposed in NiO because its properties cannot be explained by the traditional band theory. Compared with traditional piezoelectric materials, more degrees of freedom can be utilized in strongly correlated systems. The diverse properties of strongly correlated oxides provide a variety of possibilities to modulate the properties of ultrathin 2D semiconductors; equally, 2D semiconductors can be utilized as indicators of the phase changes in strongly correlated oxides.
Electronic structures and band gaps of 2D semiconductors can be modulated by strongly correlated materials through strain transfer [
58
]. When interfacing MoS
2
with PMN-PT, a new type of ferroelectric oxides, the band gap of MoS
2
can be regulated through strain by applying an external voltage bias on the PMN-PT [
59
]. Raman spectroscopy confirms that there is a strain transfer from PMN-PT to MoS
2
. As shown in
Figure 5
c, the MoS
2
PL peak blue shifts as the strain increases. A 0.2% compressive strain (corresponding to 500 V bias on PMN-PT) can shift the PL peak by 60 meV (~300 meV per 1% strain) and double the PL intensity during the process. Previous researchers have tried to explain the strain-induced change of electronic structures in MoS
2
by first principle calculations [
60
,
61
,
62
]. As depicted in
Figure 5
d, both valence and conduction bands shift to higher energies with a compressive strain, and the energy levels of conduction band changed to a larger extent. At 0.2% strain, MoS
2
remains an indirect semiconductor but with a larger band gap. Another study shows that the surface potential and work function of MoS
2
can also be influenced by the strong polarization of ferroelectrics [
63
]. Because of the induced dipole effect, a work functional variation is found at the edge and interior region of PbTiO
3
surface.
Strongly correlated materials have also been utilized to modulate the optical properties of 2D semiconductors. When interfacing MoS
2
with VO
2
, which is a textbook Mott insulator and exhibits a metal-insulator transition (MIT) at around 68 °C, both the Raman and PL properties of MoS
2
are strongly modulated by the VO
2
substrate [
64
,
65
]. Both the E
2g
and A
1g
modes of MoS
2
are thus found to have red shifts when heating the VO
2
substrate to metal phase [
65
]. The PL position also shifts to a lower energy due to increased non-radiative electron-hole recombination. Meanwhile, the PL intensity is drastically enhanced because the excitons and trions are enhanced during the MIT process. However, Hou et al. attributed this enhancement to an optical interference effect due to the different refractive indexes of the two VO
2
phases [
64
].
2.5. 2D Semiconductors/Magnetic Oxide Heterostructures
Ferromagnetic insulators and multiferroic oxides are two types of important magnetic oxides. Some 2D materials including graphene and MoS2 have the advantage of long diffusion lengths of spin electrons. When interfaced with functional magnetic oxides, 2D semiconductors may offer new functions and open up novel applications.
In the EuO
x
/graphene heterojunction, the Eu atoms will generate proximity induced ferromagnetism in graphene. Proximity-induced exchange splitting and spin orbit coupling have been revealed by first principle calculations [
66
]. They could also lead to a nonlinear dispersion at Γ point through inter-valley interactions [
67
]. Multiferroics shows the coupling between ferroelectricity and magnetism and is promising for spintronic devices. In BaMnO
3
/graphene structures, a distinct spin polarization is caused by the interaction between π electrons from graphene and
d
electrons from Mn atoms. An evident spin splitting as large as 300meV is observed in the system [
68
]. A high-mobility electronic region is achieved by acceptor-doping in graphene. Meanwhile, theoretical calculations have proven that multiferroic oxides can be utilized to generate 2DEG at the surface, which provides a good platform to conduct research on spin interaction and spin field effect devices [
69
,
70
,
71
].
It is worth noting that all of these devices are based on the advantages of the long spin diffusion length and high carrier mobility in graphene. Some other 2D semiconductors such as MoS2 possess similar advantages. Therefore, similar devices are expected to develop in 2D semiconductors with a high performance and low energy dissipation.
3. Applications of 2D Semiconductors/Functional Oxide Heterostructures
3.1. Volatile Field-Effect Transistor (FET) Devices
In modern computers, most calculations are done by a Boolean operation, which is carried out by logic gate circuits. Logic gates are mainly realized by diodes and transistors to perform as electronic switches. Compared with traditional bipolar transistors, field effect transistors (FETs) have become mainstream in practical applications because of several advantages. Bipolar transistors have majority carrier and minority carrier conduction, while in MOSFET devices only majority carriers conduct the electricity. Complementary Metal-Oxide-Semiconductor (CMOS) logic utilizes both n-channel and p-channel MOSFETs to achieve a high speed and low power consumption. Several parameters are crucial in logic operation and integrated circuits. Smaller transistor size can enhance the integration per unit area and reduce the production cost. Faster switching and response speed calls for higher mobility in channel materials and lower subthreshold swing. A high on–off ratio guarantees high performance and low leakage current. Low leakage current is also beneficial to less power dissipation.
3.2. Nonvolatile Memory and Data Storage
Nonvolatile memory is a type of information storage mostly used in computers. Compared with volatile memory, nonvolatile memory can retain data even when power is turned off. Hard disk drives, magnetic tapes, optical discs, and flash memory are types of nonvolatile memory.
3.3. Sensing and Detection
4. Perspectives and Challenges
So far, we have discussed lots of fundamental properties of 2D semiconductors/functional oxides heterojunctions, as well as some recent research progress on their applications. The various types of interface interactions benefit the heterojunctions in forming novel structures and providing multiple functionalities. In the future, with the miniaturization and integration of nanodevices, their applications in electronics and optoelectronics will be further enriched.
Although some novel 2D semiconductors and functional oxides have been studied for many years or even decades, there are still several challenges in the routes of their heterojunctions to practical applications. As to device fabrication, for example, the most commonly used and reliable methods are still based on the transfer technique to form vdWs heterogeneous structures. The process is facile but time-consuming, cost-ineffective, and not scalable. Further development of in situ, large-scale, and direct growth of 2D semiconductors on novel functional oxides (e.g., strongly correlated oxides) is much desired to lower the production cost and improve the performance. This is very challenging because the ambient condition in the growth of 2D semiconductors may damage the surface of these novel oxide substrates, thereby affecting the interfaces in the formed heterojunctions. Some delicately designed protecting processes should be adopted here. In the future, when more reliable and high-volume preparation of the heterojunctions is realized, their potential applications will be fully exploited.
The other challenge is to answer the following question: Are 2D semiconductors/functional oxides heterojunctions really unique or indispensable for electronic applications evaluated in the conventional figure of merits? So far most related studies have been focused on 2D electronic devices such as FET devices and p–n junctions. Lots of effort has been made to improve the mobility and speed of the devices as well as reduce their energy consumption. Promising performance has indeed been shown in several lab-made heterojunction systems. However, it will also introduce several problems in these systems, such as the instability of many 2D semiconductors (e.g., BP) and functional oxides (through losing oxygen) and susceptibility to ambient conditions (e.g., absorption of molecules in air). Overcoming these cons usually requires additional processes, which may make the 2D systems not so competitive as compared with conventional devices. In this regard, the development of 2D semiconductors/oxide systems with novel properties is a more hopeful research direction because it could provide multiple new functions that conventional devices cannot offer. For example, more dimensions of freedom in 2D semiconductors such as valley electronics have been found to be capable of regulating and carrying the information. The coupling of multiple degrees of freedom of 2D semiconductors with novel functional oxides would be a hot topic in future research.
Acknowledgments
This research was supported by Thousand Youth Talents Program of China, National Natural Science Foundation of China (51602173), the Open Research Fund Program of the State Key Laboratory of Low-Dimensional Quantum Physics (KF201603), and Tsinghua University Initiative Scientific Research Program (20161080166). We acknowledge Laura Wheatley and Inigo Howe for the proofreading of our manuscript.
Author Contributions
Kai Liu conceived the topic of this review. Zhiquan Yuan drafted the manuscript under the supervision of Kai Liu. Kai Liu and Jiwei Hou revised the manuscript.
Conflicts of Interest
The authors declare no conflict of interest.
Figure 1.
MoS
2
PL properties influenced by dielectric environment and charge doping. (
a
) A typical PL spectrum of single-layer MoS
2
that is fitted with three peaks. The inset schematics demonstrate classical pictures of a trion and an exciton; (
b
) PL peak positions as a function of surrounding solvent dielectric constants (Yuxuan Lin et al. [
20
]); (
c
) PL spectra of monolayer MoS
2
on SiO
2
, LaAlO
3
, gel-film, and SrTiO
3
substrates; (
d
) Peak positions of PL peak (A), neutral excitons emission (A
0
), and trion emission (A
−
), and energy difference between neutral excitons emission (A
0
) and trion emission (A
−
) (Yuanyuan Li et al. [
21
]).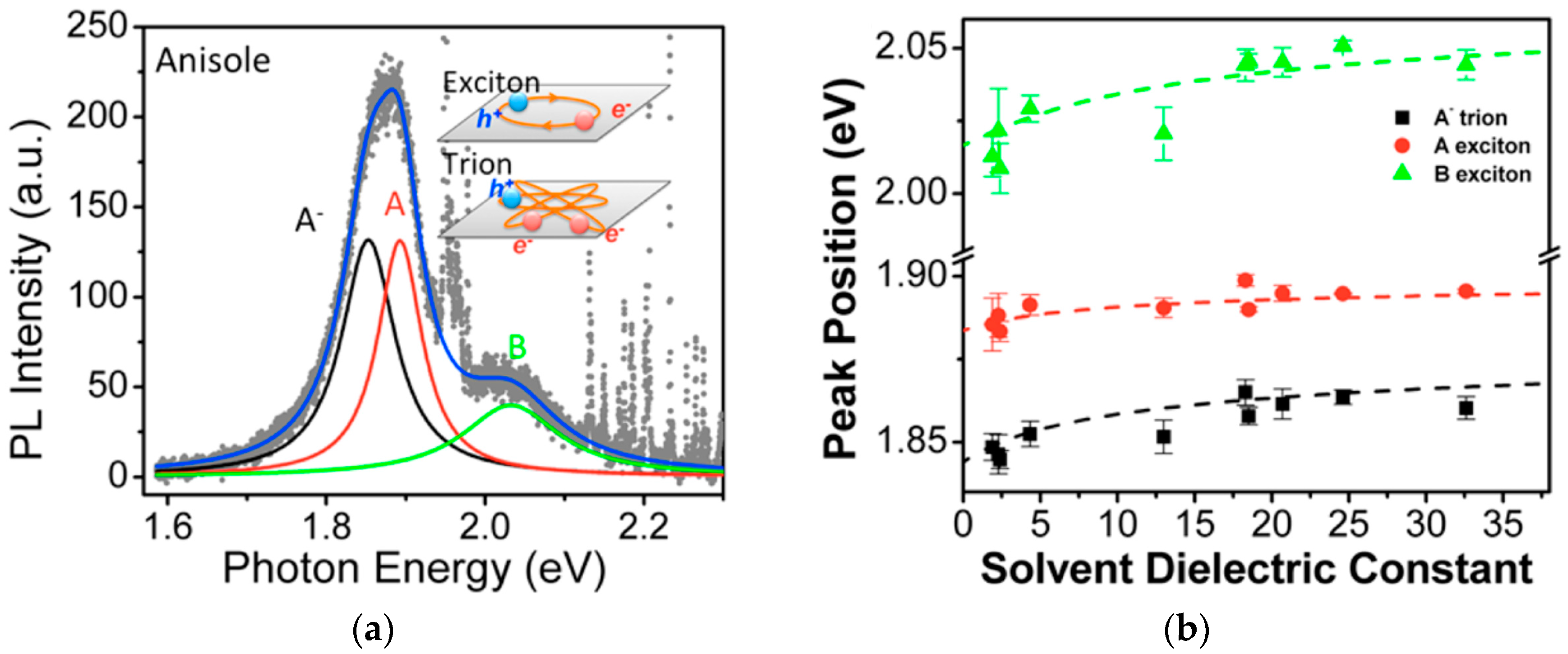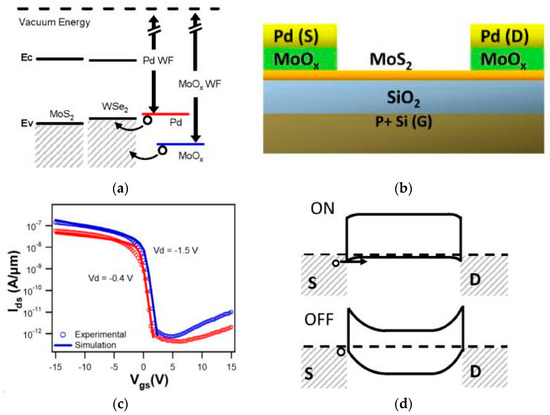 Figure 3.
MoS
2
/MoO
x
heterojunction. (
a
) Valence and conduction band positions with respect to vacuum level for MoS
2
, WSe
2
, Pd, and MoO
x
; (
b
) Schematic of the device structure; (
c
) I
ds
vs. V
gs
characteristics for a representative MoS
2
PFET with MoO
x
contacts; (
d
) Qualitative band diagrams for the ON (top panel) and OFF (bottom panel) states of the MoS
2
PFET (Steven Chuang et al. [
49
]).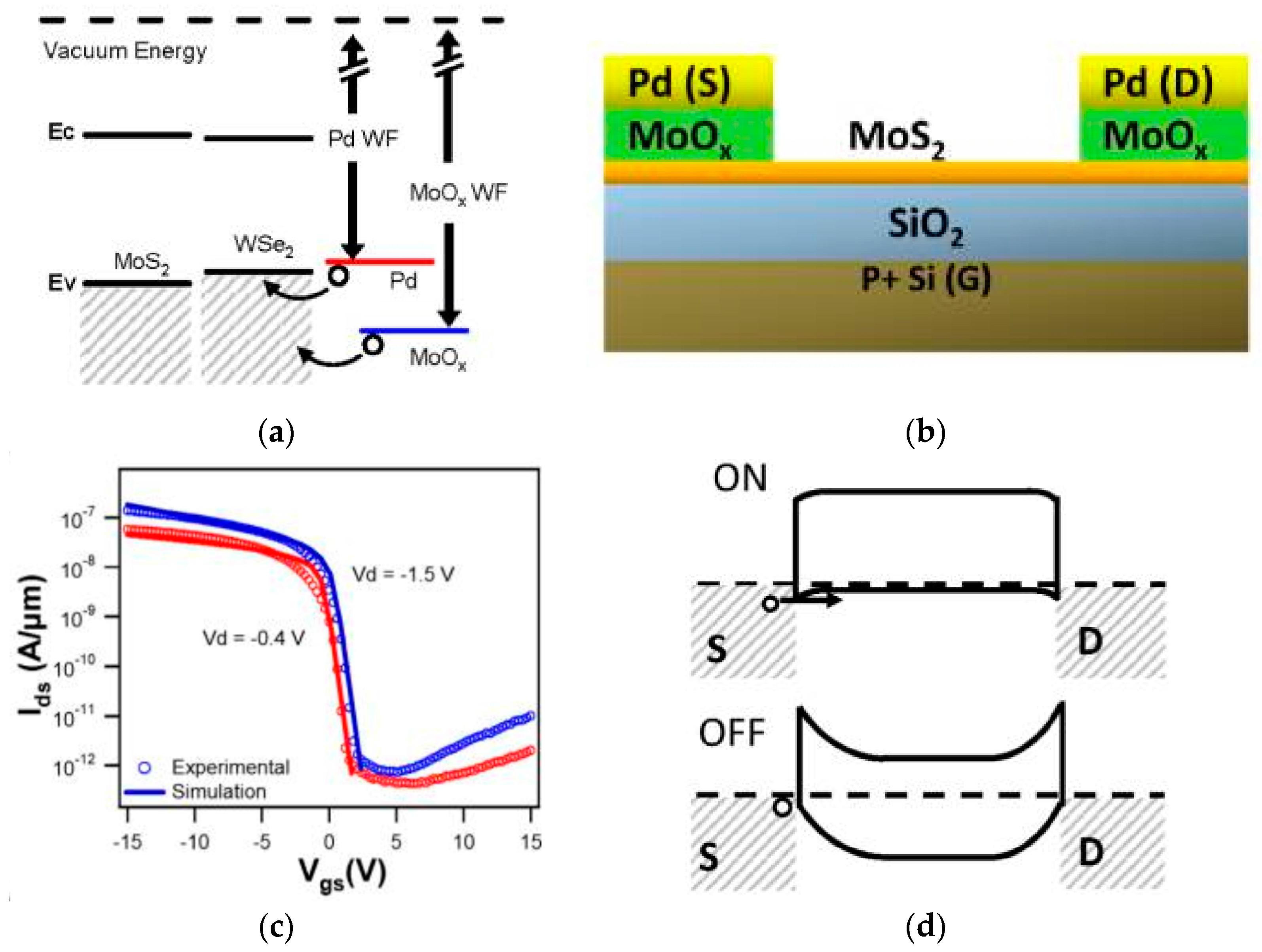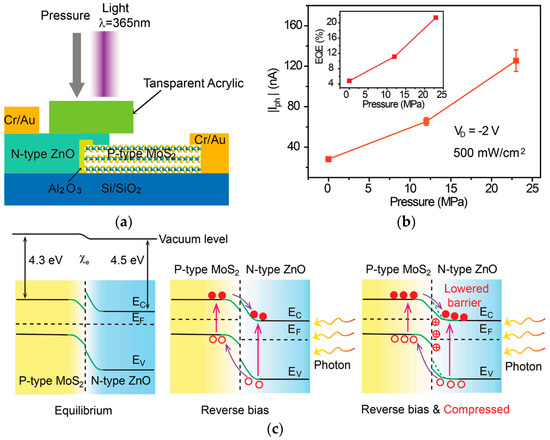 Figure 4.
Photoelectric response of a 2D semiconductor/piezoelectric ceramic heterostructure. (
a
) Schematic of experimental set-up for testing the diode; (
b
) Pressure dependence of I
ph
at a drain bias of –2 V and an incident power density of 500 mW cm
−2
. The inset shows the increased EQE with the increased applied pressure; (
c
) Band diagrams interpreting photogenerated carriers and piezophototronic effect enhanced photocurrents (Fei Xue et al. [
55
]).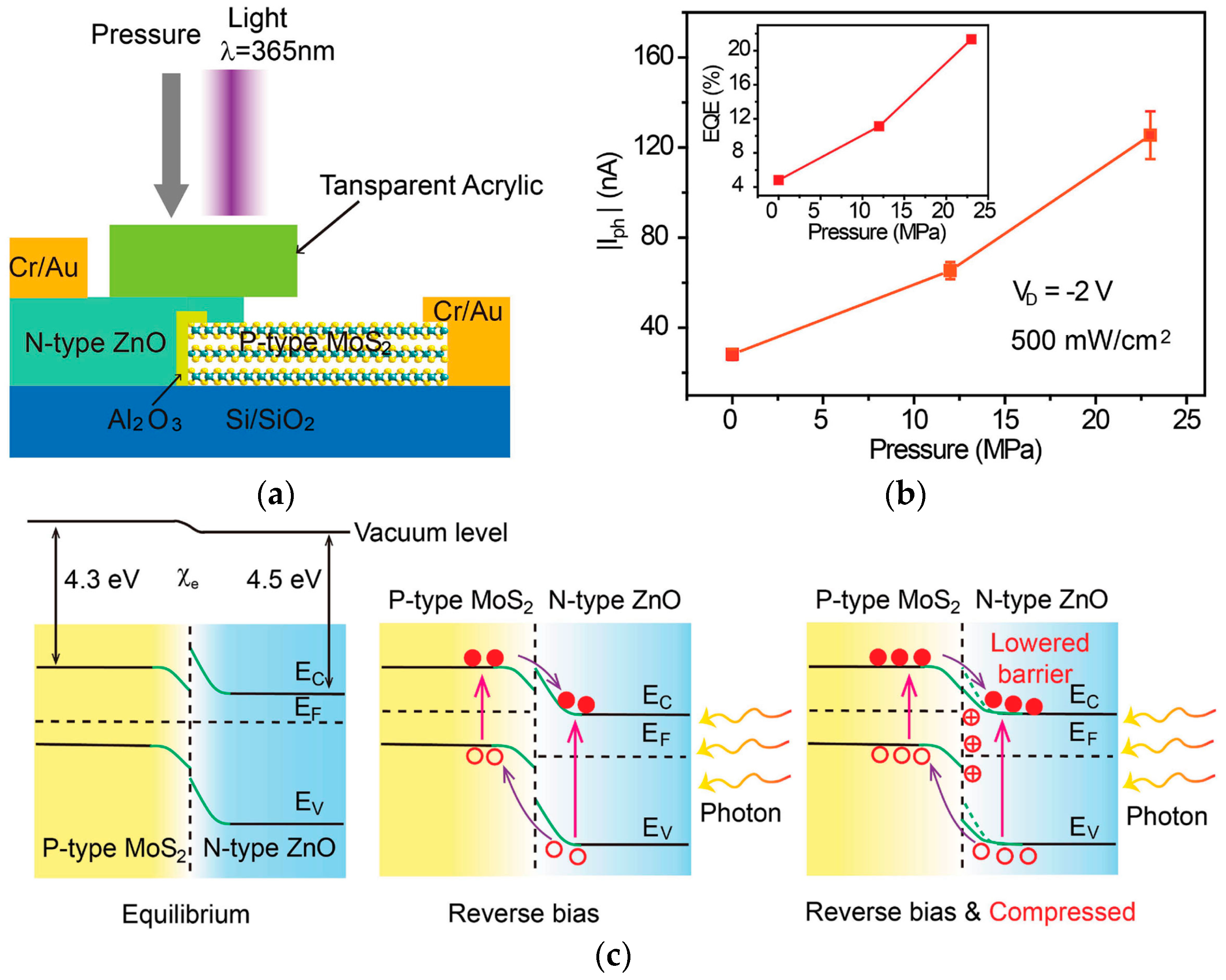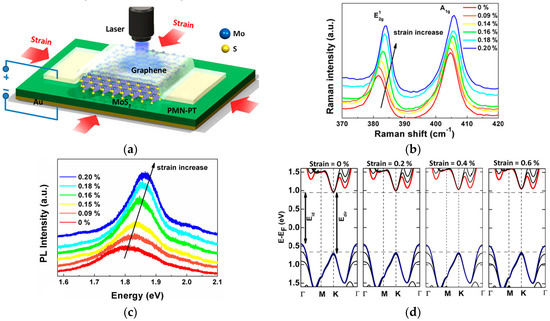 Figure 5.
Electronic structure and band gap of a 2D semiconductor influenced by strongly correlated materials through strain transfer. (
a
) Schematic diagram of Raman and PL measurements on MoS
2
. MoS
2
is sandwiched between a piezoelectric PMN-PT substrate and a graphene top electrode; (
b
) Raman spectra of a trilayer MoS
2
under various applied strains; (
c
) PL spectra of MoS
2
under various strains; (
d
) Band structures of ABA-BAB stacking trilayer MoS
2
under 0.0%, 0.2%, 0.4%, and 0.6% biaxial compressive strain (Yeung Yu Hui et al. [
59
]).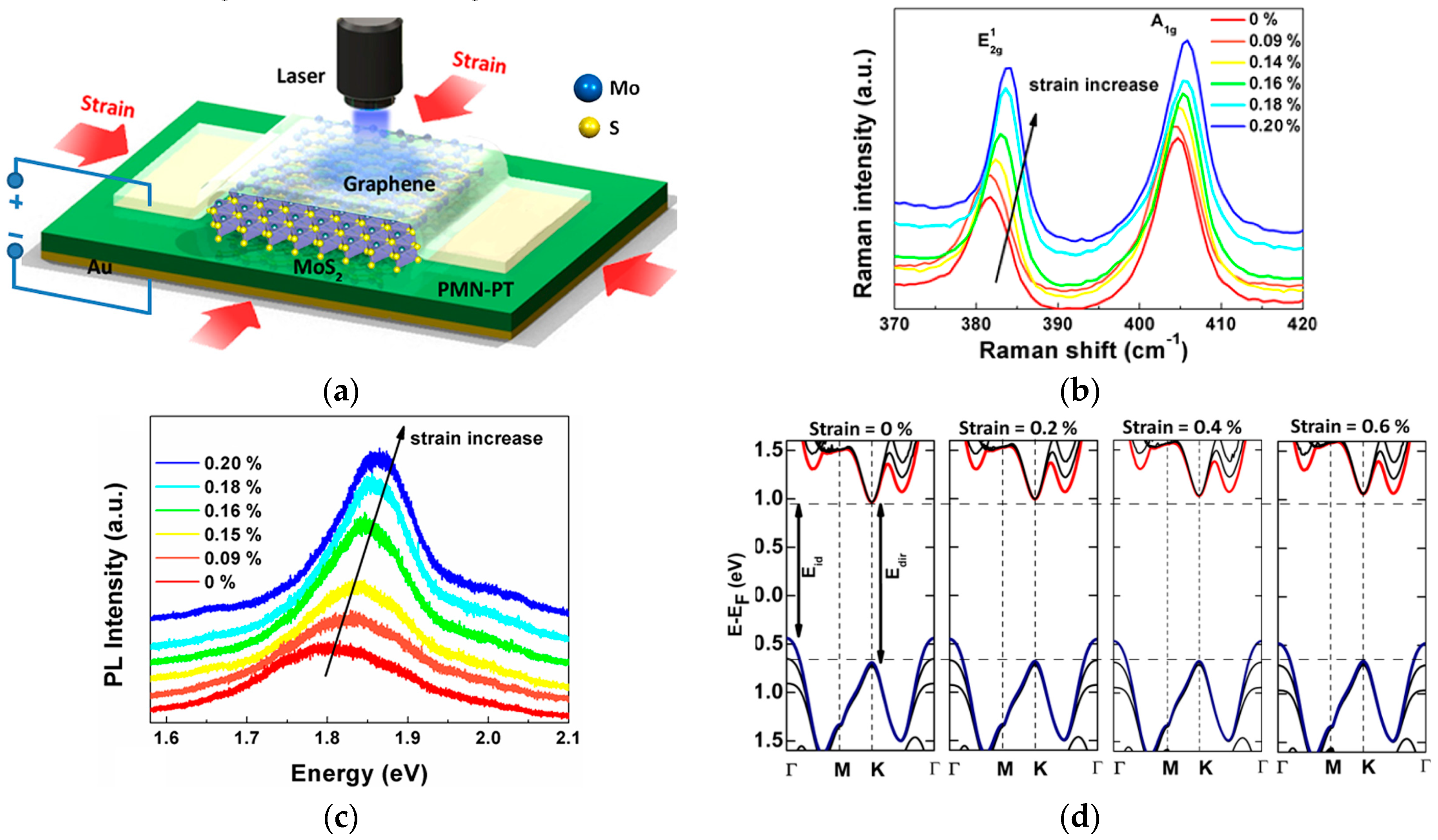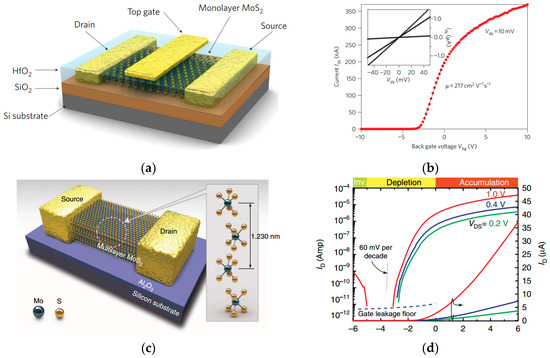 Figure 6.
Schematics and performance of monolayer and multilayer MoS
2
transistors. (
a
) Schematic of MoS
2
monolayer transistors; (
b
) Room-temperature transfer characteristic for an FET with a 10 mV applied bias voltage V
ds
. Inset: I
ds
–V
ds
curve acquired for V
bg
values of 0, 1 and 5 V (Branimir Radisavljevic et al. [
9
]); (
c
) Schematic of a MoS
2
thin film transistors with a multilayer MoS
2
crystal; (
d
) Drain current versus back gate voltage, showing a ~10
6
on/off ratio and ~80 mV per decade subthreshold slope (Sunkook Kim et al. [
75
]).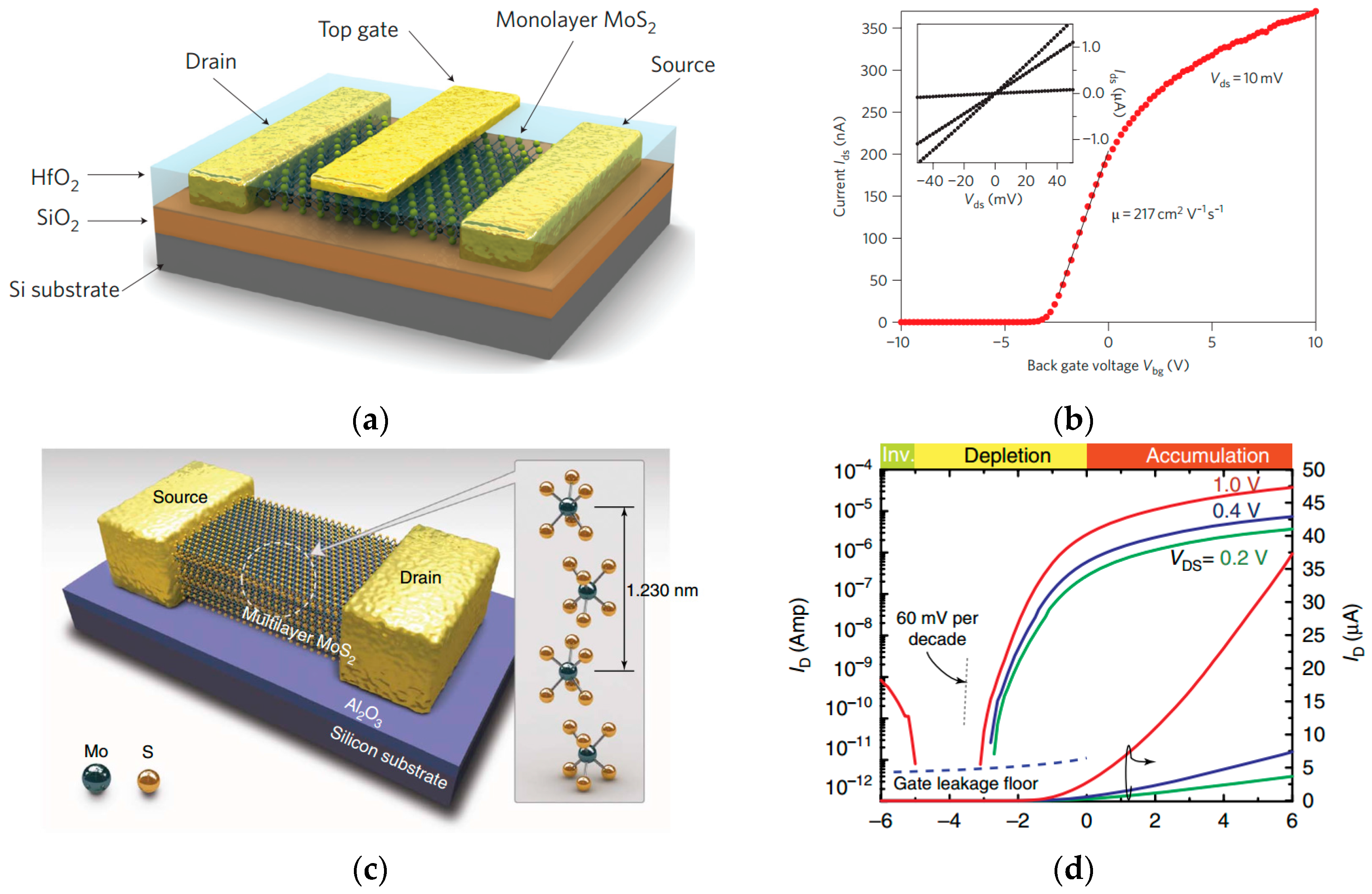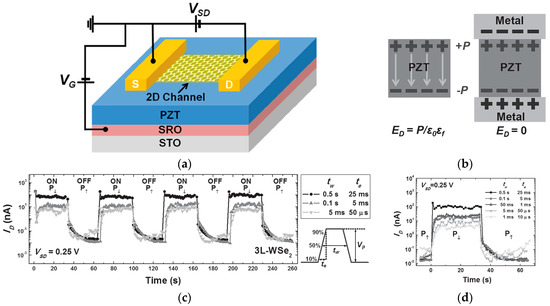 Figure 7.
Nonvolatile memory produced by inorganic FeFETs. (
a
) Device schematic of the 2D TMD/PZT heterostructure; (
b
) E
D
in an isolated PZT thin film and in a sandwich structure with metal electrodes; (
c
)
I
D
versus time curves of on and off states with different sets of voltage pulse parameters: peak voltage (
V
P
), width (
t
w
), and edge (
t
e
); (
d
) A series of relaxation curves immediately after pulsed gating at on (down-polarized, P↓) states and off (up-polarized, P↑) states at various
t
w
and
t
e
(Changhyun Ko et al. [
96
]).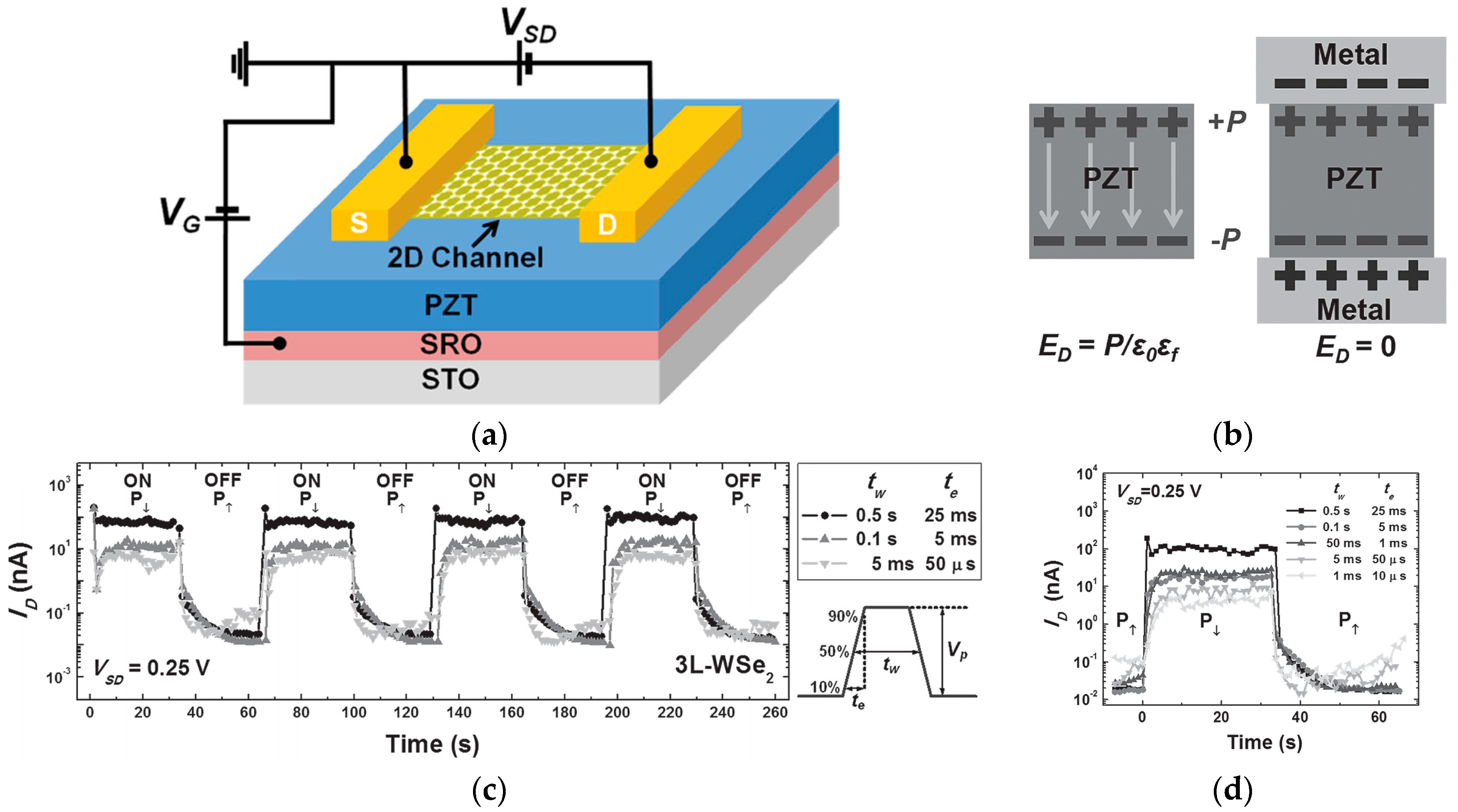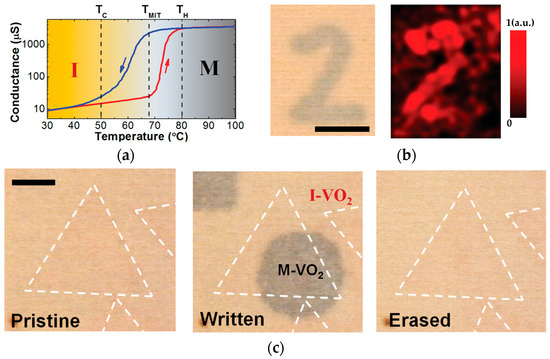 Figure 8.
Writing and erasing desired patterns on VO
2
to modulate the PL intensity of MoS
2
. (
a
) Temperature dependence of electrical conductance of a typical VO
2
film; (
b
) Laser-writing induced metallic regions with a shape of "2" on an insulating VO
2
film covered by a MoS
2
monolayer; (
c
) Laser writing a metallic VO
2
circle, which enhances the PL intensity of the overlayer MoS
2
(Jiwei Hou et al. [
64
]).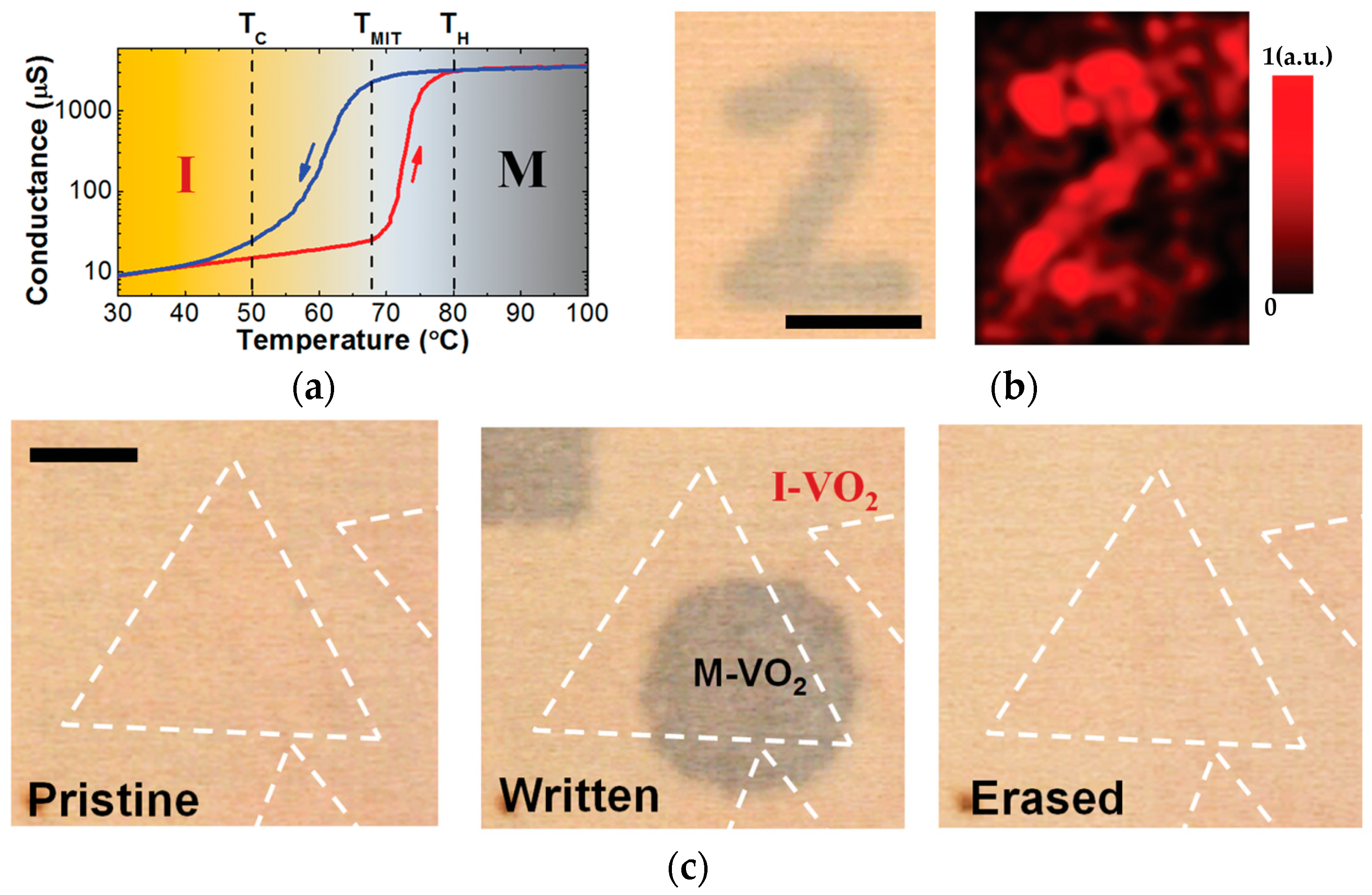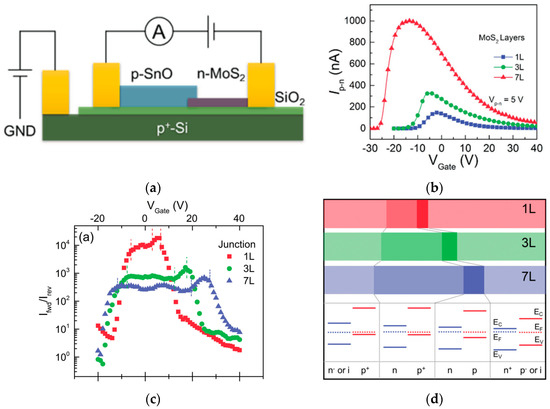 Figure 9.
Rectification effect in MoS
2
/SnO p–n diodes. (
a
) Schematic illustration for the setup of gate-tunable I–V characterization; (
b
) Anti-ambipolar transfer curves for all three junctions; (
c
) Rectification ratio of the 1 L, 3 L, and 7 L heterojunctions as a function of gate voltage; (
d
) Illustration of the band alignments according to the change in rectification ratio (Zhenwei Wang et al. [
110
]).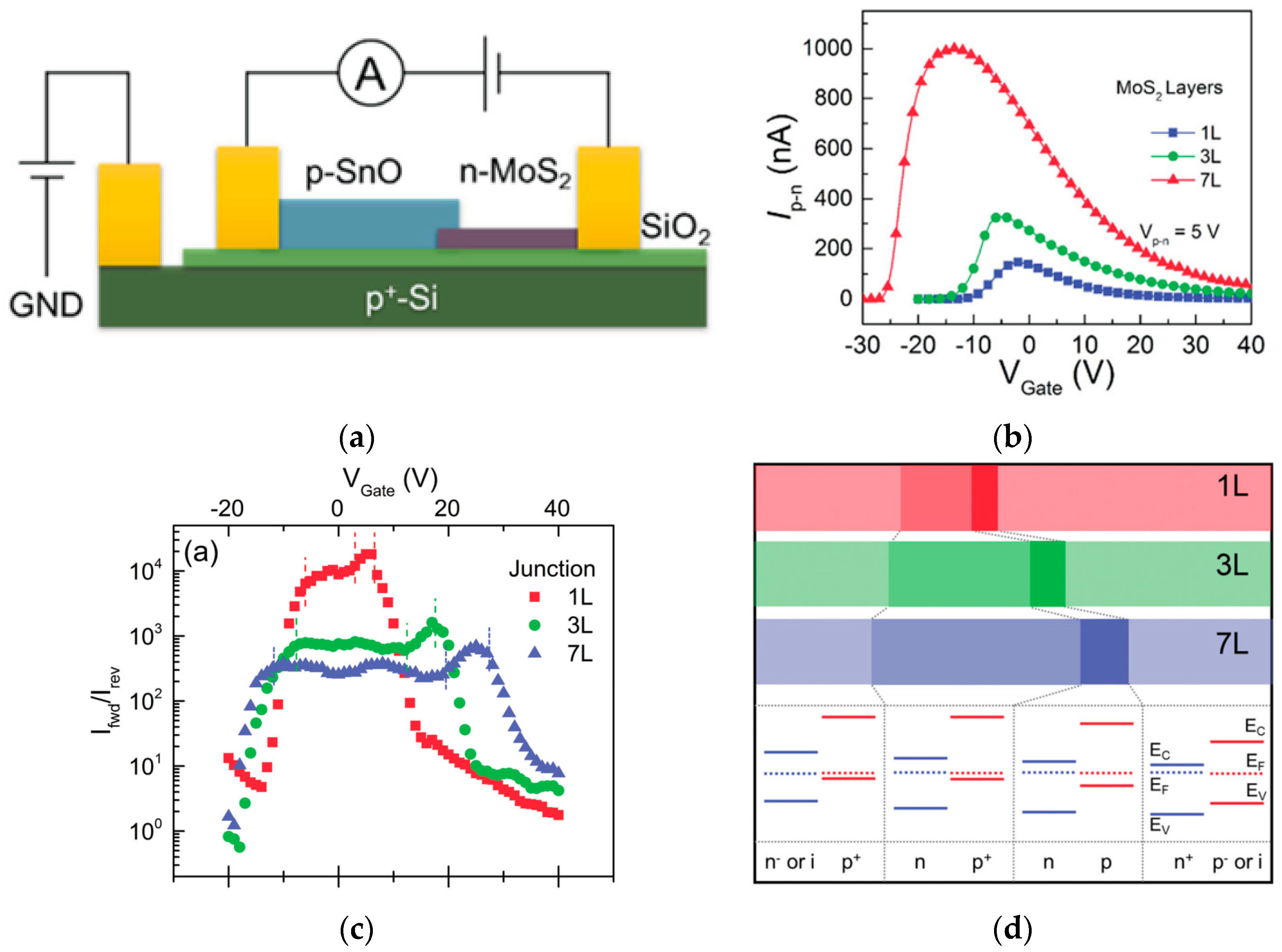 © 2017 by the authors. Licensee MDPI, Basel, Switzerland. This article is an open access article distributed under the terms and conditions of the Creative Commons Attribution (CC BY) license (http://creativecommons.org/licenses/by/4.0/).