Dislocation Motion and the Microphysics of Flash Heating and Weakening of Faults during Earthquakes
1
Sezione di Sismologia e Tettonofisica, Istituto Nazionale di Geofisica e Vulcanologia, Via di Vigna Murata 605, 00143 Roma, Italy
2
Department of Earth Sciences, Utrecht University, Budapestlaan 4, 3584 CD Utrecht, The Netherlands
3
LEMR, ENAC, École polytechnique fédérale de Lausanne (EPFL), 1015 Lausanne, Switzerland
4
Dipartimento di Geoscienze, Università di Padova, Via G. Gradenigo 6, 35131 Padova, Italy
5
School of Earth, Atmospheric and Environmental Sciences, Manchester University, Oxford Street, M13 9PL Manchester, UK
*
Author to whom correspondence should be addressed.
Academic Editor: Ronald W. Armstrong
Received: 5 July 2016 / Revised: 14 July 2016 / Accepted: 16 July 2016 / Published: 22 July 2016
Abstract
Earthquakes are the result of slip along faults and are due to the decrease of rock frictional strength (dynamic weakening) with increasing slip and slip rate. Friction experiments simulating the abrupt accelerations (>>10 m/s
2
), slip rates (~1 m/s), and normal stresses (>>10 MPa) expected at the passage of the earthquake rupture along the front of fault patches, measured large fault dynamic weakening for slip rates larger than a critical velocity of 0.01–0.1 m/s. The dynamic weakening corresponds to a decrease of the friction coefficient (defined as the ratio of shear stress vs. normal stress) up to 40%–50% after few millimetres of slip (flash weakening), almost independently of rock type. The microstructural evolution of the sliding interfaces with slip may yield hints on the microphysical processes responsible for flash weakening. At the microscopic scale, the frictional strength results from the interaction of micro- to nano-scale surface irregularities (asperities) which deform during fault sliding. During flash weakening, the visco-plastic and brittle work on the asperities results in abrupt frictional heating (flash heating) and grain size reduction associated with mechano-chemical reactions (e.g., decarbonation in CO
2
-bearing minerals such as calcite and dolomite; dehydration in water-bearing minerals such as clays, serpentine, etc.) and phase transitions (e.g., flash melting in silicate-bearing rocks). However, flash weakening is also associated with grain size reduction down to the nanoscale. Using focused ion beam scanning and transmission electron microscopy, we studied the micro-physical mechanisms associated with flash heating and nanograin formation in carbonate-bearing fault rocks. Experiments were conducted on pre-cut Carrara marble (99.9% calcite) cylinders using a rotary shear apparatus at conditions relevant to seismic rupture propagation. Flash heating and weakening in calcite-bearing rocks is associated with a shock-like stress release due to the migration of fast-moving dislocations and the conversion of their kinetic energy into heat. From a review of the current natural and experimental observations we speculate that this mechanism tested for calcite-bearing rocks, is a general mechanism operating during flash weakening (e.g., also precursory to flash melting in the case of silicate-bearing rocks) for all fault rock types undergoing fast slip acceleration due to the passage of the seismic rupture front.
View Full-Text
►

▼

Figures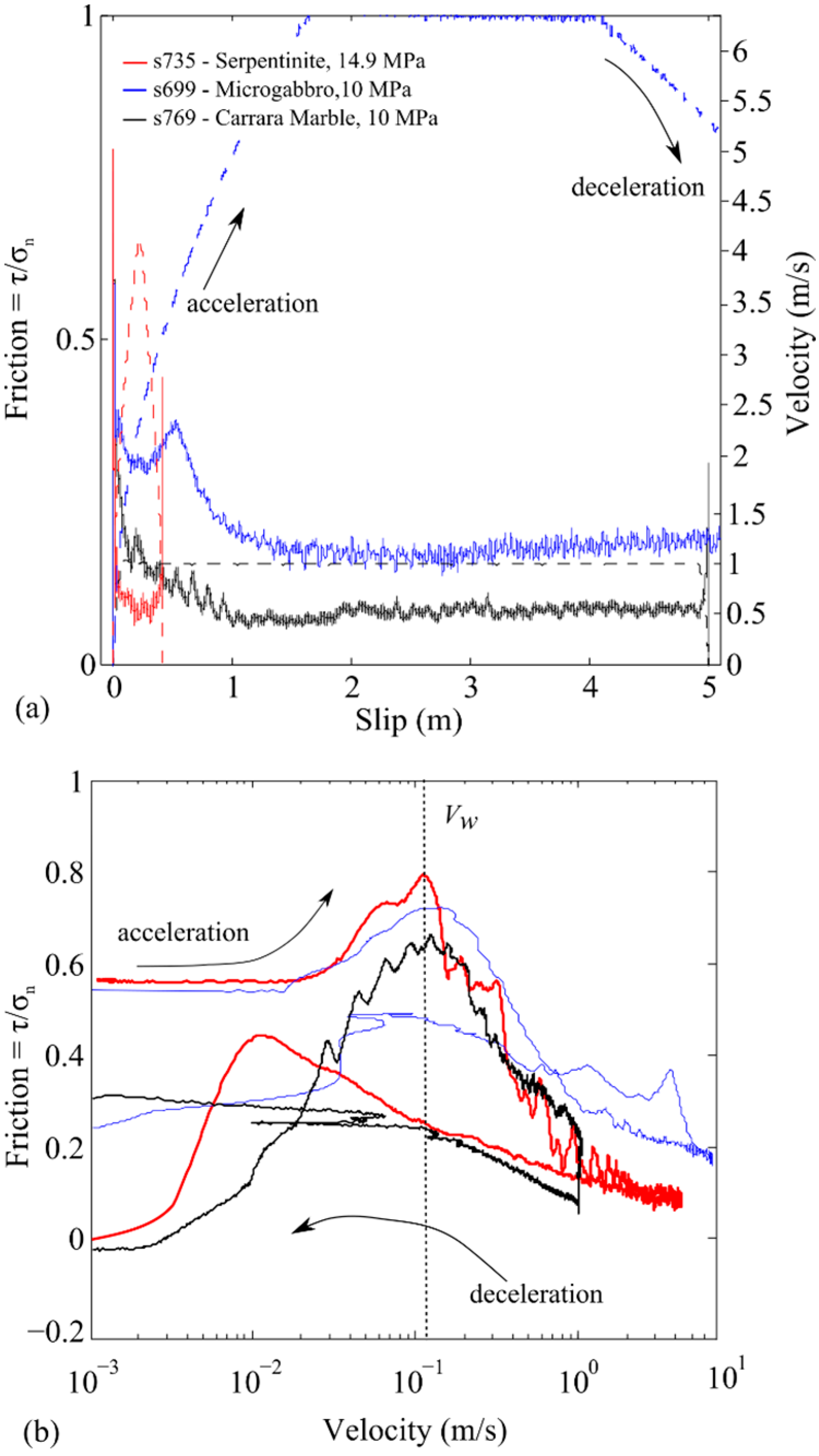 Figure 1
This is an open access article distributed under the
Creative Commons Attribution License
which permits unrestricted use, distribution, and reproduction in any medium, provided the original work is properly cited. (CC BY 4.0).
Share & Cite This Article
MDPI and ACS Style
Spagnuolo, E.; Plümper, O.; Violay, M.; Cavallo, A.; Di Toro, G. Dislocation Motion and the Microphysics of Flash Heating and Weakening of Faults during Earthquakes. Crystals 2016, 6, 83.
Note that from the first issue of 2016, MDPI journals use article numbers instead of page numbers. See further details here.
Related Articles
Comments
[Return to top]